Water Resource Protection Plan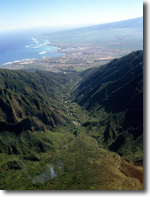 The Commission is responsible for the preparation of the Water Resource Protection Plan (WRPP), which is a key component of the Hawaii Water Plan. The objective of the WRPP is to protect and sustain ground and surface water resources, watersheds, and natural stream environments statewide. Such protection requires a comprehensive study of occurrence, sustainability, conservation, augmentation, and other resource management measures.
Specifically, the State Water Code provides that the WRPP shall include, but not be limited to:
Nature and occurrence of water resources in the State;
Hydrologic units and their characteristics, including the quantity and quality of available resource, requirements for beneficial instream uses and environmental protection, desirable uses worthy of preservation by permit, and undesirable uses for which permits may be denied;
Existing and contemplated uses of water, as identified in the water use and development plans of the State and the counties, their impact on the resources, and their consistency with objectives and policies established in the water resource protection quality plan; and
Programs to conserve, augment, and protect the water resource.
Recognizing the wide-ranging scope of the WRPP, the Commission is developing the WRPP in phases. It will take many iterations before the WRPP can address the many elements, measures, and programs related to water resource protection and management.
Water Resource Protection Plan 2019 Update
The WRPP was last updated in 2008 (link to 2008 plan page). For this update, CWRM engaged in a multi-level stakeholder outreach process to understand the issues, questions, values, and priorities that Hawaiʻi's communities have regarding water. This input was used to develop a succinct, action-oriented plan to guide CWRM over the next 5 years. In the updated WRPP the reader will find basic water resource and management information summarized and near-term projects listed in a tabular format.
More detailed information on water resources, management and policies, and long-term projects can be found in the appendices of the report.
Download Document by Sections
Waimea & 'Anaeho'omalu Aquifer System Area Updates
The Commission on Water Resource Management is considering a revision to its recently adopted Water Resource Protection Plan 2019 update, which involves the combining of the Waimea and 'Anaeho'omalu Aquifer System Areas, Island of Hawai'i, based on observed hydrogeologic data.