Legacy Land Conservation Commission
About the Legacy Land Conservation Commission (Updated November 20, 2018)
The Legacy Land Conservation Commission is a nine-member State commission created by Act 254, SLH 2006, to advise the Board of Land and Natural Resources on projects proposed for funding under HRS, Chapter 173A (Acquisition of Resource Value Lands).  Guided by the statutory priorities of HRS, section 173A-2.6, the Commission conducts a grant application process, public review of applications,  and decision making with staff support from the Legacy Land Conservation Program, Division of Forestry and Wildlife.
The Commission has one vacancy (member of an environmental organization)          with two more vacancies opening soon.  
Now is the time to apply with the Governor's office to serve on the Legacy Land Conservation Commission.
Please visit the State Boards and Commissions website at http://boards.hawaii.gov, or call the Legacy Land Conservation Program office for more information, 808.586.0921.
Commissioners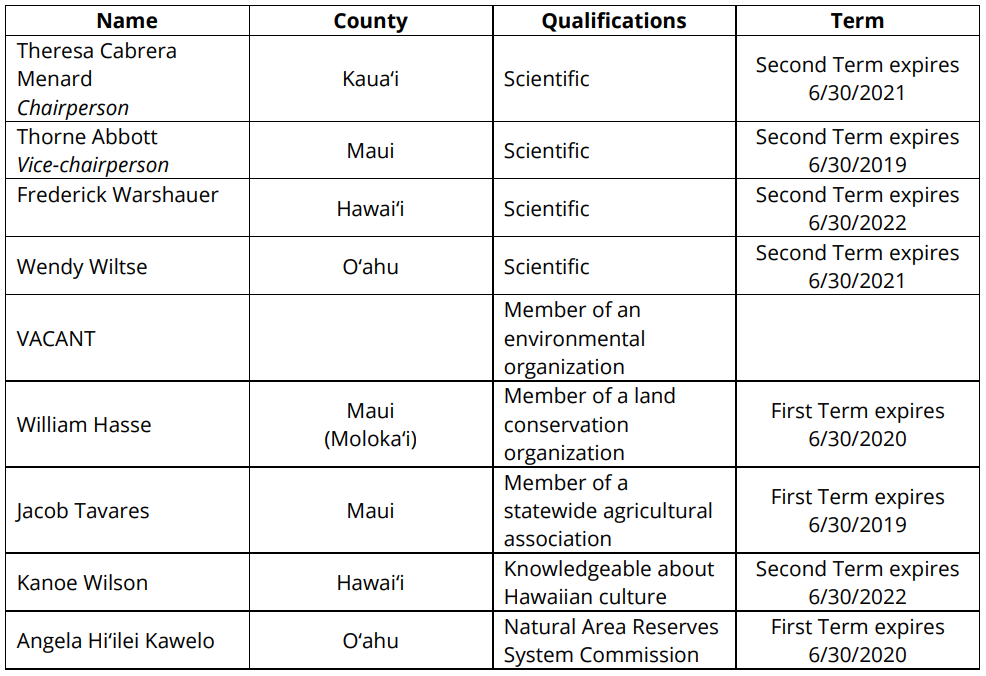 *See Section 173A-2.4, Hawaii Revised Statutes
Forms, Documents & Links
State Information Practices guidance on Sunshine Law ("Open Meetings Law")
State Ethics Office website
Some Hawai'i laws governing the operation of the Legacy Land Conservation Commission:
Meeting Agenda & Minutes
2017
December 7-8, 2017: Agenda 58 ||
December 7, 2017: Agenda 57 ||
October 5, 2017: Agenda 56 ||
May 8, 2017: Agenda 55 ||
2016
December 12-13, 2016: Agenda 54 || 
December 12, 2016: Agenda 53 || Minutes
October 21, 2016: Agenda || Minutes
February 29, 2016: Agenda || Minutes
2015
December 3, 2015: Agenda || Minutes
December 2, 2015: Agenda || Minutes
October 13, 2015: Agenda || Minutes
August 18, 2015:  Agenda || Minutes
March 31, 2015: Agenda || Minutes
2014
December 5, 2014:  Agenda ||  Minutes
December 4, 2014:  Agenda ||  Minutes
October 13, 2014:  Agenda ||  Minutes
April 16, 2014:  Agenda  ||  Minutes

 2013
December 3, 2013:  Agenda  ||   Minutes
December 2, 2013:  Agenda  ||  Minutes
October 14, 2013:  Agenda  ||  Minutes
May 21, 2013:  Agenda  ||  Minutes
March 7, 2013:  Agenda  ||  Minutes
2012
December 6, 2012:  Agenda  ||  Minutes
December 5, 2012:  Agenda  ||  Minutes
October 17, 2012:  Agenda  ||  Minutes
June 26, 2012:  Agenda  ||  Minutes
April 27, 2012:  Agenda  ||  Minutes
February 24, 2012:  Agenda  ||  Minutes
2011
December 14, 2011:  Agenda  ||  Minutes
December 13, 2011:  Agenda  ||  Minutes
October 27, 2011:  Agenda  ||  Minutes
June 20, 2011:  Agenda  ||  Minutes
April 18, 2011:  Agenda  ||  Minutes
February 10, 2011:  Agenda  ||  Minutes
2010
December 3, 2010:  Agenda  ||  Minutes
December 2, 2010:  Agenda  ||  Minutes
October 13, 2010:  Agenda  ||  Minutes
July 19, 2010:  Agenda  ||  Minutes
May 12, 2010:  Agenda  ||  Minutes
March 29, 2010:  Agenda  ||  Minutes
2009
December 8, 2009:  Agenda  ||  Minutes
December 7, 2009:  Agenda  ||  Minutes
October 14, 2009:  Agenda  ||  Minutes
June 18, 2009:  Agenda  ||  Minutes
April 14, 2009:  Agenda  ||  Minutes
March 12, 2009:  Agenda  ||  Minutes
2008
December 19, 2008:  Agenda  ||  Minutes
December 18, 2008:  Agenda  ||  Minutes
October 14, 2008:  Agenda  ||  Minutes
June 2, 2008:  Agenda  ||  Minutes
February 6, 2008:  Agenda  ||  Minutes
2007
December 14, 2007:  Agenda  ||  Minutes
November 6, 2007:  Agenda  ||  Minutes
September 27, 2007:  Agenda  ||  Minutes
July 6, 2007:  Agenda  ||  Minutes
May 18, 2007:  Agenda  ||  Minutes
May 7, 2007:  Agenda  ||  Minutes