World Conservation Congress
DLNR, in conjunction with the Pacific Engagements Working Group, will post information here regarding opportunities to be involved in the IUCN World Conservation Congress from September 1 to September 10.  
---
---
Schedule of Main Events
Thursday September 1 
 Friday September 2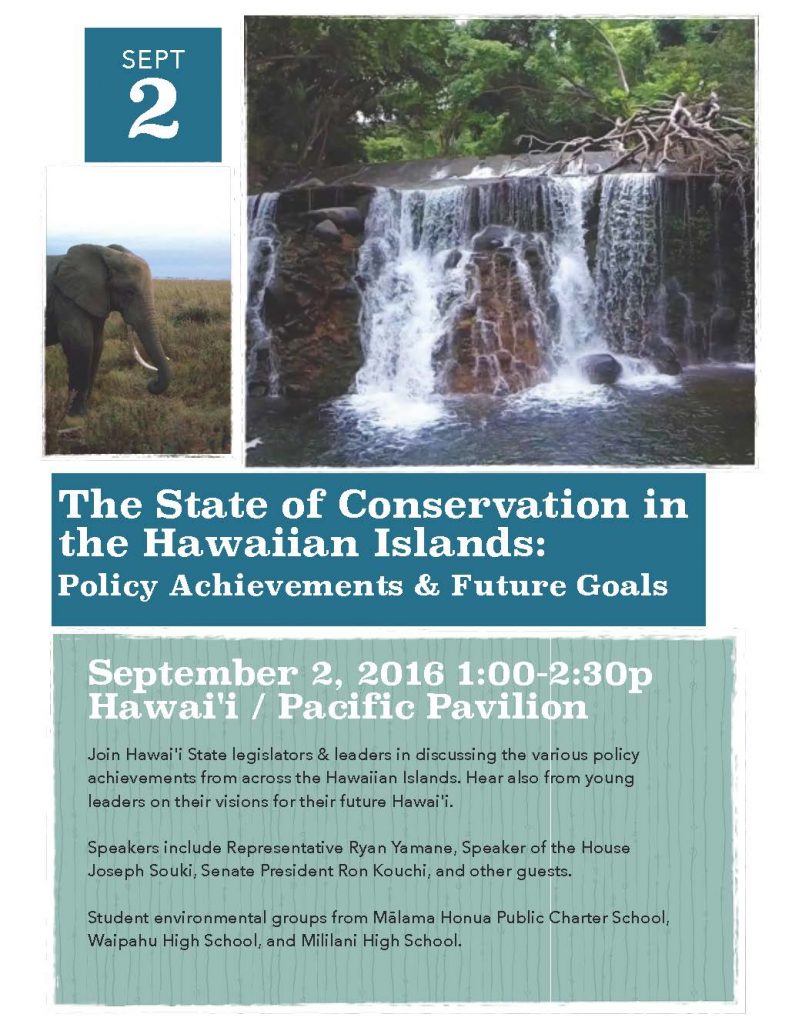 Friday September 2 – Monday September 5 (Labor Day Weekend)
8:30 am – Open networking
11:00 am to 9:00 pm – Congress Forum, Hawaiʻi Convention Center 
11:00 am to 5:00 pm – Exhibitions and Pavilions open to general public, Kamehameha Exhibit Hall, Hawaiʻi Convention Center 
5:00 pm to 9:00 pm – Pavilion and rooftop events, Hawaiʻi Convention Center
Tuesday September 6
8:30 am – 9:00 pm  Members' Assembly, Hawaiʻi Convention Center
9:00 am to 1:00 pm – Students' Day at the Pavilions
Wednesday September 7
8:30 am – 9:00 pm   Members' Assembly
11:00 am to 5:00 pm – Exhibitions and Pavilions open to general public
Thursday September 8
Friday September 9
8:30 am – 9:00 pm Members' Assembly
11:00 am to 5:00 pm – Exhibitions and Pavilions open to general public
Saturday September 10
8:30 am to 1:00 pm  – Members' Assembly
2:00 pm – Congress Closing Ceremony, Hawaiʻi Convention Center 
3:00 pm to 5:00 pm – Closing Reception, Hawaiʻi Convention Center 
---
---
Pacific communities are inexorably united by the largest ocean in the world across which we share more commonalities than differences.   This important and unique distinction will serve as a major theme of the Hawaii-Pacific Pavilion.
The Pacific islands are united by their relationship with world's largest ocean – and by the global threat of the climate crisis.  Climate change has resulted in rising sea levels, saltwater intrusion, coastal inundation, ocean acidification, and changes in the distribution of infectious diseases.  Island communities find their environments, economies, and in some cases their very existence at risk.
Some of the world's greatest navigators once crossed the ocean in voyaging canoes, connecting the thousands of inhabited islands of Polynesia, Melanesia, and Micronesia.  The resurgence in long distance voyaging, led by a new generation of navigators, is now reconnecting Pacific communities and the world with this history.  Today the Polynesian voyaging canoe Hōkūle'a is circumnavigating the globe on a mission to highlight the interconnectedness of citizens from all nations in the face of the climate crisis.
The Hawaii-Pacific Pavilion will build on this theme of interconnectedness in order to bring the peoples of the Pacific together to share their knowledge, and to build the alliances necessary to create a regional action plan to support climate resiliency throughout the region.
The Hawaii-Pacific Pavilion, co-managed by DLNR's Office of Conservation and Coastal Lands (OCCL) and IUCN's Oceania Regional Office (ORO),  will host cultural, political, and scientific events  from across the Pacific. It is one of eight thematic pavilions which will be located in the Kamehameha Exhibit Hall on the first floor of the Convention Center. The pavilions will be open each day to the public, free of charge, from 11:00 am to 5 pm from September 2-5.   Events after 5 pm will be open to Congress registrants and invited guests.  Please click on the title link to download a digital brochure of pavilion events (updated weekly).
Contacts: Fipe Tuitubou (Fiji), Michael Cain (Hawaiʻi) 
---
---
Navigating the Congress
It can be challenging to manage time in a major international congress with thousands of individual events spread out over ten days.  The following pathways and journeys offer potential routes that participants can follow in navigating their way through the World Conservation Congress.  Click on any image to download a pdf of the journey.
The IUCN Congress website has a complete list of journeys. You can also create your own personalized journey by adding events to your calendar in the Congress mobile app.
____________________________________________________________________________________________________
DLNR PATHWAYS
The DLNR has produced daily guidance documents that provide congress attendees a schedule to follow each day the main forum events are held – September 2-5, 2016. These "Pathways" have divided Hawaii/Pacific/Island focused forum events into five main categories: 1) Climate Change, 2) Wildlife Conservation, 3) Aquatic Conservation, 4) People and Conservation, and 5) Terrestrial Conversation. The document is a readable pdf with hyperlinks to the each forum event webpage listed in the Pathway. The target audience for this document is State of Hawaii employees, new congress participants, students, and local residents. For more information on the Pathways please contact alex.j.roy@hawaii.gov  
---
---
Allied Events

This environmental initiative is a unique collective impact efforts inspired by the Mālama Honua Worldwide Voyage, bringing together individuals and organizations from all sectors to increase the health of Hawaiʻi's oceans by the time Hōkuleʻa makes her return to Hawai'i in 2017. Committed government entities, hotels and corporations, schools, and individuals have signed the Promise to Pae'aina.

E Kumupaʻa Indigenous Crop Biodiversity Festival  (Maui) August 24-30
The Indigenous Crop Biodiversity Festival 2016 is a unique and extraordinary event that will bring together participants from around the globe to experience a week of inspiring actions, workshops, site visits, special lectures, films, music, art, food and celebration around some of the most pressing conservation and sustainability issues of our time.  
The ICBF will showcase Maui County's unique role as a center for traditional Hawaiian crop biodiversity conservation in the state, as well as community-based efforts to return this heritage to farm and table.  It will also bring equal attention to Maui Nui's challenges and successes in conservation, invasive species control, sea level rise mitigation and renewable energy efforts.

2016 Hawaii Pacific Global Breadfruit Summit August 27 – August 31
The invaluable breadfruit has long been considered a sacred gift. Explore the groundbreaking frontier forged by weaving traditional wisdom and cultural practices with modern science and knowledge.  The 2016 Hawaii Pacific Global Breadfruit Summit brings together leading cultural, community and scientific experts to connect the vast human, health and environmental benefits of potentially "one of the most important crops of the 21st century." Researchers, growers and field experts share important lessons and breakthroughs in development. Learn about practical applications from ground to table, and breadfruit's impactful role in energy, food security and disaster preparedness. Find out how the ancient breadfruit can meet the varied challenges of our modern world and build a sustainable future of abundance.
E Alu Pū Global Gathering  August 28-30
E Alu Pū is a network of community-based, grassroots groups and families from around Hawaii who work together to improve and accelerate their efforts to care for the lands and the waters of their places.  This is a kāhea (call) to our indigenous ʻohana (family) and grassroots leaders from around the Pacific and the world. We invite you to break bread with us on the Windward Coast of Oʻahu before we all head to the opening of the IUCN World Congress Forum and the Pacific Summit.
Earth Works, Arts and Music Tour   September 12-22
The Earth Works Tour is being organised in fulfillment of "Our Pact for Parks, People and the Planet" commitments from the IUCN World Parks Congress in 2014 and will take place following the IUCN World Conservation Congress. Watch the video below to learn more about the Pact. Earth Works is all about giving back while having fun! We'll be taking on different environmental projects around the island, sharing and learning from each other, visiting some of the most beautiful parts of the island, co-creating and enjoying some really amazing art and music, and hopefully enjoying some deliciously amazing fruits and healthy foods!  
---
---
---
---
Social Media
Host Committee for IUCN World Conservation Congress (Facebook)
Hawaiʻi Conservation Alliance (HCA presentation on the Congress)
Hawaiʻi Green Growth (Facebook)
---