2016 CAMP Training
Join the National Alliance of Preservation Commission (NAPC) and the State Historic Preservation Division (SHPD)  for a free training on how your local historic preservation commissions and the Certified Local Government (CLG) program can help you preservation your historic resources. 
Attendees will learn:
Legal framework for historic preservation
Responsibilities of a CLG
Standards and guidelines for reviewing projects involving historic properties
Ins and outs of CLG Grants
Developing effective CLG projects
Kauai – Monday October 24, 2016
Lihue Civic Center, Moikeha Building,
Meeting Room 2A/2B, 4444 Rice Street, Lihue
Maui – Wednesday October 26, 2016
Maui Arts & Cultural Center,
Haynes Meeting Room, One Cameron Way, Kahului
Kona – Friday October 28, 2016
Natural Energy Laboratory of Hawaii Authority (NELHA)
73-4460 Queen Kaahulman Highway, Kailua-Kona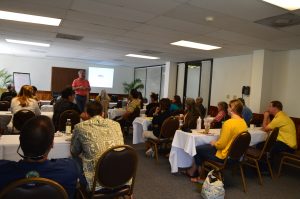 The National Alliance of Preservation Commissions was founded in 1983 in response to amendments to the National Historic Preservation Act of 1966.  These amendments provided financial assistance to local governments that met requirements of the Certified Local Government program, including the establishment of a local preservation ordinance and commission. NAPC was formed to provide a forum for commissions to discuss mutual problems and to serve as a national voice representing the particular needs of commissions.
The Commission Assistance and Mentoring Program (CAMP®) is the signature training offered by the National Alliance of Preservation Commissions (NAPC). CAMP® is led by qualified preservation professionals in support of local preservation commissions and the NAPC's mission to build strong local preservation programs through education, advocacy, and training. The goal of CAMP® is to provide high-quality, engaging and informative training to preservation related boards and commissions of all types through presentations, hands-on exercises, group discussions and networking (mentoring) opportunities via live training. Trainers include commissioners, local, state and national staff members, attorneys and commission partners.
Trainers for the 2016 CAMP include Ramona Bartos, John Williams, and Wade Broadhead. 
Ramona Murphy Bartos is Deputy State Historic Preservation Officer and Administrator of the State Historic Preservation Office for the State of North Carolina. She is an alumna of the joint Juris Doctor / Master of Historic Preservation Program at the University of Georgia, and Emory University (BA History and International Studies). Prior to her position in state public service, Ramona practiced law for nearly a decade in Georgia as an attorney in private practice for both private and local government clients, and served as a city attorney.
Wade Broadhead is currently the Planning Director of Florence, Colorado working on development and preservation issues. He was most recently a Land Use Planner and Staff to the City of Pueblo's Historic Preservation Commission where he worked from 2005-2014. Prior to his career in planning and preservation Wade worked as an archaeologist and GIS Supervisor conducting consulting work across the southwestern United States. In Pueblo, Wade helped spearhead an engaging neighborhood-based historic context approach which surveyed most historic neighborhoods as well as its Post-War Resources. He volunteered to serve as a grant reviewer for the State Historical Fund from 2010-2011; he was an Endangered Places Reviewer from 2009-2011; and, he presented papers at the National Trust for Historic Preservation, NAPC Forum, APA, and Saving Places Conferences over the past two years.  Wade has a passion for Mid-Century Modern Architecture and social history as well as citizen engagement. He especially enjoys revitalization efforts in Right Sizing Cities and working with minority populations and low income neighborhoods to make preservation relevant. Wade is currently establishing a commission and applying for CLG status in Florence Colorado, population, 3800. Wade has four small budding preservationists under the age of 13.
John (Jack) Williams is the founding principal of John Williams I Architect. His firm provides design services to private clients and consultant services to the preservation community. As the Principal-In-Charge, he leads project teams designing private residences, rehabilitating historically significant resources, and conducting workshops focused upon preservation topics. His current responsibilities include project management, coordination, and design. Mr. Williams was appointed by former President Bush and has served on the United States Advisory Council on Historic Preservation for the past eight years. John was also appointed by then Governor Locke to the Washington State Advisory Council on Historic Preservation and reappointed by past Governor Gregoire as its Chairman where he served for ten years.  He has served as Vice President of Preservation Action and enjoyed serving as Chairman of the National Alliance of Preservation Commissions. He was the Chair of the Pike Place Market Historical Commission, Chair of the Oysterville Design Review Board, and a past member of the King County Landmarks Commissions.
Please register with the following form.