RESCHEDULE: Lyman Museum Presentation
Posted on Jul 10, 2020 in News & Events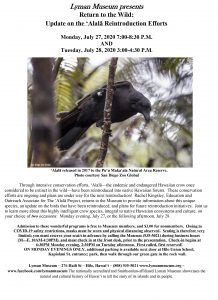 Aloha ʻAlalā friends and followers,
We are having to reschedule the upcoming Lyman Museum presentation. We apologize for any inconvenience this may cause. The new dates for this presentation will be July 27th and 28th. Presentations will be held at 7:00 pm on July 27th and 3:00 pm on July 28th. Please see the following information if you would like to attend.
Admission to these wonderful programs is free to Museum members, and $3.00 for nonmembers.  Owing to COVID-19 safety restrictions, masks must be worn and physical distancing observed.  Seating is therefore very limited; you must reserve your seat/s in advance by calling the Museum (935-5021) during business hours (M—F, 10AM-4:30PM), and must check in at the front desk, prior to the presentation.  Check-in begins at 6:30PM Monday evening, 2:30PM on Tuesday afternoon.  First called, first reserved!
ON MONDAY EVENINGS ONLY, additional parking is available next door at Hilo Union School, Kapiolani St. entrance; park, then walk through our green gate in the rock wall.