DEPARTMENT OF LAND AND NATURAL RESOURCES
News Release
DAVID Y. IGE
GOVERNOR

SUZANNE D. CASE
CHAIRPERSON
For Immediate News Release October 4, 2016   
'IAO VALLEY STATE MONUMENT UNDERGOING FLOOD RESTORATION
6-8 Weeks of Work for Initial Clean-up of Extensive Damage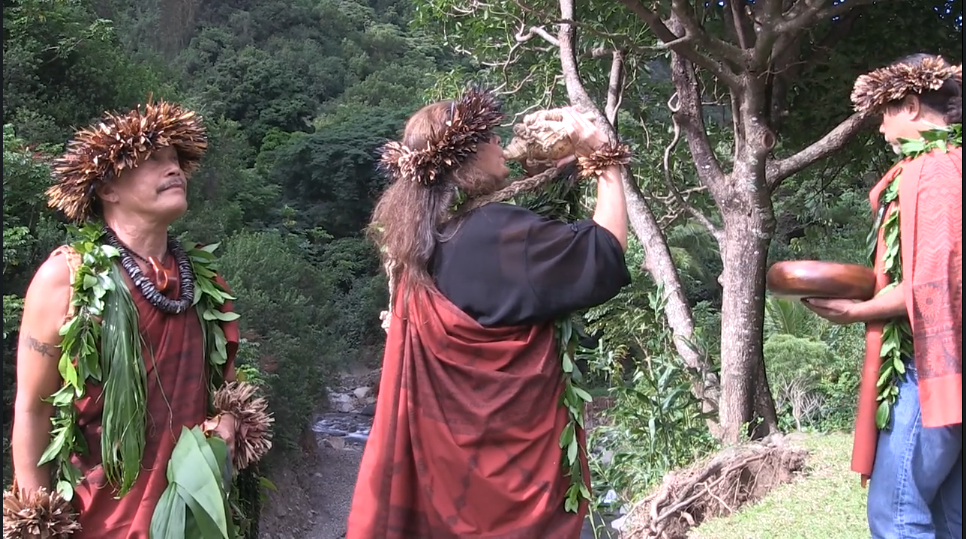 (Wailuku, Maui) – When a slow moving thunderstorm dropped an enormous amount of rain on Maui Sept. 13-14, the Wailuku River and several of its tributaries escaped their banks and not only significantly widened the river bed, but caused hundreds of thousands of dollars' worth of damage in 'Iao Valley State Monument.  The popular and iconic Monument, part of the DLNR Division of State Parks system, has been closed since what is considered a 100-year flood event.
"Since the flood we've been meeting with our staff, design consultants, and construction
contractors to develop debris removal and immediate restoration plans," said Curt Cottrell, DLNR State Parks Division administrator.  He added, "The last flash flooding of this magnitude, according to our records, occurred in 1916, so this truly was a one hundred year flood."
In the six and a half acre park, visited by hundreds of thousands of people annually, the Wailuku River bed is double and even triple in width.  Flood waters deposited large boulders and uprooted trees in the original river bed, in the newly created stream path and across the grounds of the naturally and culturally significant park. Concrete walkways and stairways, along with metal safety railings on pedestrian path were either swept away, mangled, or crumbled in the cascade of flood water.
As Larry Pacheco, the Maui District Superintendent for the Division of State Parks, carefully
negotiated his way through the debris, he encounters a section of walkway that abruptly ends in mid-air.  Portions of it, along with its railing, dropped nearly 20 feet into the river.  Looking across Kinihapai Stream, Pacheco sees the other side of the walkway, with its concrete staircase perched precariously over the stream.  "The pedestrian bridge across Kinihapai Stream is sound, but we won't know how sound the bridge footings are, until experts get a closer look," Pacheco explained.  The State may consider adding an additional, new, temporary support to augment the existing footing or consider the design and installation of an additional truss element to insure structural integrity.  Cottrell said, "First we need to clean up and remove all the debris, mitigate at least three potentially hazardous rockfall locations, and determine what needs to be done to repair the cliff wall immediately below the Monument's lower parking lot."
Flood waters cut into the nearly vertical cliff below the parking lot, impacting its stability.  Long-term design and construction plans will include stabilizing the parking lot.
State Parks leadership and staff will continue coordinating closely with Maui County, and private and non-profit landowners in 'Iao Valley to develop what Cottrell described as a "holistic approach" to restoration and recovery. Due to the extent of damage, currently there is no way to predict when Iao Valley State Monument can be reopened. DLNR Chair Suzanne Case concluded, "We know that 'Iao Valley is a must-see for many visitors and a frequently visited spot for many Maui residents.  State Parks and its partners are working hard to get the initial clean-up complete, while simultaneously working on design and reconstruction plans to restore the park and reopen it as soon as possible."
Dan Dennison
Senior Communications Manager
Hawaii Dept. of Land & Natural Resources
Communications Office
(808) 587-0407