30×30 Initiative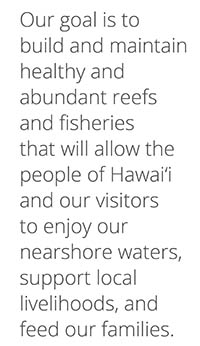 Life in Hawaiʻi has always been inextricably linked with the ocean, which is central to our livelihoods, culture, health, and island lifestyle. But our marine environment is under pressure from a growing population, habitat destruction, unsustainable harvest, the loss of traditional practices, and warming and rising seas. Sadly, a recent scientific analysis revealed declines of up to 75% in populations of some of our favorite reef fish. And the state's first mass bleaching event in 2015 resulted in up to 90% coral mortality on some reefs. Fortunately, our marine environment is resilient, and can recover if given the opportunity.
Charting a New Course
In 2016, the State launched the Sustainable Hawaiʻi Initiative, a multi-pronged effort to ensure a healthy environment and economy for Hawaiʻi's people. As part of this effort, the Department of Land and Natural Resources committed to effectively manage 30% of Hawaiʻi's nearshore marine environment by 2030.
Roadmap to 30×30
Hawaiʻi's Division of Aquatic Resources (DAR) is leading the Marine 30×30 Initiative, which focuses on developing and strengthening the essential components of effective management, including development of: a resilient marine managed area network; statewide fisheries rules; outreach and enforcement strategies; and effectiveness monitoring.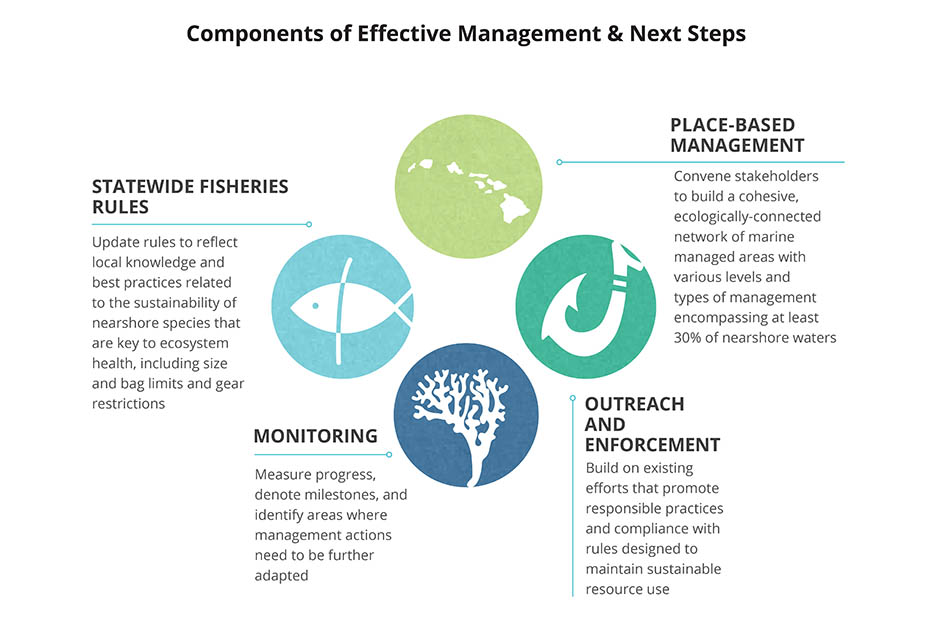 Collective Vision, Collective Undertaking
The ambitious effort reflects the collective vision of individuals, community groups, and organizations already working toward the shared goal of a thriving nearshore ecosystem with abundant fish and healthy reefs that allow the people of Hawaiʻi and our visitors to enjoy nearshore waters, support local livelihoods, and feed our families.
DAR convened a 30×30 Steering Committee comprised of local experts to generate ideas for 30×30 and outline a path forward. Building on the strong foundation already in place, the Committee guided the development of a Roadmap to 30×30 which outlines specific actions that reflect Hawaiʻi's rich and effective traditional management practices and latest science to achieve the goal of 30×30.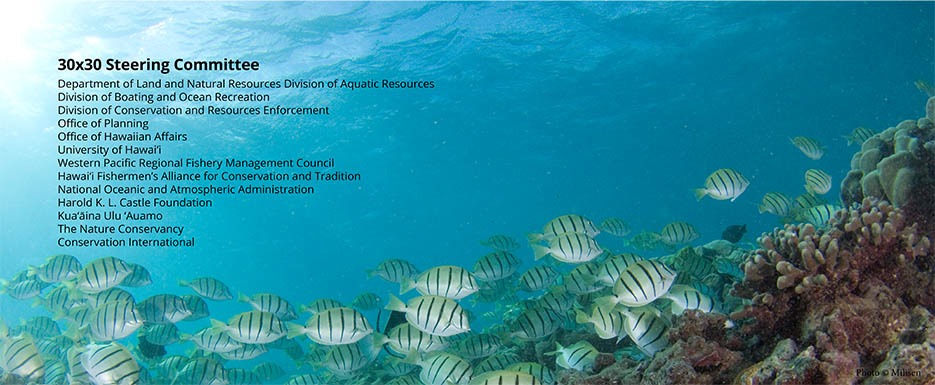 Send an email to the Marine 30×30 email address.
Download the DAR 30×30 2-pager (pdf, 3.5 MB).
See also the governor's Sustainable Hawai'i Initiative web page.