Notice of Public Hearing on Draft Habitat Conservation Plan Amendment for Kaheawa Wind Farm II, Māʻalaea, Lāhainā District, Maui Island
Posted on Nov 27, 2017 in Announcements, featured
DEPARTMENT OF LAND AND NATURAL RESOURCES
News Release
DAVID Y. IGE
GOVERNOR

SUZANNE D. CASE 
CHAIRPERSON
For Immediate News Release November 24, 2017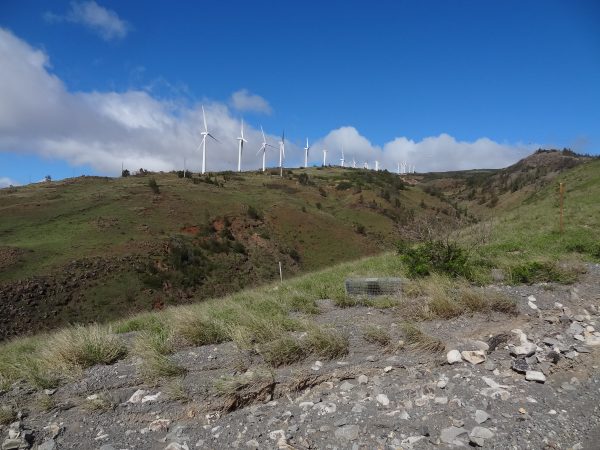 NOTICE OF PUBLIC HEARING ON THE DRAFT HABITAT CONSERVATION PLAN AMENDMENT FOR KAHEAWA WIND FARM II, MĀ'ALAEA, LĀHAINĀ DISTRICT, MAUI ISLAND
Date:   Monday, November 27, 2017
Time:  6 p.m.
Place: Hawaiian Islands Humpback Whale Sanctuary, Visitor Center, 726 S. Kihei Road, Kihei, HI 96753 
The Department of Land and Natural Resources (DLNR) Division of Forestry and Wildlife (DOFAW), State of Hawaiʻi, pursuant to Chapter 195D, Hawaiʻi Revised Statutes, will hold a public hearing to receive testimony on the Kaheawa Wind Power II Draft Habitat Conservation Plan (HCP) Amendment. Based on monitoring data obtained since the start of operations, the incidental take of the Hawaiian Hoary Bat and Nēnē is projected to exceed the currently permitted levels which requires an HCP Amendment increasing permitted take and adding additional mitigation. 
The public is encouraged to comment on the draft HCP. If you desire to attend the hearing and require auxiliary aids (taped materials or sign language interpreter) please contact the Division of Forestry and Wildlife, 1151 Punchbowl Street, Room 325, Honolulu, HI 96813; (808) 587-0166.
If you are unable to attend the hearing and wish to provide testimony, please send comments to the above address, attention Glenn Metzler or send to [email protected]. Comments should be received by December 7, 2017.
# # #
Media contact:
Deborah Ward
DLNR Communications specialist
Phone: (808) 587-0320