Kaiwi State Scenic Shoreline: Volunteer Day
Photo Credit: Tim DelaVega

**IMPORTANT PARK NOTICES**
[HAWAIʻI] UPDATED 10/2/23: Kekaha Kai State Park and Lapakahi State Historical Park will be closed on 10/14/23 for the Ironman World Championship.
•
[OʻAHU] UPDATED 10/2/23: Kaʻena Point State Park,  Mākua-Keawaʻula Section has REOPENED.
•
[O'AHU] UPDATED 7/12/23: Sand Island State Recreation Area – WATER OFFLINE, in the park, facilities impacted. See Sand Island site for updates.

Kaiwi State Scenic Shoreline: Volunteer Day
October 24 @ 4:00 pm

-

6:00 pm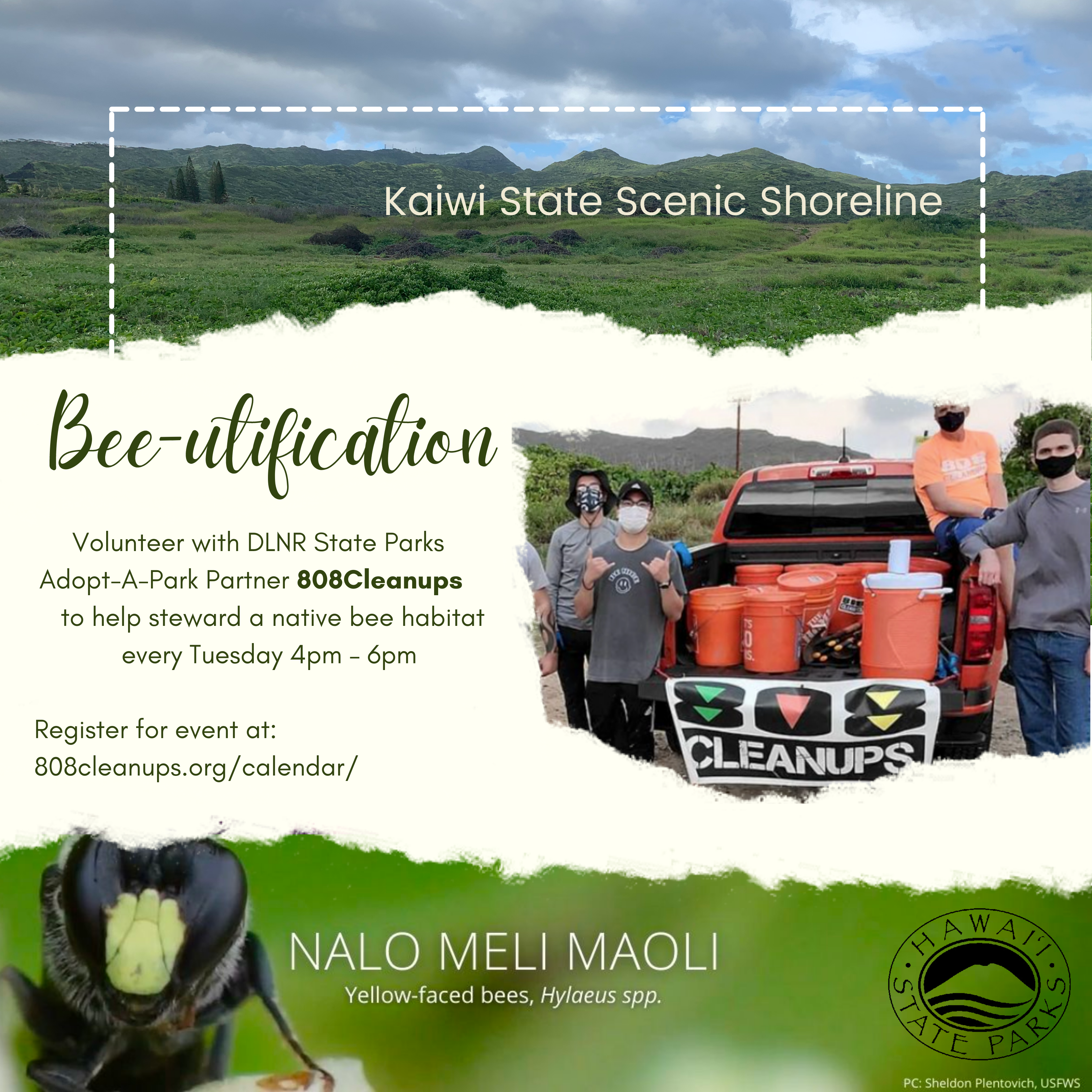 Join DLNR State Parks Adopt-A-Park Partner 808 Cleanups in restoring this beautiful shoreline!
Work priorities: Priority 1: Invasive species removal, digging and cutting out invasive grasses and haole koa to make way for native plants. Priority 2: Litter removal along the coastline and trails.
How to join: Please send an RSVP by any of the following methods: 808 Cleanups App, Email at [email protected], DM on Instagram, replies on our Facebook group. When your RSVP is confirmed, please make sure to sign the waiver here: https://808cleanups.org/waiver/
Volunteer Event Details:
Date: Every Tuesday
Time: 4pm – 6pm
Wear/Bring:Water, sturdy shoes or boots, sun protection and water. Jeans or other work pants recommended for invasive species removal.
What 808 Cleanups brings: 808 Cleanups will provide all cleanup tools and supplies. We will also have ice cold water.
Parking: Take the paved driveway down from the highway into the dirt parking area surrounded by boulders. Be careful of uneven terrain and make your way to the barricades where you'll see the orange 808 Cleanups truck.
Notice: All ages welcome. Participants under 16 years of age must have a parent or guardian attend for the duration of the activity (we love having them participate as well!) We will provide multiple activity options for you based on age, physical ability and interest.
*Participants must bring signed waiver
**Minors must be supervised at all times. This park has no restroom facilities, running water. Some plants may have thorns and there may be stinging/biting insects. Event may be cancelled due to inclement weather.
Feel free to share attached flyer with details.
Reach out if there are any questions.