Damselflies of Kaluanui
Damselflies are flying insects associated with stream and wetland habitats. They are closely related to dragonflies, but can be told apart by their smaller, more delicate bodies and the way they fold their wings along their backs when at rest. Hawai'i's damselflies are a fascinating group with remarkable differences in colors and habits between species. They used to be common in Hawaiian stream and wetland environments but pressure from agriculture, stream disturbance and introduced species have resulted in many species becoming endangered. The windward Ko'olau Mountains support the greatest number of  damselfly species and the stream habitats of the Kaluanui Natural Area Reserve are a good place to find them.
See if you can spot any of these damselflies in the Reserve:

Oceanic Hawaiian damselfly
Megalagrion oceanicum
The Oceanic Hawaiian damselfly is a large-bodied species only found on O'ahu and listed as endangered. Adults are approximately 2 inches in length with a wingspan of up to 2.2 inches. Males are red/orange with black markings, while females are pale green. This species breeds in stream rapids and on waterfall faces. Previously found in both the Waianae and Ko'olau mountains, it is now only present in the windward Ko'olau mountains.
Blackline Hawaiian damselfly
Megalagrion nigrohamatum nigrolineatum
This subspecies of Blackline Hawaiian damselfly is only found on O'ahu and a listed endangered species. Adults are 1.4 to 1.8 inches in length with a wingspan of up to 2 inches. Markings on this brightly colored species are red on the upper half of the head and eyes, with lime green to blue-green coloration below. Its body may have yellow, orange or red markings. It breeds in pools in the headwaters and mid-reaches of streams. It was last seen in the Waianae mountains in 1980, but is still found in the Ko'olau mountains and seems to tolerate disturbed habitats fairly well.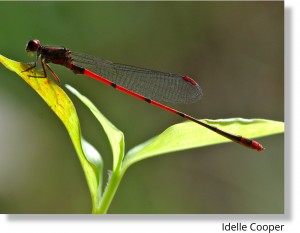 Hawaiian Upland damselfly
Megalagrion hawaiiense
 The Hawaiian Upland damselfly is found on all of the major Hawaiian islands except Kaua'i, with a wide variation in color across its range. In the windward Ko'olau mountains, males have an unusual dark blue and black coloration, compared to the more common orange and black form found in the leeward Ko'olau and Waianae mountains (as well as on other islands). This species breeds in the upper reaches of small, spring-fed streams.