NARS Educational Materials
The Division of Forestry and Wildlife has a wide variety of free educational materials, some of which appear below. Others can be found on the main DLNR Education site.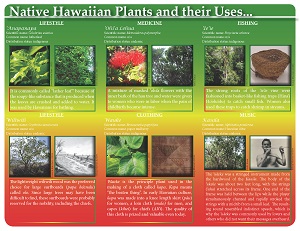 << Click here or the the image at left to view the Kauai Natural Area Reserve Ethnobotanical Guide: Hawaiian Flora (2 pages)
Click the images below to view a larger version of each poster. To request a poster, contact Michelle Gorham Jones, Information and Education Coordinator.