Learn About Watersheds
Hahai no ka ua I ulu la`au
Rain always follows the forest.
— Olelo No'eau (Ancient Hawaiian Proverb)
What is a watershed?
A watershed is an area of land, such as a mountain or valley, that collects rainwater into a common outlet. Some of the rain is absorbed by plants, some of it is absorbed underground, and the rest flows into surface rivers and streams. In Hawai'i, the water eventually reaches the ocean, where it impacts coastal resources such as coral reefs.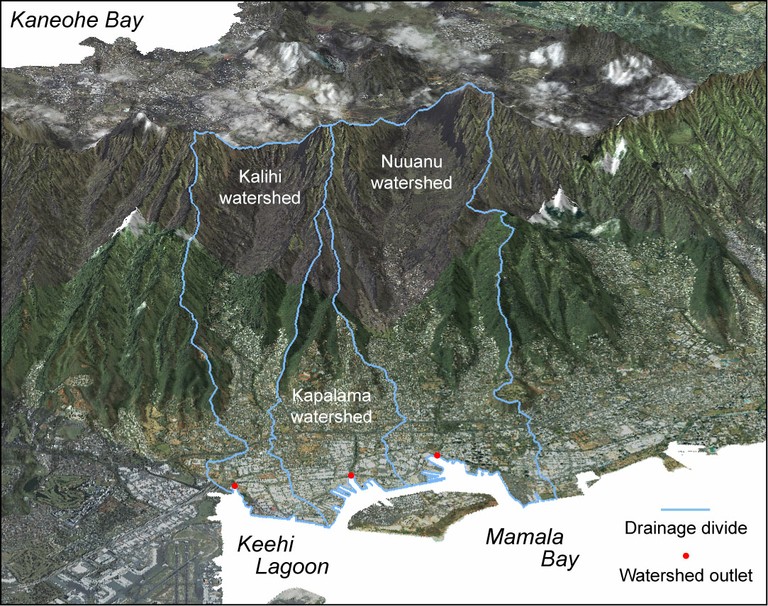 A billion dollar resource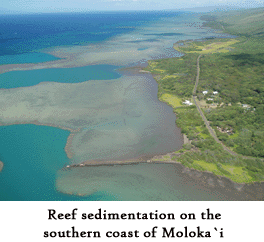 Hawai'i's forests capture and conserve water, protect the health of our reefs and beaches, clean and cool our air, and are our best defense against flood and drought. Consider the cost of replicating any of these essential services through feats of technology or engineering and you begin to appreciate the contribution our forests make to our economy and quality of life. How much are our forests worth? A 1999 study by the University of Hawai'i estimated the value of the Ko'olau Mountain forests – on of 12 major watershed areas in the state – to be between $7.4 and $14 billion.
Our water supply is at risk
Forested lands cover 1.5 million acres, or more than one-third of our state. These forests are our islands' primary watersheds, supplying us with hundreds of billions of gallons of fresh water each year. In no other state is the relationship between water and forest cover more closely interwoven than in Hawai'i, yet today our forests are slowly degrading from an onslaught of invasive plants and animals, fire, disease, and inappropriate human use. Minimizing these threats will protect both our native forests and our water supply for future generations.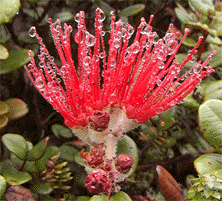 Our forests are our future
As a society we have a great responsibility, and a practical need, to protect our future water supply. Fresh water is not an unlimited resource, and its ready availability, quality and sustainability are linked to the health of our forested watersheds. When we fail to protect our forests, we put our future prosperity and quality of life at risk.