Fire Protection

Forest Fire in Hawai'i is a major threat to our natural resources. A forest fire not only puts surrounding communities in danger, but also the many components of a forest ecosystem. The State of Hawai'i is home to some of nation's rarest and most endangered species populations, many of which occur in areas susceptible to fire threat. In the 2006 fire season alone, DOFAW Fire Team responded to 205 fires that burned over 14,500 acres throughout the state.
Effects of Wildfires
Destruction of natural resources and native ecosystems, including threatened and endangered species habitat.
Replacement of native forests with exotic grasslands due to a continuous wildlife. Many native plant species are not adapted to wildfires especially compared to fire tolerant non-native grasses.
Damage to watershed and ultimately water quality due to soil erosion.
Damage to coral reefs and fisheries from sedimentation and nutrient loading caused by soil erosion.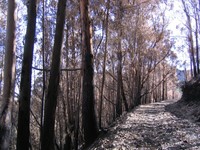 Protection, Pre-suppression, and Suppression
DOFAW aims to provide protection, pre-suppression, and suppression of wildfires for the forest reserve system and all DOFAW managed lands.
For more information visit DOFAW Fire Management

Smokey Bear makes numerous appearances throughout the State, at local  fairs, exhibits, shopping malls, and classrooms. He teams up with all the fire  agencies statewide during the year, especially during Fire Prevention Week. Click here to visit Smokey's homepage.
DOFAW provides numerous brochures for the public on fire-wise and fire-safety around homes and property. Click here to learn more about the DOFAW Fire Protection Program.