Characteristics of a Successful Project
Characteristics of a Successful Project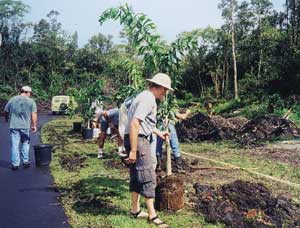 Begin with a well defined goal with expert input and detailed planning.
Create a positive environmental change
Advanced Planning

A comprehensive planning effort by a cross section of the community. Develop a short and long term master plan.

Continuous Committed Leadership

Person/s committed to completing the grant writing process. The leader is an excellent communicator, networks with the community, has good listening skills and delegates responsibly.

Volunteer Commitment

Volunteer commitment needs to long-term and includes maintaining the trees. Long term may include paid experts.

Volunteer Involvement on Planting Day

Refreshments are provided for volunteers.
Volunteers are trained beforehand and assigned specific responsibilities.
Adequate equipment is provided for volunteers.
Prep work is done prior to planting (clean area of weeds, dig holes)
Volunteers consider the planting stewardship.

Community Building

The community is informed via announcements or other advertising methods.

Inter-agency Partnership

Potential partners are provided a clear vision of the project which is clearly defined and supported by a dedicated group of volunteers.

Appropriate Plant Selection

Appropriate plants are selected for the planting area.
Qualified experts are asked for information and guidance.
Maintenance requirements are clearly defined.
Considerations are given to what the plant will look like at maturity.
Utility line clearance above and below ground is considered.

Proper Horticultural Procedures on Planting Day

A qualified arborist is present on planting day to supervise activities, and assists with plant selection at nursery.
One trained supervisor oversees 5-10 volunteers.
Adequate mulch is provided.

Short Term Maintenance

Well defined, technically correct plan
Adequate mulch to provide moisture/weed control
Pest control
Involvement of technically qualified individual
Adequate resources – tools, time and training materials
Water – monitor and trouble shooting

Long Term Maintenance – More Than One Year

Adequate mulch, weed and pest control, pruning with arborist.

Trees Alive or Flourishing After Two Years and Five Years

Trees are structurally sound, healthy, with proper form and shape.