STEW-MAP
The Stewardship Mapping and Assessment Project (STEW-MAP) is a project to help us better understand and visualize how communities care for or mālama the many special places in Hawaiʿi. On Oʿahu, we are starting with Kona and Koʻolaupoko Districts. STEW-MAP is designed to help map stewardship activities and networks with the goal of strengthening community capacity for stewardship. It addresses the questions: Who takes care of this region? Where are there gaps and concentrations of care?
Learn more about STEW-MAP Hawaiʻi.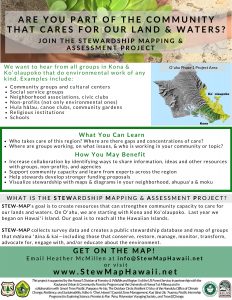 Are you in the Project Area?                                                            
Check out the ahupuaʻa (land division) and moku (district) map below or interactive map.
Get on the the MAP!   
June 2018 Outreach Event Summary
StewardshipOutreachEvent Summary_June25-26 2018StewardshipOutreachEvent Summary_June25-26 2018                                                                                                                                                                               
Contact STEW-MAP Hawaii at [email protected] for more information.