Get Involved
ACTIVITIES AND EVENTS
Annual Kaulunani Grant workshops: During our summer workshops, we will teach you how to write a successful grant application and fit your project with Kaulunani grant requirements. This informational session is a great opportunity to ask questions and get feedback for your ideas. Our staff are available to actively work with you through the application process. Signup for our newsletter for updates on scheduled dates, normally in June. 
Learning at Lunch Series: Since 2014, Kaulunani Urban and Community Forestry Program has offered lunchtime events discussing exciting urban and community forestry topics. From storm preparedness, to educational initiatives, we do our best to share important news to our community. Have an idea for a lunchtime event? Get in touch to discuss a collaboration! 
Become a Citizen Forester: Interested in volunteering with us? The Citizen Forester Program trains and supports community volunteers to collect urban tree inventory data. Check out the program webpage to learn more, and to fill out a volunteer signup form!
Volunteer or Partner with Arbor Day Hawaiʻi: Arbor Day is an international holiday that has been recognized in Hawai'i for over 110 years. Every November communities across the islands gather to honor, plant, and celebrate the benefits of trees. We are always looking for volunteers to help hand out our Arbor Day trees! If you are interested in volunteering or if you are interested in become a partner, and sharing an educational booth during the events, please get in touch via email!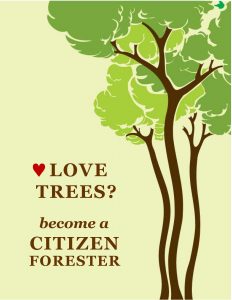 PAST "LEARNING AT LUNCH" SPEAKERS & EVENTS:
July, 2019
Urban ʻĀina: Nurturing Biocultural Connections Where We Live Symposium at HCC2019
Speakers: Kristen Nalani Kane, Miranda Hutten, Kawika Winter, Kialoa Mossman, JC Watson, Indrajit Gunasekara, Shannon Noelle Rivera
November, 2018
Speaker: Michelle Gorham
Topic: Project Learning Tree
March, 2017
Speaker: Heather McMillan
Topic: STEW-MAP 
June 14th, 2016
Speaker: Teresa Trueman-Madriaga
Topic: Never Let a Good Crisis Go To Waste – Emergency Management in the Urban Forest
October 22, 2014  
Speaker: Maria Cahill of Green Girl Land Development Solutions 
Topic: Urban Stormwater Forestry Solutions for Water Quality Benefits.
June 20, 2014  
Speakers: Jolie Wanger and Wai Lee of Smart Trees Pacific
Topic: Hawaii's Urban Tree Canopy Assessment. The talk will highlight how this urban forestry tool can be used for planning and management of urban forests.
May 29, 2014
Speaker: Roxanne Adams, University of Hawai`i at Manoa
Topic: University of Hawai`i at Manoa's innovative campus tree inventory project.
April 24 , 2014
Speaker: Christy Martin, Coordinating Group on Alien Pest Species (CGAPS) and Rob Hauff, DOFAW, Forest Health Coordinator
Topic: Little Fire Ant and Coconut Rhinoceros Beetle invasive Species in Hawaii. 
February 21, 2014
Speaker: Dr. Andrew Kaufman of the University of Hawai`i
Topic: "Deflecting the Wave: Using Coastal Vegetation to Mitigate Tsunami and Storm Surge Phase III"
Kaulunani in the News:
Schools see trees as a cool solution for hot classrooms _ Honolulu Star-Advertiser
Kaulunani wins Golden Leaf Award!
Kaulunani Receives Sustainability Award from Landscape Industry Council of Hawaii: Press Release