Frequently Asked Questions
Home
»
Frequently Asked Questions
Frequently Asked Questions
Below are answers to some of the questions we hear most often from our community. Click on any question and it will expand to show the answer.
How does the Division of Forestry & Wildlife (DOFAW) fit into the Department of Land & Natural Resources (DLNR)?
DOFAW is a division within a larger department called DLNR. Our mission is to responsibly manage and protect watersheds, native ecosystems, and cultural resources and provide outdoor recreation and sustainable forest products opportunities, while facilitating partnerships, community involvement and education. This fits in with DLNR's responsibility to manage, administer, and exercise control over public lands, water resources, ocean waters, navigable streams, coastal areas (except commercial harbors), minerals, and all interests therein. There are many other Divisions that help DLNR accomplish this job. Check out the graphic below to see the framework of Divisions working towards this mission.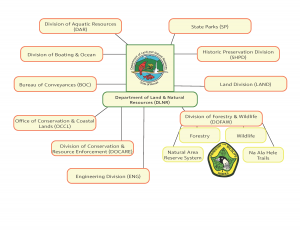 When is the office open?

Our Hilo office is open Monday through Friday 7:45AM to 4:30PM, and our Waimea office is open Monday through Friday 7:00AM to 3:30PM.  At this time, we are conducting the majority of business by phone while taking in-person appointments between the hours of 8:00AM to 4:00PM for certain services. Please call 808-974-4221 to speak with in Hilo or 808-887-6063 to speak with us in Waimea. You can find our

contact info and address

on our site.

I lost my hunter education certification card; can you replace it?

Yes, contact the DLNR Hunter Education Program at

gohunthawaii.ehawaii.gov

or by phone at 808-587-0200. It will cost $5 to replace the certificate.

I moved here from another state and would like to continue hunting. How can I get a hunting license?

Upload your current out-of-state hunter education certificate and photo ID to the DOFAW

hunting.ehawaii.gov

website for a letter of exemption.  If you're having difficulties, you may call the local office for assistance.

The hunting.ehawaii.gov website won't accept my information. What's wrong?

The hunting license application is specific about how your Date of Birth (DOB) is to be entered. DOB must be entered with dashes, not slashes, and numeric months and days need to be entered as two digits:
DOB Format: XX-XX-XXXX (E.g., 01-02-2000)

How can I stay up to date on hunting news?

Hunting announcements are posted on the DLNR website and are available by subscription through the online Go Hunt Hawaii newsletter. When you purchase a hunting license online, there is an option to subscribe to this newsletter. You can find the newsletter and other hunting info at our

Hunting pages

.

How can I obtain tags for special hunts?

To purchase tags, you may mail a copy of your hunting license with game bird stamp (for Turkey only), a self-addressed envelope, and your payment (cashier's check or money order made out to DLNR) to the Waimea office at 66-1220 A Lalamilo Road, Kamuela, HI 96743. As an alternative, appointments may also be made  for in-person assistance by contacting either the Hilo (808-974-4221) or Waimea (808-887-6063) offices.

I am concerned about violations of state law and resource enforcement; can you help?

The Division of Conservation and Resources Enforcement (DOCARE) upholds the laws that serve to protect, conserve and manage Hawaiʻi's unique and limited natural, cultural and historic resources held in public trust for current and future generations including visitors and the people of Hawai'i. DOFAW works closely with DOCARE officers within our managed areas. To contact DOCARE call 808-643-DLNR.

I have feral pigs on my property; can you help remove them?

The Division of Forestry & Wildlife does not conduct animal control on private property. However, we are in touch with a community of hunters and trappers, some of whom have businesses helping others deal with problem animals. We have assembled an informal list of hunters and trappers who may be able to assist you. Click here to view the

Pig Trappers List

.

I have feral chickens on my property; can you help remove them?

The Division of Forestry & Wildlife does not conduct animal control on private property.

I have seen wild rabbits in my area; can you help remove them?

The Division of Forestry & Wildlife does not conduct animal control on private property. Please use

643pest.org

 to report rabbit sightings to the Hawaii Invasive Species Council and the Hawaii Department of Agriculture.

I am worried about feral goats on the road; can you help?

DOFAW does not conduct animal control on private property and many of the properties bordering highways are private. DOFAW is working with interested parties to reduce the feral goat population along highways.

I want to report an issue on State land neighboring my property; can you help?

The Division of Forestry & Wildlife manages Forest Reserves, Natural Area Reserves, Wildlife Sanctuaries, Game Management Areas, and Na Ala Hele Trails. There are other land designations managed by the various agencies within the State of Hawaiʻi and you may need to contact another agency for help. The

County of Hawaiʻi Real Property Tax Office provides an interactive map

that is a useful resource in determining who owns or manages lands on Hawaiʻi Island.

What are the differences between Forest Reserves and Natural Area Reserves?

Forest Reserves are managed for watershed value with an emphasis on forest health, invasive species control, and wildfire mitigation while providing opportunities for hunting and outdoor recreation. The Natural Area Reserves exist to protect and preserve, in perpetuity, representative examples of biological ecosystems containing unique geological and cultural features. The Natural Area Reserves are accessible by groups, 10 or less, any day and for hunting year-round without bag limits.  On Hawaiʻi Island, there are 20 forest reserves totaling 479,000 acres and 10 Natural Area Reserves totaling over 96,000 acres.

I need special help with my foliage collection permit; can you help?

Please call our local office to inquire for foliage collection permits. We can assist with questions and supply permits through email.

I have a question about planning my next hike; can you help?

I have a question about an unfamiliar plant or a bug Iʻve never seen before; can you help?

Maybe. A member of our staff may be able to help identify a plant, insect, or something else from the environment. Please share photos first. Do not unnecessarily transport a sample. Also please consider whether some of our partners may be better equipped to provide ID services.

643pest.org

is a reporting tool with the Hawaiʻi Invasive Species Council and the Hawaiʻi Department of Agriculture. Alternatively, the College of Tropical Agriculture and Human Resources has resources for home gardeners and commercial farmers. If you're a home gardener, please call the Master Gardener help line at 808-969-8203. If you're a commercial farmer, please reach out to the extension agent who handles your crop or call the main office at 808-981-5199.

I am worried about injured wildlife; can you help?

Yes, please call 808-974-4221 for consultation with our Wildlife program.  Typically our staff are able to help with indigenous wildlife including nēnē (the Hawaiian goose), waterbirds, and bats. If you are worried about a marine species, please contact our partners that can respond appropriately. For honu (turtles) on the Hilo side only, please call the UH Hilo turtle response team at 808-286-4359. For turtles anywhere else, please call NOAA at 888-256-9840. For Hawaiian monk seals, please call Ke Kai Ola, the Marine Mammal Center in Kailua Kona at 808-987-0765.