Loop Road Re-Opening
Posted on May 17, 2021
LOOP ROAD STATUS
OPENING OF WAILUA FOREST MANAGEMENT ROAD "LOOP ROAD"
Completed road construction 
The road, better known as loop road has been closed for 3 years due to flood damage in 2018.  Repairs to the road have been managed by the DLNR Division of Forestry and Wildlife (DOFAW) with contractor Wa'alani Enterprise. 
Though the road is open, repair efforts continue and only vehicles with 4-wheel drive capabilities and high clearance should access the road at this time. The North fork low-water crossing may be usable in dry conditions, but construction of a new low-water crossing will still be required. Users should not attempt this low-water crossing during heavy rainfall events as it can become extremely hazardous.
---
Community Involvement
The most important thing in protecting our natural resources is the community.  The community is what makes a place special and ensures that its future is a bright one.  Recently, Kapaʻa High School art students put a lot of love into transforming what once was a graffiti covered bridge into a piece of art, creating a much brighter welcome to Keahua Arboretum.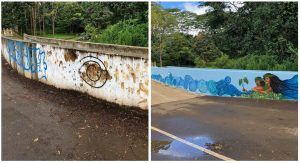 We further hope to get the community involved in taking care of Loop Road through invasive species removal, weed eating, mural upkeep and other general maintenance tasks.  Please feel free to send an email to the Kauai DOFAW office if you are interested in volunteering, [email protected].
Community stewardship is also crucial to caring for the land and working the land to not only benefit the people but the resource itself.  Currently the non-profit group, Punawai Kauaʻi, is working to restore loʻi within Keahua and bring back the cultural practices for the community.  They continuously work hard to provide a healthy, safe space for the community to work the land in hopes of providing a better sustainability option for the people of Wailua.  For more information on how to get involved with this group please contact Elizabeth Lindsey at [email protected].
---
Public Recreation
Within a mile of Keahua bridge is a slew of public recreation opportunity.  Hiking trails include Kuilau-Moalepe Loop and Powerline Trail.  Keahua arboretum is a place to enjoy a variety of native and non-native trees as well as the serene Keahua stream and swimming hole.  But while enjoying the beauty of this place take a second to think about the threats that are ongoing in this Wailua area.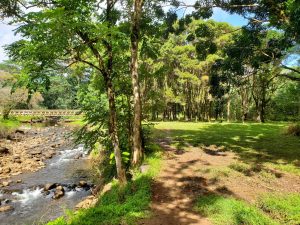 Please be aware that Rapid ʻŌhiʻa Death (ROD) has been discovered in the area and is being managed within the Wailua ahupuaʻa. We appreciate if you could sanitize your boots; by brushing off the mud and spraying them with 70% alcohol to help prevent the spread of the disease. For more information on ROD, please, visit https://cms.ctahr.hawaii.edu/rod/.
 We love seeing the community enjoying and caring for Keahua Arboretum and appreciate all the help in keeping this place clean for our families to enjoy. 
---
Loop Road Aerials from Hawaii DLNR on Vimeo.
---
For additional questions or concerns, please feel free to call our office 808-274-3433 or contact us through our website on our homepage.