State Budget Funds Forest Watershed Protection – Press Release
Posted on Nov 12, 2013 in featured
NEIL ABERCROMBIE
GOVERNOR

WILLIAM J. AILA JR,
CHAIRPERSON
DLNR News Release June 20, 2013
STATE BUDGET FUNDS FOREST WATERSHED PROTECTION
Protecting mauka forest areas remains top priority for DLNR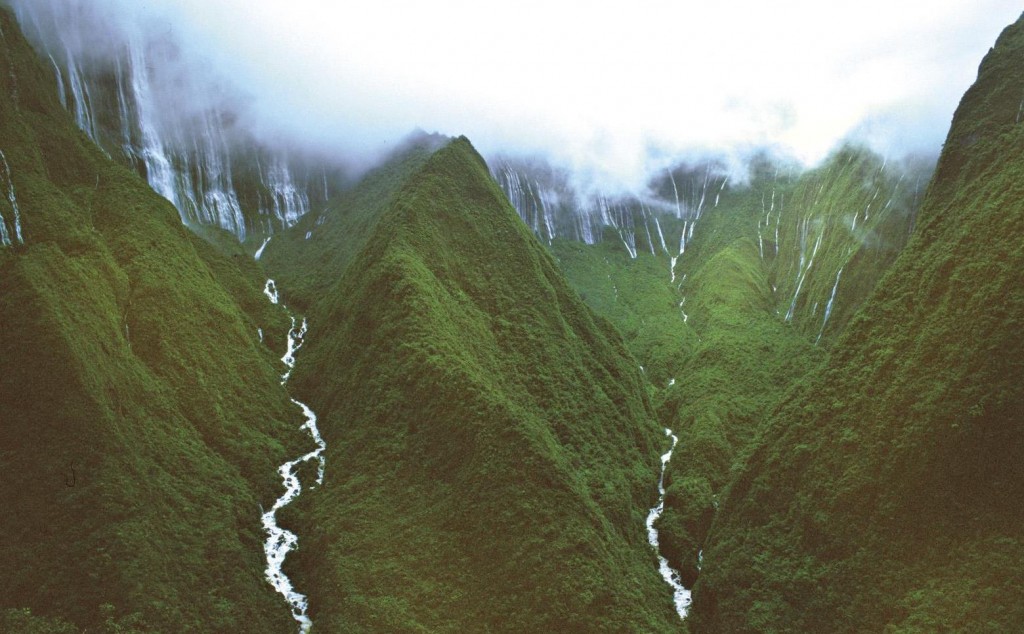 HONOLULU –The state budget bill, signed into law on June 18 by Gov. Neil Abercrombie, significantly increases funding for forest protection in Hawaii.
"The Department of Land and Natural Resources Watershed Initiative remains a top priority and will continue to move forward,"said Gov. Abercrombie. "Protecting our mauka forest areas, which contain native plants and animals found nowhere else in the world, is essential to the future of agriculture, industry, and our environment in Hawaii. It is the most cost-effective and efficient way to absorb rainwater and replenish groundwater resources to prevent erosion that muddies our beaches and fisheries."
The state budget includes $3.5 million in general funds and $5 million in general obligation bond funding in fiscal year 2014 for watershed protection, as well as an additional $2.5 million in bonds in fiscal year 2015.
The budget also includes:
$3.5 million in the fiscal biennium to protect Hawaii's largest remaining tract of dryland forest, located in Manuka, in Ka'u district.
Additional positions for natural resource managers and planners for on-the-ground forest protection projects.
$750,000 in both FY14 and FY15 for the Hawaii Invasive Species Council (HISC), an interagency collaboration of state department directors that addresses statewide invasive species issues such as invasive plants and animals that threaten native forests and their ability to provide water. HISC funds support a variety of projects, including control of invasive miconia on Kauai, Oahu and Maui, and the removal of axis deer from Hawaii Island.
"We now can make substantial progress towards our goal of doubling the level of forest protection in a decade,"said William Aila Jr., chairperson of the Department of Land and Natural Resources (DLNR). "The bond funding alone funds the protection of more than 40,000 acres in watershed forests and dryland ecosystems statewide."
Despite the importance of forests for providing Hawaii's drinking water, more than half of these forests have been lost, and the rest are threatened by expanding populations of invasive species. Below are examples of prioritized funding to protect and restore critical watershed forests.
On Oahu, funding is provided to construct fences to protect more than 1,000 acres from feral pigs in the Koolau mountains. These projects are locatedmauka of Wahiawa and Punaluu, in the rainiest areas on Oahu. Public access will be maintained for recreational and gathering purposes. Pedestrian gates and step-overs (steps to allow people to go over a fence)) will be provided along fence corridors to ease access in and out of the protected areas.
Multiple projects were funded on Hawaii Island, including:
A project to plant native mamane trees at a 5,200-acre restoration site on the northern slope of Mauna Kea will be funded. Nearly 50,000 trees have already been planted in the last three years with the help of a thriving volunteer program.
Projects in remote forests of Kohala and Kau will be funded that are critical for supplying drinking and irrigation water for these regions. Comprehensive management actions include invasive species control, construction of protective barriers, and restoration of native species, including several that are endangered. Public access will be maintained for recreational and gathering purposes. Pedestrian gates and step-overs will be provided along fence corridors to ease access in and out of the protected areas. The DLNR and partners have engaged hundreds of community organizations and individuals to plan and assist with these projects. This includes involving hunters to assist with initial animal removal and opening new accesses to adjacent forests.
Capital improvement projects will benefit protection of the largest contiguous tract of dryland forest on Hawaii Island in Manuka. The ohia forest also harbors many rare native plants.
On Maui, projects were selected to protect more than 9,000 acres on the north, east and south slopes of Haleakala. On the south slope, more than 90 percent of the native koa forests have been lost to grazing from hooved animals such as goats, cattle and deer. Forests can re-grow in areas protected from hooved animals, aided by efforts to remove invasive plants.
Two projects on Kauai have been selected to protect more than 3,000 acres. These projects are located in the Alakai, the rainiest area in Kauai. These forests provide water for the Waimea and Hanalei districts. Threats to this region include invasive plants such as ginger and Australian tree fern, and damage from feral pigs and goats.
# # #
Photos are available at
https://www.dropbox.com/sh/ry69pejsnkljaox/CJALOfKpO3
Deborah Ward
DLNR Public Information Specialist
Phone: (808) 587-0320