Special Hunting Permits and Applications
Special Hunting Permits and Applications

Please note that regular hunts can be applied for through the Go Hunt, Hawaiʻi website. The hunts below are special hunts and hunting permits. 
Kauaʻi
Want to stay informed about hunting on Kauaʻi? Join the Kauaʻi Hunters Email List managed by the Kauaʻi Forestry & Wildlife branch.                        
2021 Kauaʻi Deer Rifle / Muzzleloader Hunt
2021- Kauai Deer Rifle / Muzzleloader Application: Please complete application form and mail payment (payable to DLNR) to the Kauai DOFAW office. 3060 Eiwa Street, Room 306 Lihue, HI 96766. Deer Rifle/Muzzleload has been assigned by lottery. It will run for seven consecutive weekends from September 18-October 31,2021 in Unit A & L (Muzzleload ONLY) on Saturday and Sundays and September 10-October 25,2021 in Unit B on Friday through Monday.   A virtual public drawing was held on Wednesday August 11,2021.
Kauaʻi Hunting Permits During COVID Pandemic
Kauai Hunting Permit Application: During the COVID-19 Pandemic, we would like to ensure that Hunters have the opportunity to purchase hunting permits. Mail form and payment (payable to DLNR) to our office 3060 Eiwa Street, Room 306 Lihue, HI 96766. This form is for 2021-2022 Hunting Season.  Please ensure that you have purchased a new hunting license before submitting request form. Forms may also be available at check stations and the vendors below.
| | |
| --- | --- |
| Eastside | Pono Market, Lace It Up, Kapahi Menehune Food Mart and Wailua Country Store. |
| Central  | JGB Arms and Elite Hunters |
| Westside | Salt Pond Country Store, Umi's Store, Westside Feed Store |
Unit G Archery Hunting Permits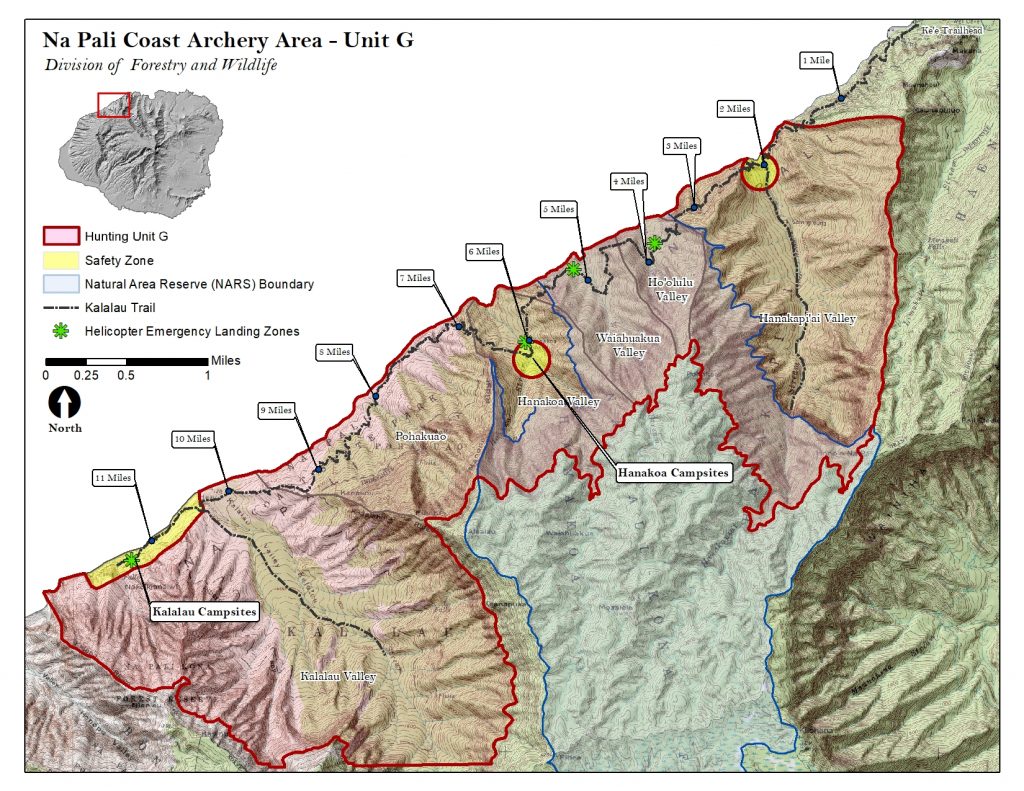 To apply for a Unit G Permit, you MUST have a current 2021-2022 Hunting License and Goat Archery F G K permit. Permits are issued within 3-consecutive Hunting Days. Processing  may take up to a week,  please apply a week or two before you plan to hunt. Camping permits are processed through Division of State Parks. Camping permits are limited, please call 808-274-3444 for availability.
Unit G Archery Permit Application
Oʻahu
Hunting Vehicle Access Permit for Ewa Forest Reserve: Poamoho Section
Wildlife Control Permit- Waimanalo Forest Reserve- Archery Only  
Wildlife Control Permit Honolulu Watershed Forest Reserve- Moanalua Section- Archery Only
Wildlife Control Permit Honolulu Watershed Forest Reserve-  Manoa / Tantalus Section- Archery Only
Wildlife Control Permit Waianae Kai Forest Reserve: Restricted Watershed
Wildlife Control Permit Application for Pia Valley Natural Area Reserve, Oahu 
Hawaiʻi
2021 Puʻu Waaʻwaʻa Mauka Archery Ungulate Control Program Application Form 
2021 Puʻuhonua o Hōnaunau National Historical Park Goat Salvage Program Application Form