Aloha and Welcome! We are delighted to announce our Fall 2022 Volunteer Camping Trip Dates.  Join us for a 3-day camp at 8 feet elevation on the northern slope of Mauna Kea. You can register by filling out the 2022 volunteer registration form below.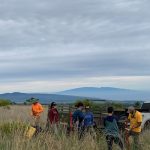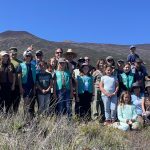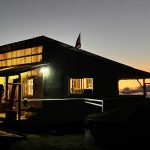 Camp Trip:

Starting Date: Tuesday- 9/20/22
Ending Date: Thursday- 9/22/22
Where: Pu'u Mali Restoration Area- on the northern slope of Mauna Kea.
Camp Trip Activities:
Camp Trip activities will include out planting of young Koa trees, harvesting koa seed pods, learn about the place, learn about the project and the work involved, photo opportunities, and to enjoy your time while you're there.
About Pu'u Mali
"The Pu'u Mali Restoration Area (PMRA) is an area of about 5,500 acres which used to be prime forest habitat before being converted into agricultural land. The area was fenced and domestic and feral ungulates were removed. Beginning in 2004, and continuing presently, the DLNR Division of Forestry and Wildlife(DOFAW) has conducted a forest restoration program on the proposed addition to re-forest agricultural grasslands with the purpose to recharging the watershed and providing a long-term habitat for Palila (Loxides bailleui)".