Drought Assistance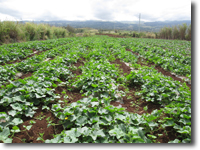 Various USDA (U.S. Department of Agriculture) programs are available to assist those impacted by drought. Many of these programs are triggered during Secretary of USDA disaster designations.  Program funding may be dependent on USDA annual budget appropriations.  Click on the links provided below for more information on each of the assistance program.
U.S. Department of Agriculture, Farm Service Agency

Hawaii State and Pacific Basin Farm Service Agency (FSA) – The FSA supports the agricultural community throughout the Pacific.
 Supplemental Disaster Assistance Payment Program (SURE) – SURE provides benefits for farm revenue losses due to natural disasters.
Livestock Forage Disaster Assistance Program (LFP) – LFP provides compensation to eligible livestock producers that have suffered grazing losses for covered livestock on land that is native or improved pastureland with permanent vegegative cover or is planted specifically for grazing. The grazing losses must be due to a qualifying drought condition during the normal grazon period for the county.
Livestock Indemnity Program (LIP) – LIP provides benefits to livestock producers for livestock deaths in excess of normal mortality caused by adverse weather.
Emergency Livestock Assistance Program (ELAP) – ELAP provides assistance to producers of livestock, honeybees and farm-raised fish that have losses due to disease, adverse weather or other conditions.
Tree Assistance Program (TAP) – TAP provides financial assistance to qualifying orchardists and nursery tree growers to replant or to rehabilitate eligible trees, bushes and vines damaged by natural disasters.
Noninsured Crop Disaster Assistance Program (NAP) – NAP provides financial assistance to producers of noninsurable crops when low yields or loss of inventory occur due to natural disasters.
Farm Loan Programs – The Farm Service Agency's loan programs are designed to help family farmers obatin loans and loan gurarantees, and conduct business planning.
Conservation Programs – The Farm Service Agency oversees a number of voluntary conservation-related programs. These programs work to address a large number of farming and ranching related conservation issues.
Disaster Management Electronic Government Initiative
DisasterAssistance.gov was developed to simplify the process of identifying and applying for disaster assistance. It consolidates disaster information from various government agencies in one convenient location. Currently, 17 U.S. Government agencies, which sponsor more than 50 forms of disaster assistance, contribute to this website.