Thank you for visiting our website and for your interest in the proposed DLNR Industrial and Business Park at Pulehunui. The goal of this website is to provide information and updates on the project, as well as serve as resource for project documents.
Project Overview
The State of Hawai'i, Department of Land and Natural Resources (DLNR) is proposing a light industrial and commercial business park at Pulehunui, Maui. The proposed 280 acre DLNR Industrial and Business and Park, situated on land under the jurisdiction of the DLNR, Land Division, is located in the Pulehunui area of central Maui, directly north of the Hawaii Air National Guard Armory and Maui Raceway Park on Mokulele Highway, on a portion of the parcel identified as Tax Map Key (2) 3-8-008:001. The project site is located within the Urban Growth Boundary of the Maui Island Plan, indicating that the lands are suitable and envisioned for development.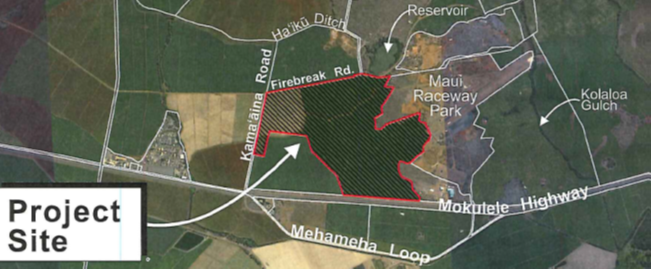 A conceptual land use plan is presented below for reference purposes only. The proposed project will include small, medium and large lots utilized for light industrial, commercial, non-profit and public/quasi-public uses, along with necessary infrastructure.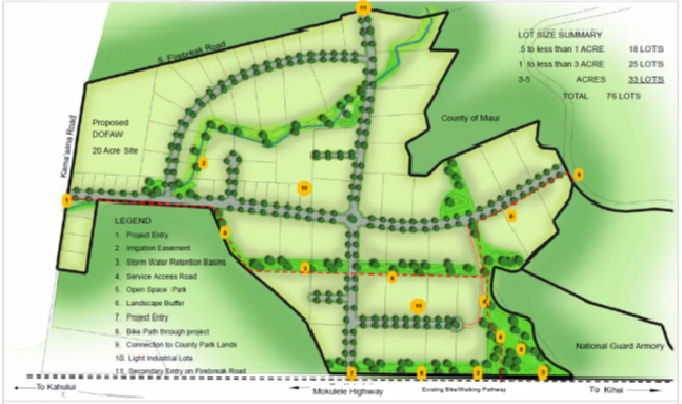 Project Purpose
The DLNR Industrial and Business Park is an opportunity to optimize the use of State lands to generate economic development and job opportunities for Maui residents in an area identified for future growth and meet the demand for light industrial space. In addition, the project will provide a long term revenue source to support DLNR's various natural, cultural and recreational resource management programs through rent from the leasing of lots within the Industrial and Business Park. This includes management of public lands as well as support for divisions within the DLNR, including the Commission on Water Resources Management, Division of Forestry and Wildlife, State Parks, Office of Conservation and Coastal Lands, Engineering Division, and Land Division.
Environmental Review and Entitlements
The project will be subject to extensive regulatory oversight and approvals. As this is a proposed use of State lands, an Environmental Impact Statement (EIS) is required pursuant to Chapter 343, Hawai'i Revised Statutes. An EIS Preparation Notice for the project was published on March 8, 2017 and the Draft EIS was published on May 23, 2018. Various technical studies are included in the EIS. The Final EIS will be presented to the Board of Land and Natural Resources for review on March 8, 2019.
Upon completion of the EIS, the project will require a State Land Use District Boundary Amendment from the State Land Use Commission and a Community Plan Amendment and Change of Zoning from the Maui County Council. Specifically, the following land use designations will be requested:
| | | |
| --- | --- | --- |
| Land Use Designation | Current | Proposed |
| State Land Use District | Agricultural | Urban |
| Kihei-Makena Community Plan | Project District 10 and Agriculture | Light Industrial |
| Zoning | Agricultural | M-1, Light Industrial |
Where can I find more information?
Below are links to reference documents, please note that the links will be updated as further information becomes available.
Project Informational Brochure
Final Environmental Impact Statement (For BLNR Review) – Volume I of III
Final Environmental Impact Statement (For BLNR Review) – Volume II of III
Final Environmental Impact Statement (For BLNR Review) – Volume III of III
Community Meeting
A public meeting was held to provide the community with more information on the proposed project and receive feedback.
Date: Wednesday, August 16, 2017
Time: 5:30pm – 7:00pm
Location: Kihei Community Center, 303 E. Lipoa Street, Kihei, Hawai'i 96753
Community Meeting Powerpoint Presentation
Contact
Please submit written inquiries regarding this project to Ian Hirokawa via email at [email protected].