MW Sites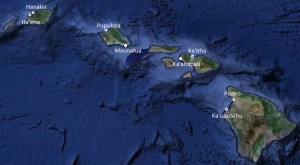 The State Makai Watch Program sites are located on 4 of the 8 main Hawaiian Islands. To learn more about a specific Makai Watch Site program scroll down page.
| | | | |
| --- | --- | --- | --- |
| Ha`ena, Kauai |  Hanalei, Kauai |    Pupukea, Oahu | Maunalua, Oahu |
| Ka`anapali, Maui | Ka`ehu, Maui | Puako, Hawaii Island | Ka`upulehu, Hawaii Island |
PUAKŌ, HAWAIʻI
The Hawai`i Tourism Association currently provides funding for Makai Watch activities in Puakō. West Hawaiʻi Sea Grant provided assistance with the initial human-use survey and assessment, while The Nature Conservancy continues to provides technical assistance with bi-annual biological monitoring, an on-going activity since 2007. The Puakō Homeowners Community Association is also involved; the community has implemented on-going biological monitoring for resource fish and is planning on expanding their capacity in their human-use data collection. Education and outreach efforts have included developing a website as well as outreach materials made available in the general store and in vacation rentals regarding the nearby coral reef and species found there.
Since 2006, Puakō Makai Watch volunteers have conducted ongoing human use and coral reef surveys and have installed educational signs at the 3 most heavily trafficked beach access sites in the area. Makai Watch volunteers work closely with local DOCARE representatives to identify and report illegal aquarium collecting and other marine resource violations in the area.
The Puakō Makai Watch volunteers participated in a DOCARE Obseravtion and Incident Reporting training in 2010, as well as a participatory mapping project identifying marine and coastal uses in the project area. 
Community Group: Puakō Community Association
George Fry, III
4 Puako Beach Drive 
Kohala Coast, HI 96743 
[email protected]
NGO Partner: The Nature Conservancy
Chad Wiggins
PO Box 6600
Kamuela, HI 96743
(808) 756-2080
[email protected]
Rules and Regulations
Puakō-Anaehoʻomalu FMA
Pūako Bay-Puako Reef No-Net FMA
Humpack Whale NMS
KA`UPULEHU, KŪKIO, KALAE MANO, HAWAI`I
Ka'upulehu
Established in 1995, the Kaʻupulehu Marine Life Advisory Committee (KMLAC) is a local community voice in managing the marine resources of Ka`upulehu ahupuaʻa and Uluweuweu Bay. Members include native Hawaiian lineal descendants from the ahupua`a, Kamehameha Schools, Kona Hawaiian Civic Club, the Office of Hawaiian Affairs, fee owners and lessees in Kaʻupulehu, natural resource managers, educators, scientists and state agency officials.
In 1998, the KMLAC successfully petitioned the State for creation of the Ka`upulehu Fish Replenishment Area (FRA) —one of nine such areas in West Hawai`i designated for protection from commercial aquarium collection. Since then, Ka`upulehu has been successful in increasing populations of some aquarium species targeted by collectors, such as the lau `ipala, or Yellow tang, but not those targeted by shore fishers as well. The Ka`upulehu FRA begins at Kalae `o Kikaua on the west and runs northeast to Kalae Mano.
The Ka'upulehu community has also received approval from the BLNR to initiate their community engagement process with the DLNR to create rules and regulations for a proposed CBSFA.
Community Group: Ka`upulehu Marine Life Advisory Committee (KMLAC)
For more information visit: Nature Conservancy on Ka'upulehu
NGO Partner: The Nature Conservancy
Chad Wiggins
PO Box 6600
Kamuela, HI 96743
(808) 756-2080
[email protected]
Rules and Regulations
Kaʻupulehu FRA
KA`ANAPALI-KAHEKILI, MAUI
A Makai Watch program for Ka`anapali was established in 2010, in support of the Kahekili Herbivore Fisheries Management Area (KHFMA). This community volunteer program is jointly coordinated by Project S.E.A.-Link and the Division of Aquatic Resources (DAR). Efforts focus on outreach and education in support of the KHFMA in order to promote voluntary compliance with its rules and regulations; 2) observation and incident reporting to support the efforts of the Division of Conservation and Resource Enforcement (DOCARE); 3) citizen science within the KHFMA; and 4) general outreach and education efforts which promote fisheries and watershed stewardship by all stakeholders.
Community Group: Ka'anapali Makai Watch
http://www.facebook.com/KHFMA
http://mauioceanbloggers.blogspot.com                                                 
Kahekili Herbivore Fisheries Management Area Sign
NGO Partner: Project S.E.A. Link 
Liz Foote
160 Kinohi Loa Loop
Wailuku, HI 96793
(808) 669-9062
[email protected]hawaii.rr.com 
Rules and Regulations
Kahekili Herbivore FMA
MAUNALUA BAY, OʻAHU
Stretching from Kupikipiki'o (Black Point) to Kawaihoa (Koko Head), the Maunalua region is home to over 60,000 people. The bay is a popular recreation site, attracting boaters, kayakers, canoe paddlers, jet skiers, divers, surfers, fishers, and picnickers. Once rich with coral reefs and fish, heavy use and urban development of the surrounding area has opened the bay up to invasive species and increased sediment deposit.
The Maunalua Makai Watch program was launched in May 2007 with the training of more than 20 community volunteers. Since then we have trained 75. These volunteers have dedicated hundreds of hours monitoring the human use of the bay and are beginning to monitor fish populations. They have also participated in alien algae and beach clean ups to improve the health of the bay. Maunalua Makai Watch volunteers serve as educators and ambassadors, encouraging all bay users to do their part to care for the Bay.
In 2010 the Makai Watch volunteers were trained in the DOCARE Observation and Incident Reporting training, to efficiently report natural resource violations to DOCARE.  In 2014 the DOCARE administration created a pilot project to address the perceived lack of communication and follow-up with the community.  This project pilot helped to facilitate the relationship with the community group and commercial operators in the bay, providing clarification on rules and regulations.
Community Group: 
NGO Partner: 
PŪPŪKEA-WAIMEA MARINE LIFE CONSERVATION DISTRICT, OʻAHU
Malama Pupukea
In May 2006, Mālama Pūpūkea-Waimea (formerly known as Hui Mālama o Pūpūkea-Waimea) a North Shore community volunteer group, collaborated with the Hawaii Community Stewardship Network (formerly, the Community Conservation Network) and the State of Hawaiʻi DLNR to launch Oʻahu's first Makai Watch program in the Pūpūkea-Waimea Marine Life Conservation District (MLCD). Over thirty volunteers were initially trained to steward the district encompassing Waimea Bay, Kalua-Maua (Three Tables), and Pūpūkea (Sharks Cove). Pūpūkea is one of the most popular shore-entry snorkel and dive spots on Oʻahu, second only to Hanauma Bay. Makai Watch participants work to reduce the impacts of tourism, overuse, and poaching on the protected area.
Mālama Pūpūkea-Waimea acts as a liaison to the community and provides program oversight and strategy. Volunteers hold Saturday outreach and education sessions at one of the three areas in the MLCD. In addition, volunteers monitor human use, conduct fish surveys, and give mini-presentations on the culture, history, and ecology of the area on an ongoing basis to engage visitors in more responsible ocean behavior. Their outreach work in ocean ethics extends to Sunset Beach Elementary School as well.
Mālama Pūpūkea-Waimea is actively working to increase the knowledge of and support for the ecological values, rules, traditional and cultural importance, and user impacts on the Pūpūkea and Waimea ahupuaʻa—focusing on the MLCD—among the community, youth, visitors, and users.
Community Group: Malama Pūpūkea-Waimea
Jenny Yagodich
[email protected]
NGO Partner: Kua`aina Ulu `Auamo
Kevin Chang
[email protected]
Rules and Regulations
Pūpūkea MLCD
HANALEI, KAUA'I
Hanalei Watershed Hui
Kua`aina Ulu `Auamo, formerly known as the Hawaii Community Stewardship Network, provides coordination, facilitation, and technical assistance to Makai Watch volunteers at Hanalei. The Hanalei Watershed Hui acts as the community liaison and provides supervision and local knowledge of the area.
The Hanalei Watershed Hui provides information to government agencies and others in support of planning efforts and rule making that will enhance the health of the Hanalei watershed. Hanalei Makai Watch volunteers gather accurate data on human uses of the Bay and River and engage users and the local community in rule making and user conflict mitigation.
Community Group: Hanalei Watershed Hui
Maka`ala Ka`aumoana
P.O. Box 1285
Hanalei, Hawaii 96714
(808) 826.1985
[email protected]
[email protected] 
NGO Partner: Kua`aina Ulu `Auamo
Kevin Chang
[email protected]
HA'ENA, KAUA'I
Kua`aina Ulu `Auamo, formerly known as the Hawaii Community Stewardship Network, provides funding, staffing of part-time coordinators and contractors, technical assistance, coordination, and facilitation. Limahuli Garden and Preserve provides space and coordination support for community meetings, as well as staff time for projects such as community interviews. Hui Maka'ainana o Makana acts as the community liaison and contributes local biological and cultural knowledge. A partial Makai Watch project began in 2006 with human-use monitoring, but expanded in 2008 to include biological monitoring, fish-catch data collection, and into the management plan for this community-based subsistence fishing area. DAR has assisted with grants support as well as with biological monitoring.  The Ha'ena community has also been officially recognized as a Community-based Subsistence Fishing area by the Board of Land and Natural Resources this past October.  This was the product of a tedious and engaging process with the community and DAR creating language for rules and regulations based upon traditional practices and customs.
Community Group: Hui o Maka`ainana o Makana
Presley Wann
NGO Partner: Kua`aina Ulu `Auamo
Kevin Chang
[email protected]