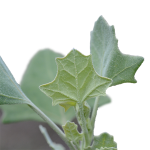 ---
'Āweoweo
Chenopodium oahuense,
Endemic
---
'Āweoweo, or 'āheahea, is a common shrub throughout Hawai'i's dry areas. Rub the leaves and smell them and you will see why it has the same name as a fish.
Together with the fishy smell, the red stems are also reminiscent of the 'āweoweo fish. This is an important connection to Hawaiian though, because it connects ocean and land resources.  This dichotomy was common in Hawaiian though. In this paradigm, how we treat the upland 'āweoweo directly affects the 'āweoweo in the sea.