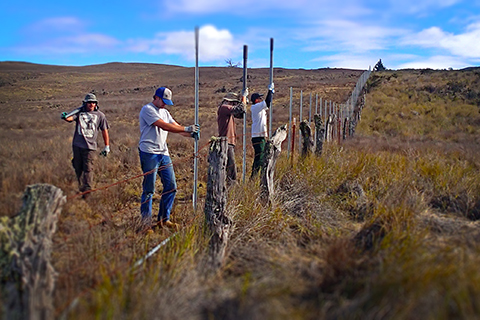 ---
Management
---
After centuries of negative impacts from introduced animals, insects, and invasive plants, the high-elevation forest of Mauna Kea and its wildlife need our help. With intensive management by partnerships with the State and Federal governments, non-profits, and volunteers, the forest will be protected for generations to come.
Mauna Kea Forest Restoration Project

---

---

Visit MKFRP's Facebook page:

Restoring the high-elevation dry forest is essential to ensuring that palila persist on Hawai'i island, and the Mauna Kea Forest Restoration Project (MKFRP) is doing just that. MKFRP was created as a result of the Saddle Road realignment. The new highway went through palila critical habitat and resulted in a loss of critical habitat. To mitigate the loss, the State Department of Land and Natural Resources and the U.S. Fish and Wildlife Service agreed to "set aside" two areas in 2002 to restore habitat for palila. Pu'u Mali Restoration Area (5,140 acres) is on the northern slope and Ka'ohe Restoration Area (1,400 acres) is on the southwestern slope of Mauna Kea. MKFRP was initiated in 2006 when funding was obtained to support staff and management efforts. The goal of the project is to facilitate management that benefits Palila at Pu'u Mali and Ka'ohe Restoration Areas and on other lands in Palila Critical Habitat (PCH). There are seven staff—Project Coordinator, Field Crew Leader, Volunteer and Outreach Coordinator, three Field Technicians, and one AmeriCorps intern. MKFRP is cooperatively managed by the Hawai'i Division of Forestry and Wildlife and the Pacific Cooperative Studies Unit.

---

Click on each section to learn more:

Fence monitoring and maintenance

MKFRP monitors and maintains fences to keep non-native browsing animals out of palila critical habitat and Pu'u Mali and Ka'ohe Restoration Areas. MKFRP currently inspects 47 miles of fence on a monthly basis and conducts repairs as needed. In the past year, staff dedicated 825 hours of effort to make 34 maintenance and weather related repairs and 18 repairs due to vandalism.

Severe storms can knock down large sections of fence.  

Forest Restoration

In some areas, seeds are scattered on bare soil and in a few months sprouts like this 'a'ali'i pop up.".  

MKFRP has planted over 70,000 seedlings from 2010 to 2013 in Pu'u Mali and Ka'ohe Restoration Areas. Māmane is the main species planted but koa, 'a'ali'i, 'iliahi, 'akoko, 'āweoweo, na'ena'e, and pilo are also planted. The average one year survival for māmane seedlings planted at Pu'u Mali Restoration Area is 68%.

Outplanted māmane seedlings have a survival rate of 68%.

Monitoring Natural Regeneration

A fence was built around Ka'ohe Restoration Area in 2006 and the area has been sheep-free since then. Plots were established in 2008 to monitor natural regeneration. In 2012, the plots in Ka'ohe Restoration Area had 192 māmane saplings per acre. MKFRP also monitored plots over the fence in neighboring Ka'ohe Game Management Area where sheep are present.  These plots had only 27 māmane saplings per acre and many saplings were damaged by browsing which can reduce survival. Natural regeneration was over seven times higher in the area without sheep. Similar results should occur throughout palila critical habitat where remnant forest occurs as DLNR continues efforts to completely remove hybrid-mouflon sheep.

Māmane saplings (indicated by arrows) are sprouting at a much faster rate than outside of fenced areas.

Volunteer program

MKFRP has hosted 57 volunteer trips and 613 volunteers from 2011-2013 that have contributed 11,127 hours of effort to project goals. A thriving volunteer program has enabled MKFRP to increase project productivity and build community support for restoring Mauna Kea's high-elevation dry forest ecosystem.

The generous support of the community is vital to restoring the high-elevation dry forest.  

Sign up to Volunteer

Community outreach

Surprisingly few people know what a palila is or about the DLNR management efforts to conserve this unique part of Hawai'i's heritage for future generations.  MKFRP is using several forms of communication to increase community understanding and support for these management efforts.

The 30-second public service advisory featuring a talking palila will expose the residents off Hawai'i and people elsewhere to what a palila is, their threats, and management. MKFRP created this website and a Facebook page to share more in-depth information with the public on these topics.

MKFRP partnered with artist, Kathleen Kam, and will produce a 9 x 12-foot palila mural that she will paint in January 2014 on a prominent building face in downtown Hilo. The goal is to inspire and educate the public through the beauty of art. A placard will be affixed to the building providing information about palila ecology, threats and management. This project was made possible with funding provided by the American Bird Conservancy.

MKFRP has done presentations of project accomplishments at professional conferences (Nāhelehele Dryland Forest Symposium, Kona-2012, Hawai'i Conservation Conference, Honolulu-2012 and the Vertebrate Pest Conference, Waikaloa-2014) and for the community (After Dark in the Park presentation series, Hawai'i Volcano National Park-2012, Lyman Museum, Hilo-2012, 'Imiloa Astronomy Center of Hawai'i, Hilo-2013).

MKFRP reaches out to the community in various lectures, classes, and events.

On December 7, 2013, MKFRP hosted an event titled Palila Palooza in collaboration with 'Imiloa Astronomy Center and the Hawai'i Nei Art Contest to educate the community about palila and the high-elevation dry forest on Mauna Kea.  MKFRP has also participated at many community events such as the Amy Greenwell Ethnobotanical Garden's Grow Hawai'i Festival, Earth Day at Hawai'i Community College, Merrie Monarch Festival parade, Hawai'i County Fair, and the Wiliwili Festival in Waikaloa.

Palila Palooza attracted more than 600 keiki and their parents.

Predator control

Non-native feral cats are a significant threat to palila, especially during the nesting season. MKFRP has removed 172 feral cats from palila critical habitat since 2009.

Feral cats are responsible for 10% of palila nest failures (photo from Wikipedia).

Palila surveys

MKFRP coordinates palila point counts every January with the assistance of about 30 biologists from around the State that help count palila. Counts are done by visiting 419 stations in palila critical habitat. At each station, biologist count all palila and other bird species observed or heard during a six-minute period. Biologists visit each station two times to improve the accuracy of the count. It takes about two weeks to complete the counts if the weather cooperates. In 2012, the population estimate was between 1,749-2,460. Over the past 10 years (2003-2012) the population decreased by approximately 66%.

---

Invasive plant control

Cape ivy can cover entire trees, shading out growth..

Fountain grass and Cape ivy are the two main invasive plant species MKFRP controls in the high-elevation dry forest of Mauna Kea. MKFRP has removed nearly all cape ivy from Pu'u Mali Restoration Area.  Also, MKFRP is controlling an isolated patch of fountain grass in palila critical habitat on the northern slope of Mauna Kea and this effort is nearly complete.

Fountain grass invades disturbed sites rapidly and is a highly flammable fuel source for wildfires.