North Maui Community Fisheries Enforcement Unit Recognized For Tremendous Success In 1st Year
Posted on Jul 18, 2014 in Announcements
DEPARTMENT OF LAND AND NATURAL RESOURCES
News Release
NEIL ABERCROMBIE
GOVERNOR

WILLIAM J. AILA JR,
CHAIRPERSON
For Immediate News Release July 18, 2014 
NORTH MAUI COMMUNITY FISHERIES ENFORCEMENT UNIT
RECOGNIZED FOR TREMENDOUS SUCCESS IN 1ST YEAR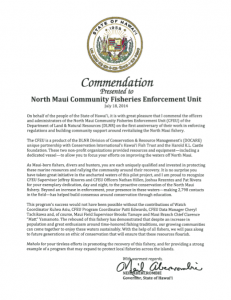 HONOLULU –As the North Maui Community Fisheries Enforcement Unit (CFEU) marked its first full year of operation, Gov. Neil Abercrombie and Lt. Gov. Shan Tsutsui surprised the unique unit with a commendation* that applauds the three-officer team for its success in combining focused enforcement with education and public trust-building.
Operating as a unit of the Department of Land and Natural Resource's (DLNR) Division of Conservation and Resources Enforcement (DOCARE), the enforcement team, which was introduced as a pilot project last year, regularly patrols a 13-mile stretch of coastline from Hulu Island to Baldwin Beach Park.
"By utilizing a personal touch and one-on-one contact with fishers, our fisheries enforcement officers have become highly visible in what has traditionally been an area that sees a lot of fishing pressure. The unit provides a successful model upon which we may consider our plans to enhance our future efforts,"said DLNR Chairperson William J. Aila, Jr., who presented the commendation on behalf of the administration. "This specialized unit is not only about enforcement, but also serves to promote education and public trust."
Formed as a partnership between DLNR, Conservation International's Hawaii Fish Trust and the Harold K.L. Castle Foundation, CFEU officers focus their efforts in the water and on the shore completely on the North Maui coastline. The Castle Foundation and Conservation International provided funding for CFEU, particularly for the acquisition of a specialized, dedicated boat.
Eric Co, senior program officer for marine conservation for the Castle Foundation, said, "CFEU is proving that a concentrated approach toward resource improvement and enhancement works when an over-stressed area is given dedicated enforcement and education attention." Hawaii Fish Trust Director Jack Kittinger commented, "The CFEU brings a unique combination of enforcement, education and outreach to the community, and is paying dividends for the recovery or marine resources on Maui's north shore."
MORE
In CFEU's first year of operations, from May 2013 to April 2014, officers initiated 60 investigations, compared to 17 in the same period from the previous year, representing a 253 percent increase. They issued 71 percent more citations, from 24 to 41.
DOCARE Chief Randy Awo said: "The CFEU's team presence in North Maui has also led to fewer complaints about illegal fishing, with a 21 percent decrease year-to-year. What's notable is the number of people our officers contacted in the water and on-the-shore. They had 2,798 contacts in the field and conducted 468 fisher inspections. The good news is their visibility helped lead to an 88 percent compliance rate."
Additionally, the CFEU team has educated more than 400 people at presentations, training and events. They also worked with the North Maui Makai Watch program to train volunteers at two locations, as well as assisted with coordination and participated in user group meetings to attempt to resolve conflicts at Kanaha Beach Park restricted zones and suggested new rules for DLNR's Division of Boating and Ocean Recreation  to consider and draft. The officers report that they are already seeing improvements in the numbers and sizes of fish in the CFEU patrol area.
For more information on CFEU, two videos produced by DLNR are available for viewing:
https://vimeo.com/98595113
https://vimeo.com/97268061
Click here for: Photographs of the CFEU
Media Contact:
Dan Dennison
Senior Communications Manager
Department of Land and Natural Resources
(808) 587-0407
[email protected]