Hawai'i Island Enforcement Officer Recognized with First-Ever Award
Posted on Jul 9, 2017 in Announcements, slider
DEPARTMENT OF LAND AND NATURAL RESOURCES
News Release
DAVID Y. IGE
GOVERNOR

SUZANNE D. CASE
CHAIRPERSON
For Immediate News Release July 9, 2017  
HAWAI'I ISLAND ENFORCEMENT OFFICER
RECOGNIZED WITH FIRST-EVER AWARD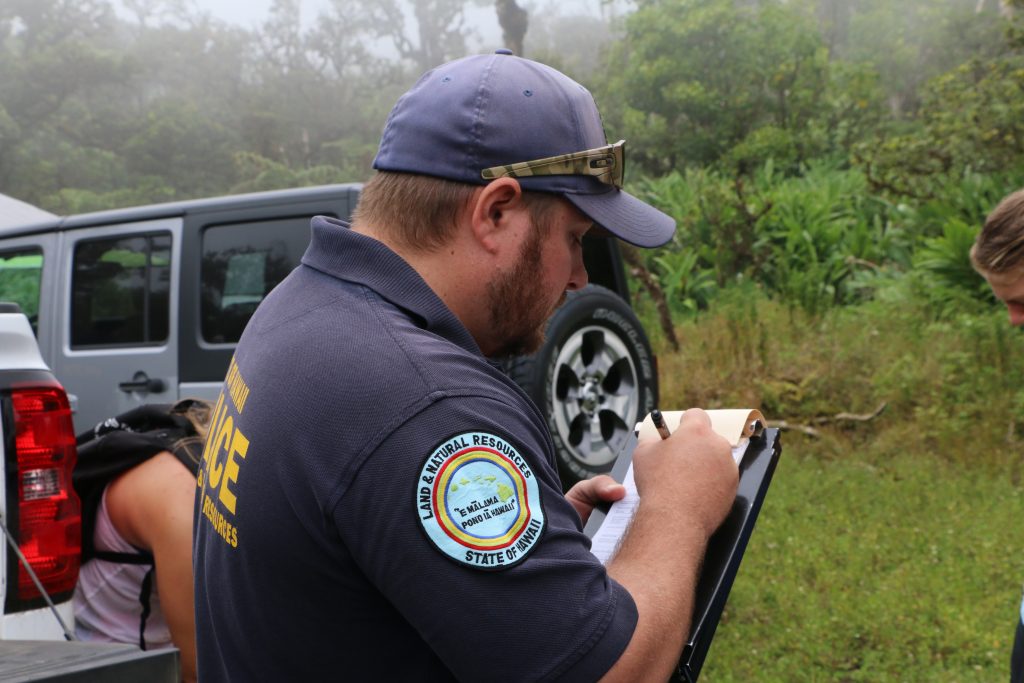 (Click on image to watch video)

(Honolulu) – Veteran DLNR Division of Conservation and Resources Enforcement (DOCARE) Officer James Ridzon has been selected as the first recipient of the DLNR/DOCARE Officer of the Year award.  Ridzon has been with DOCARE for more than eight years and has earned a reputation as an effective investigator and strong protector of Hawai'i's natural and cultural resources.
In announcing the award, DOCARE Enforcement Chief Robert Farrell said, "I know Jim well from my time as an officer on the Big Island.  His supervisor described him as competent, knowledgeable and capable…exactly the traits I noticed and I would add diligent and extremely competent. DLNR Chair Suzanne Case added, "Officer Ridson's work ethic and overall efforts exemplify the best in what we expect from our DOCARE officers."
Ridzon was nominated by his peers and his supervisor.  He has a broad orientation to the job and has consistently been a team player in his current assignment to the North District of Hawai'i island. Over the weekend Ridzon joined fellow officers in an operation to crack down on illegal entry into the Kohala Restricted Watershed by hikers trying to traverse what has become known as the White Road hike.  He again demonstrated his professionalism in encounters with people who were arrested for trespass into a closed area, by treating them with respect and compassion.  Ridzon said, "My goal was to always work in conservation resources enforcement as it combines my life-long passion for the outdoors with protecting the all of the places and resources Hawai'i is recognized around the world for."
As part of this recognition Officer Ridzon will be attending the annual North American Wildlife Enforcement Officers (NAWEOA) conference in Ontario, Canada later this month. NAWEOA is an organization that was formed solely to advance the needs of natural resource and wildlife officers throughout North America. It has membership from all 50 states and 13 Canadian provinces and territories. Ridzon will be the first ever, State of Hawai'i, Officer of the Year to attend.
# # #
Media Contact:
Dan Dennison
Senior Communications Manager
Hawaii Dept. of Land & Natural Resources
Communications Office
(808) 587-0407