Welcome to Division of Forestry & Wildlife!
The mission of DLNR's Division of Forestry and Wildlife is to responsibly manage and protect watersheds, native ecosystems, and cultural resources and provide outdoor recreation and sustainable forest products opportunities, while facilitating partnerships, community involvement and education. Mālama i ka 'āina
Announcements
---
Public Meetings & Events
Keep informed of DOFAWʻs public meetings and events, please visit our meetings page
Volunteer with the Division of Forestry and Wildlife and other Divisions within the Department of Land and Natural Resources.  Learn how when you visit our iVolunteer page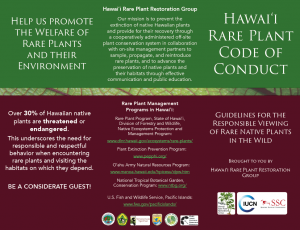 DOFAW is a member agency of the Hawai'i Rare Plant Restoration Group and supports the group's Rare Plant Code of Conduct. Click on the image above to view and download the outreach brochure and open the link on the right under "Rare Plant Quick Links" to read the full text version of the code.