Photo Credit: Tim DelaVega

**IMPORTANT PARK NOTICES**
12/7/23 – UPDATED – [OAHU]: Ka'ena Point State Park, Mokule'ia Section vehicle access is CLOSED due to saturated roads, the Keawa'ula Section has REOPENED.
05/23/23 – KA'ENA POINT STATE PARK HOURS TO BE STRICTLY ENFORCED MEMORIAL DAY WEEKEND
Posted on May 24, 2023
JOSH GREEN, M.D.
GOVERNOR

DAWN CHANG
CHAIRPERSON
For Immediate Release:  May 23, 2023
KA'ENA POINT STATE PARK HOURS TO BE STRICTLY ENFORCED MEMORIAL DAY WEEKEND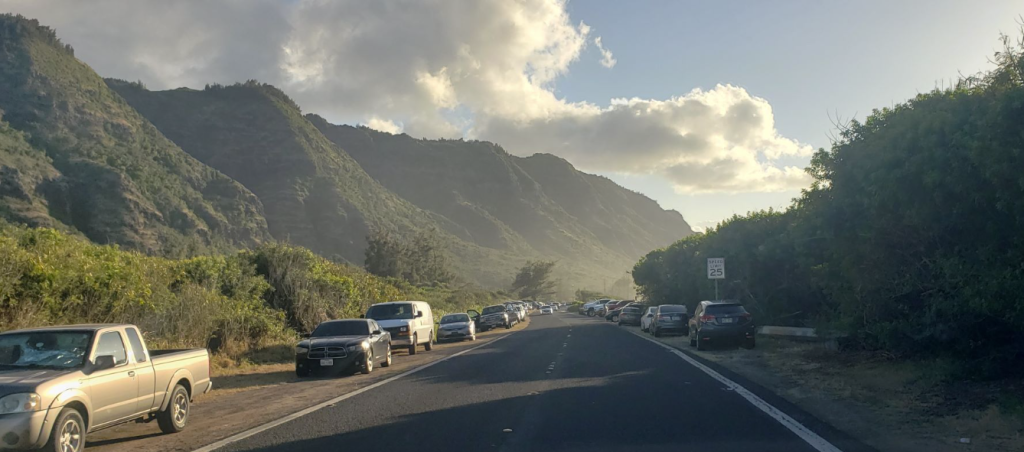 To view video please click on photo or view at this link: https://vimeo.com/829541202
HONOLULU) – The DLNR will be enforcing existing park closure hours at Ka'ena Point State Park for the upcoming three-day holiday weekend to protect sensitive species and habitats from illegal activity.
DLNR Chair Dawn Chang said, "We continue to receive reports, videos, and photographs showing people breaking the law and ignoring the park's safe wildlife viewing rules. For the safety of Ka'ena users and protected species, the park entrance gate near Dillingham Airfield will be closed between the hours of 7:00 p.m. and 6:00 a.m.
All vehicles need to be out of the park by 7:00 p.m. except for valid permit holders who will not be affected.
"While the majority of park users tread lightly, rules to protect the natural resources of this remote and wild coastline park are broken daily and bad behaviors seem to increase on holiday weekends," said DLNR Division of State Parks (DSP) Assistant Administrator Alan Carpenter. "People drive on the beach, have pallet bonfires which leave nails in the sand, and leave behind all manner of rubbish that pollutes this landscape.  Most of this illegal activity takes place after the park is closed."
Ka'ena Point State Park rules include:
No motorized vehicles/ATVs off road
No alcohol
No smoking
No animals/pets
No camping
No driving on the beach
No open fires or bon fires
No littering
Prior to the park entrance gate closing each night, officers from the DLNR Division of Conservation and Resources Enforcement (DOCARE) will sweep the area between the entrance gate and the permitted vehicle access gate. "We hope people will comply with officer instructions and exit the area," said DOCARE Chief Jason Redulla. "This is being done to protect sea turtle nesting sites, resting monk seals (pups and adults), other endangered native plants and animals, and everyone's safety."
The gates at the Keawa'ula Section of Ka'ena Point State Park, on the west side of O'ahu, will also close, as normal, at 7:00 p.m. and reopen at 6:00 a.m. The same rules are in place for both the north shore and west side sections of the park.
# # #
(RESOURCES)
(All images/video courtesy: DLNR)
HD video – Ka'ena Point State Park (various dates):
Photographs – Ka'ena Point State Park (various dates):
https://www.dropbox.com/sh/hc6anqkcxygd8aw/AAAsyF6JVJJKNNCVBGXidAD4a?dl=0
Marine wildlife safe viewing guidelines:
https://www.fisheries.noaa.gov/pacific-islands/marine-life-viewing-guidelines/viewing-marine-wildlife-hawaii
Media Contact:
Dan Dennison
Senior Communications Manager