Photo Credit: Tim DelaVega
UPDATE: 12/1/20  -  [OAHU]  - The Mokuleia side of Ka'ena Point will be CLOSED Wed. Dec. 2 for filming of Magnum PI. - WARNING - Dangerously High Surf is expected for North and West facing shores of Oahu Wed. Dec 2 and Thurs. Dec 3. 
.
11/23/20 - [MAUI] - Iao Valley State Monument is now OPEN. Paid parking by credit card only.
.
11/20/20 - [OAHU] - Waahila Ridge State Recreation Area will be CLOSED Monday 11/23 through Wednesday 11/25 to complete on-going HECO work. --- Previous: The Waahila Ridge State Recreation Area has on-going HECO work and access is limited.  The Waahila Ridge Trail is CLOSED during weekdays and OPEN on the weekends.  The park area is OPEN during weekdays however the gates will remain CLOSED.  Access gates will be OPEN on the weekend.
.
11/3/20 - [HAWAII] - Hapuna Beach State Recreation Area is now OPEN however restroom services are limited to portable toilets due to a recent water main break. Repairs are underway but not complete. 
.
10/13/20 - New Park Fees Are In Effect! - Diamond Head State Monument remains CLOSED until further notice.
.
9/24/20 - [OAHU] - Starting Sept. 24th  groups of five people will be allowed in OPEN State Parks, as well as, State Beaches and Trails.  Canopy-type structures are not permitted at this time at State parks, beaches and trails.
Popular Nuuanu Pali State Wayside Reopens Wednesday
Posted on Nov 2, 2020
[HONOLULU] – Closed since nearly the beginning of the COVID-19 pandemic, the Nuʻuanu Pali State Wayside on O'ahu, reopens Wednesday, November 4, 2020.  The DLNR Division of State Parks had the park and scenic lookout closed due to crowding concerns (lack of physical distancing) and budgetary constraints. 
The Pali Lookout, for short,  is a popular stopover point along the Pali Highway, offering panoramic views of the windward side of the island. Typically, this park is among the most visited on Oʻahu, and visitors are reminded to adhere to social distancing rules and to wear face coverings when visiting the often-crowded overlook.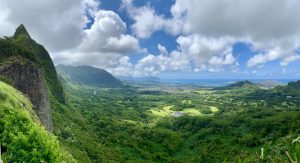 Open hours for the wayside park are 6 a.m.-6 p.m., daily. Visitors are also reminded that there are no legal hikes beginning from the Pali lookout. Illegal hikers entering the adjacent closed areas in the State Forest Reserves has been a long-standing issue, and violators are subject to citation and fines.
Beginning Monday, newly approved parking fees for out-of-State residents and commercial vehicles will apply. Residents are not subject to parking and entry fees at any Hawaiʻi State Parks.   
New parking fees for Nuʻuanu Pali State Wayside: 
Nonresidents: $7.00 per vehicle 
Commercial PUC  vehicles: 
1 to 7 passengers per vehicle $15.00 
8 to 25 passengers per vehicle $30.00 
26+ passengers per vehicle $50.00 
The gates along access roads leading into the Nu'uanu Pali State Wayside will be unlocked daily and secured nightly by officers from the Honolulu Police Department. 
Nu'uana Pali State Wayside Reopening from Hawaii DLNR on Vimeo.