Diamond Head State Monument: Volunteer Work Day
Photo Credit: Tim DelaVega

**IMPORTANT PARK NOTICES**
12/7/23 – UPDATED – [OAHU]: Ka'ena Point State Park, Mokule'ia Section vehicle access is CLOSED due to saturated roads, the Keawa'ula Section has REOPENED.

Diamond Head State Monument: Volunteer Work Day
July 2, 2022 @ 9:00 am

-

12:00 pm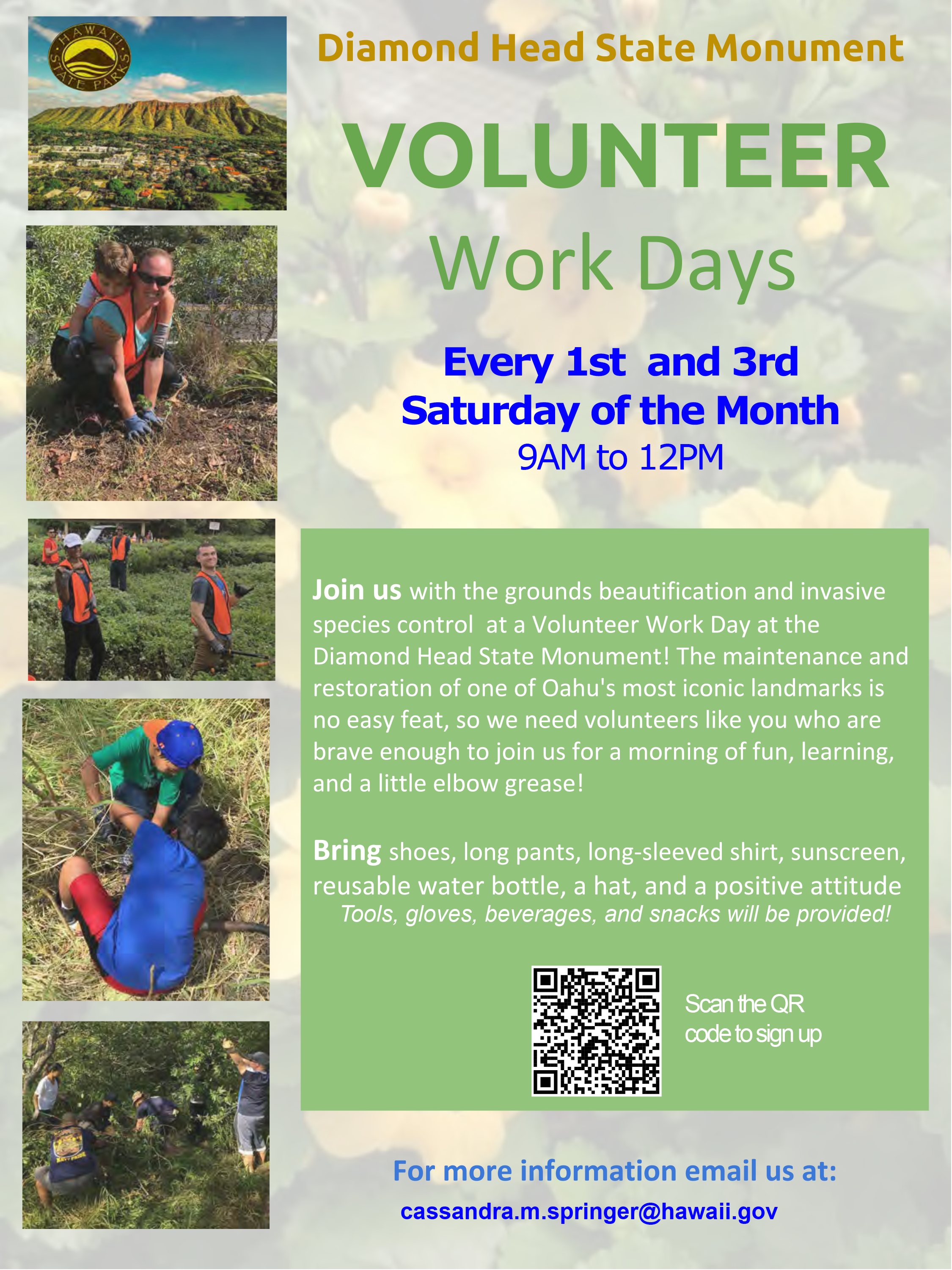 REGISTER FOR THIS EVENT HERE ON KANU HAWAII
At Diamond Head State Monument, volunteers will be weeding, pruning, and removing invasive species as assigned by the Park Ranger. Tools and gloves for the workday will be provided by Park staff, but volunteers are welcome to bring their personal tools and gloves. If you plan to bring personal tools, make sure they are labeled and let Parks staff know ahead.
Working within Diamond Head, the weather can get very hot and dry, and the terrain is often uneven. Come prepared to work in the sun and do moderate to heavy lifting/carrying. Here are some rules to follow, and items that all volunteers are required to bring:
–>> Rules:
1. Follow all rules of the park while you volunteer
2. Stay within the designated work area unless specified by Park Ranger or staff
3. Please be aware of your surroundings, and other volunteers, when using tools
4. Be sure to clean all tools, and work area, at the end of work day
–>> Remember to bring the following items:
• Water • Hat • Shoes • Work pants • Work shirt (T-Shirt OK) • Sunscreen