Kaloko Inlet Restoration at Kaiwi State Scenic Shoreline
Photo Credit: Tim DelaVega

**IMPORTANT PARK NOTICES**
12/7/23 – UPDATED – [HAWAIʻI] Kua Bay in Kekaha Kai State Park has REOPENED.
•
12/7/23 – UPDATED – [OAHU]: Ka'ena Point State Park, Mokule'ia Section vehicle access is CLOSED due to saturated roads, the Keawa'ula Section has REOPENED.

Kaloko Inlet Restoration at Kaiwi State Scenic Shoreline
November 23 @ 8:00 am

-

10:30 am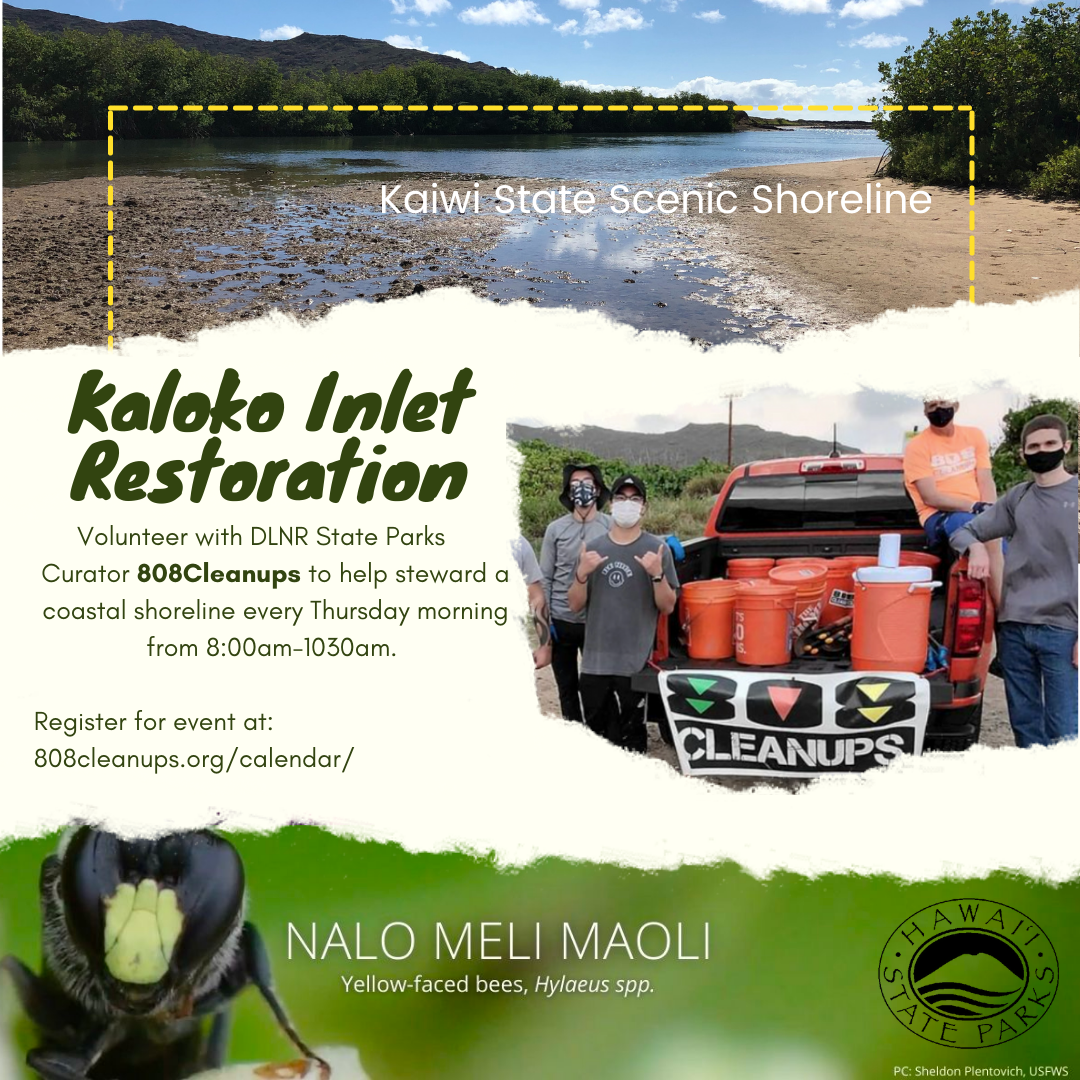 Join State Parks Curators 808 Cleanups team in restoring parts of the Kaloko Inlet at the Ka'iwi State Scenic Shoreline.
 All ages are welcome. Participants under 16 years of age must have a parent or guardian attend for the duration of the activity (we love having them participate as well!) We will provide multiple activity options for you based on age, physical ability, and interest.
Please send an RSVP by any of the following methods: 808 Cleanups App, Email at [email protected]. When your RSVP is confirmed, please make sure to sign the waiver here: https://808cleanups.org/waiver/ 
Parking: Take the paved driveway down from the highway into the dirt parking area surrounded by boulders. Be careful of uneven terrain and make your way to the barricades where you'll see the brown 808 Cleanups truck. Look for the brown Toyota Tacoma with the 808 Cleanups Signage on the truck parked in the dirt parking area oceanside for Erma's/Alan Davis/Left Point. We'll meet at the truck for the briefing and supplies distribution.
Work priorities: Priority 1: Invasive species removal, digging up and cutting down invasive mangrove, kiawe and koa haole shrubs to make way for native plants.
Priority 2: Moving the cut debris from the site up a hill to a dry staging site. 
Priority 3: Litter removal along the coastline and trails. 
What to bring: Sturdy shoes or boots, sun protection, and water. Jeans or other work pants are recommended for invasive species removal. 808 Cleanups will provide all cleanup tools and supplies.
NOTE THERE ARE NO RESTROOMS AT THIS SITE. The nearest restroom is a half mile down at Sandy Beach Park.