Hāpuna Beach State Recreation Area
Photo Credit: Sean Newsome

**IMPORTANT PARK NOTICES**
[OʻAHU] UPDATED 9/22/23: Kaʻena Point State Park – Mākua-Keawaʻula Section - DOT Makaha Bridge Replacement Project will affect access to Kaʻena Point State Park, Mākua-Keawaʻula Section. The Mākua-Keawaʻula Section will be CLOSED from Sept. 29-Oct. 1. See Kaʻena site for more details and updates.
•
[O'AHU] UPDATED 7/12/23: Sand Island State Recreation Area – WATER OFFLINE, in the park, facilities impacted. See Sand Island site for updates.
Hāpuna Beach State Recreation Area
Water is back online at Hapuna State Recreation Area.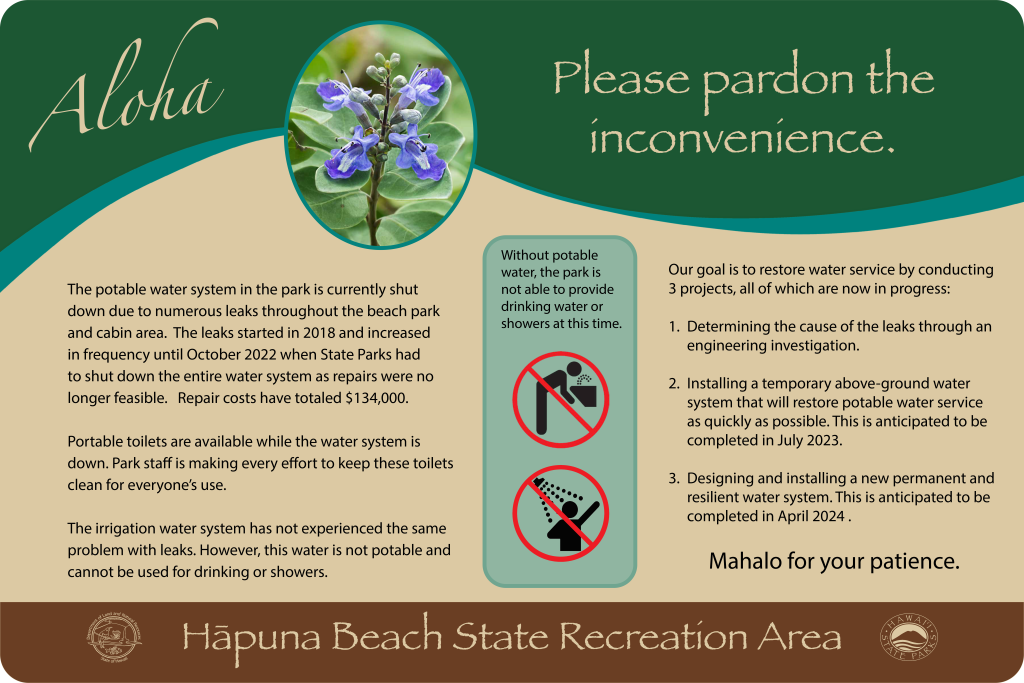 Hours

Daily Hours 7:00am to 7:30pm

Gates Close at 8:00pm

Entrance Fee

*Credit Card Only*
Hawaii Residents = Free w/ Drivers Lic. or ID
Non-Residents = $5.00 Per Person
Children 3 and Under = Free

Parking Fee
      Non-Commercial Vehicles

Residents = Free with State ID/DL
Non-Residents = $10 per vehicle

     Commercial PUC Vehicle:

1-7 passenger vehicles: $25
8-25 passenger vehicles: $50
26+ passenger vehicles: $90

Trail Name
Lodging

       A-Frame Cabins (presently CLOSED)


Residents = $40 Per Night, Per A-Frame
Non-Residents = $70 Per Night, Per A-Frame

NOTE: Online reservations for must be made at least 7-days in advance of check-in date.

 
Description
Landscaped beach park with swimming during calm seas, bodysurfing during periods of shore breaks, sunbathing and other beach-related activities, picnicking and shelter lodging opportunities.
Dangerous rip currents and pounding shore breaks during periods of high surf! Waves over 3 feet high are for experts – all others should stay out of the water and away from the shoreline! Lifeguard services. Hiking opportunity along the coastal trail. (61.8 acres)
Lodging Information
Hāpuna Beach State Recreation Area rents 4-person A-Frame shelters.  These shelters consist of a single screened room with wooden sleeping platforms and a picnic table.  Comfort Stations with cold showers and restrooms are available for shared use by all shelters. Food and other personal supplies must be stored in the guest's unit.
Other Conditions Apply
1. Guests must provide their own liquid hand soap and hand sanitizer – we do not provide it.
2. ALL CAMPERS MUST BE PRESENT FOR MANDATORY CHECK IN WITH STAFF AT 3:00PM
3. Only names listed are covered by the permit.
Hāpuna Beach Concession
***TEMPORARILY CLOSED***
Interpretive Information
There is more to Hapuna Beach State Recreation Area than just great beaches. Learn about the incredible cultural history and natural resources before you explore the park.