Meeting Schedules
2023 HACD Annual Conference
Please join us for the upcoming HACD Annual Conference from June 21-23, 2023, at Kilauea Military Camp, located in Hawaii Volcanoes National Park. This year, the Conference is being hosted by the East Hawaii SWCDs (Ka'u, Puna, Waiakea and Hamakua).  We look forward to seeing you there! 
For complete details, please click on the following link: 2023 HACD Annual Meeting Registration Packet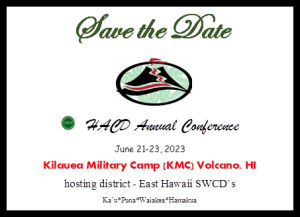 HACD Meetings
The Executive Board for the Hawai'i Association of Conservation Districts try to meet quarterly to discuss issues that are important to the organization and to the individual districts. HACD also holds an Annual Conference, which rotates among the islands and their hosting SWCDs.  The individual districts also try to meet on a monthly basis, generally at the same time and place (refer to chart below). Please contact the specific SWCD office to confirm the meeting times and locations.
DUE TO COVID MOST SWCD MEETINGS AND ALL HACD MEETINGS CONTINUE TO BE HELD VIA VIDEO CONFERENCE 
SWCD Monthly Meetings
SWCD

Day of the Month

Time

Place

Hāmākua

1st Tuesday

2:00pm

Teleconference between NRCS Hilo Service Center Conference Rm. 302 & NRCS Waimea Service Center Conference Rm.

Ka'u

1st Wednesday

8:30 am

Ka'u Agribusiness Field Office Conference Room in Pahala & NRCS Hilo Service Center Conference Rm. 302

Kona

3rd Thursday

8:00 am

USDA-NRCS Kealakekua Service Center

Mauna Kea

2nd Wednesday

4:00 pm

USDA-NRCS Waimea Service Center

Puna

2nd Wednesday

9:30 am

W.H. Shipman Ltd. Conference Room in Keaau

Waiākea

3rd Friday

9:30 am

NRCS Hilo Service Center Conference Rm. 302

East Kaua'i

2nd Monday

2:00 pm

State DOH Conference Room in Līhu'e

West Kaua'i

3rd Tuesday

3:00 pm

National Tropical Botanical Garden Education Center in Lāwa'i

Central Maui

Call (808) 871-5500 ext. 3

USDA-NRCS Kahului Service Center

Hāna

Call (808) 871-5500 ext. 3

Hāna Ranch Headquarters

Olinda-Kula

Call (808) 871-5500 ext. 3

USDA-NRCS Kahului Service Center

West Maui

1st Wednesday, every

other month (beg. 2/3/16)

Call (808) 871-5500 ext. 3

USDA-NRCS Kahului Service Center

Moloka'i-Lāna'i

3rd Wednesday

8:30 am

NRCS Plant Materials Center in Ho'olehua

West O'ahu

4th Tuesday

12:30 pm

Kunia Village Agribusiness Complex-Crop Production Services Conference Room

Windward O'ahu

3rd Thursday

5:45 pm

Key Project in Kahulu'u

South O'ahu

1st Thursday

6:30 pm

Paradise Park in Mānoa