ʻAlalā Project Online Zoom Presentation
Posted on Aug 4, 2020 in News & Events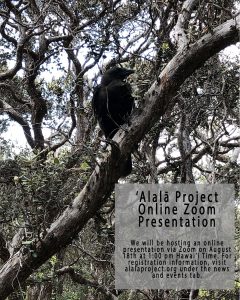 Aloha all ʻAlalā friends and followers,
We are excited to announce that we will be holding an online public presentation via Zoom! This presentation will be on August 18th at 1:00 pm Hawaiʻi time. The presentation will include the same information as our in-person presentations such as speciesʻ biology information about the ʻAlalā, the history of their decline in the wild, the goals of The ʻAlalā Project, and updates about the ongoing reintroduction efforts. If you would like to attend please register in advance for this meeting. 
After registering, you will receive a confirmation email containing information about joining the meeting. 
We hope you will join us to learn more about our project!