Release
As the ʻAlalā return to their native habitat it is critical that land managers, scientists, and community members work together as "ʻAlalā Ambassadors" ensuring that the birds have the space, environment, and support they need to thrive.
Site
The first releases will be in the Puʻu Makaʻala Natural Area Reserve. The site is located near Keauhou Forest, owned by Kamehameha Schools.
Puʻu Makaʻala Natural Area Reserve has been managed for many years to promote native forests, is fenced and free of ungulates (cows, pigs, sheep, etc.), has a dense understory, and lots of ʻAlalā food plants.
The Kaʻū Forest Reserve is another potential area for release, and it is hoped that releases could be planned for there after more management for promoting native forest habitat has occurred.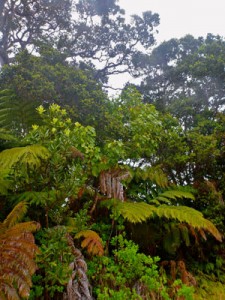 Goals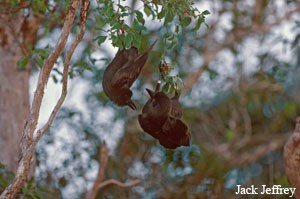 Establish a wild self-sustaining population of ʻAlalā.
The wild ʻAlalā will play their ecological roles in the native forest ecosystem.
The population will need little help from humans to survive.
A successful reintroduction will require:
Habitat management to restore and protect native forests
Predator control
Management of captive ʻAlalā
Release of birds
Post-release monitoring
Public support, outreach, and education
No kākou ke kuleana. The responsibility lies with each and every one of us to make sure that the ʻAlalā will be welcomed home to our Hawaiian forests once again. We must build community-wide support from our keiki to kūpuna.

See News & Events for latest release updates
Release Details
Releases are anticipated to occur for at least five years once they begin.
An average of 15 offspring per year can be produced in captivity, which means there will be a sustainable source of birds for release.
The birds all will be hatched out several months before the release. They will be transferred to the release aviary at about 6 months old and released at about 1 year of age.
The birds will be held in a large flight aviary at the release site before release. This is called a soft release, as they will have time to get used to their new home environment. While in the aviary, they will be cared for, fed, and monitored by project staff. After release, they will continue to get supplemental feeding and close monitoring. The area around the release site will have intensive predator control.
ʻAlalā will be trained before they are released to recognize 'Io as predators and to respond appropriately by taking evasive action, such as seeking shelter in dense understory vegetation.