2021 SCORP Update
Covid-19 Protocols: Please wear a mask when in groups, maintain social distancing, and be respectful of others. Aloha, Hawaii State Parks
.
PARK UPDATES: 7/26/21 - [OAHU] - Waahila Ridge State Recreation Area will be CLOSED on July 28th to repair a waterline leak at the entrance of the park. The park will be closed to vehicles and visitors during this time period. The park will reopen once the repair is completed.
.
5/21/21 - [OAHU] - The Keawaula gate at Kaena Point is now open on weekends. Gate hours are Saturdays: 6:00am to 7:00pm, and Sundays: 9:00am to 7:00pm. No overnight use allowed.
.
4/19/21 - [ALL ISLANDS] - Entrance AND parking fees are now required for non-residents at several parks across the islands including: [KAUAI] Haena, Kokee, Waimea Canyon, [OAHU] Diamond Head, Nuuanu Pali, [MAUI] Iao Valley, Makena, Waianapanapa, and [HAWAII] Akaka Falls, Hapuna Beach.  Non-resident visitors will be required to pay for both entry and parking.
.
3/29/21 - [KAUAI] - The Kalalau Trail reservation system is open again. Reservations are available 30-days in-advance. Park Entry and Parking reservations for morning and midday are available. Sunset-time reservations are currently not available.
.
3/1/21 - [MAUI] - Waianapanapa State Park - Entry and Parking Reservations are now required for all non-residents. For reservations go to www.gowaianapanapa.com
2021 SCORP Update
The 2021 update of the Statewide Comprehensive Outdoor Recreation Plan (SCORP) offers a timely opportunity to re-evaluate Hawaiʻi's recreational needs and trends of statewide importance. With the onset of the COVID-19 pandemic, increased participation in outdoor recreation, and local climate impacts, many of our outdoor recreation places and resources are undergoing significant changes. The SCORP seeks to align Hawaiʻi's recreational priorities with actions to preserve and provide high-quality outdoor recreation opportunities in Hawaiʻi.
Scroll down to learn more about the SCORP and its potential to guide recreation planning in Hawaiʻi.
What is the SCORP?
Preparation of the SCORP every five years maintains Hawaiʻi's eligibility to receive funds from the Land and Water Conservation Fund (LWCF). The LWCF is a federal grant program administered by the National Park Service that assists states and local governments with the acquisition of recreational lands and the development and renovation of recreation facilities. The program is intended to create and maintain a nationwide legacy of high-quality recreation areas and facilities and to stimulate non-federal investments in the protection and maintenance of recreation resources across the country.
How to Participate
We want your input regarding the 2021 SCORP update. You can submit your input via our online survey at the link below. Before completing the survey, be sure to scroll through the storyboard above and check out the "How to Participate" info graphic below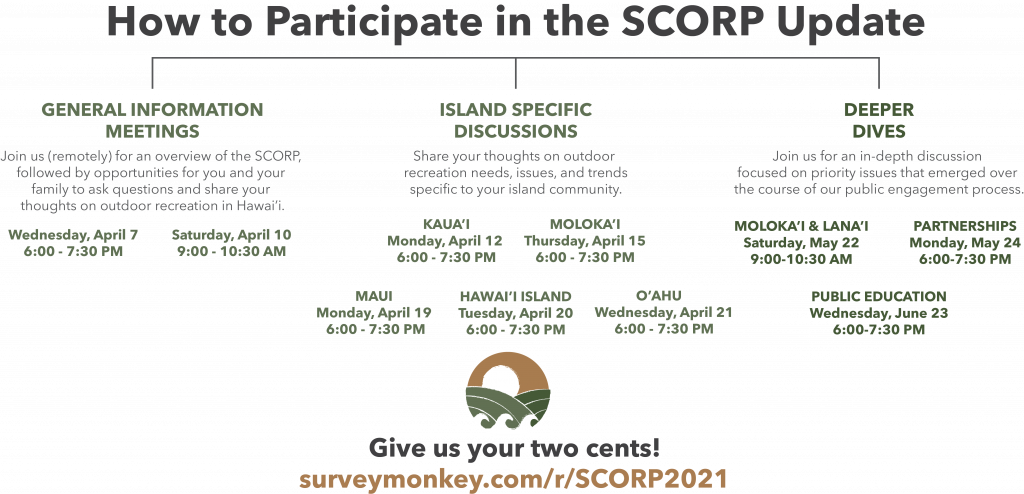 Online Survey
 2021 SCORP Survey (Click Link)
General Information Meetings
Join remotely for an informational meeting on Hawaiʻi's Statewide Comprehensive Outdoor Recreation Plan (SCORP). This meeting will include an overview of the SCORP, followed by opportunities for you and your family to ask questions and share your thoughts on outdoor recreation in Hawaiʻi.
Wednesday, April 7, 6:00-7:30 PM – Completed
Saturday, April 10, 9:00-10:30 AM – Completed
Island-Specific Discussions
Join us for a virtual discussion on how the SCORP can affect outdoor recreation on your island. The meetings will start with a brief presentation, followed by an opportunity to share your thoughts on outdoor recreation needs, issues, and trends specific to your island community.
KAUAʻI
Monday, April 12, 6:00-7:30 PM – Completed
MOLOKAʻI
Thursday, April 15, 6:00-7:30 PM – Completed
MAUI
Monday, April 19, 6:00-7:30 PM – Completed
HAWAIʻI ISLAND
Tuesday, April 20, 6:00-7:30 PM – Completed
OʻAHU
Wednesday, April 21, 6:00-7:30 PM- Completed
JOIN US FOR A DEEPER DIVE
Join us for an in-depth discussion focused on priority issues that emerged over the course of our public engagement process.
OUTDOOR RECREATION ON MOLOKAʻI AND LĀNAʻI
How can the SCORP serve to address outdoor recreation issues unique to Hawaiʻi's less populated island communities?
Saturday, May 22, 9:00-10:30 AM – Completed
COMMUNITY PARTNERSHIPS
How can the SCORP help guide community partnerships that support public stewardship of recreation resources?
Monday, May 24, 6:00-7:30 PM – Completed
PUBLIC EDUCATION FOR HAWAIʻI'S NATURAL AND CULTURAL RESOURCES
How can the SCORP promote respectful use of recreation resources? What would a successful public education campaign for Hawaiʻi's recreation resources look like?