2021 SCORP Update
Covid-19 Protocols: Please wear a mask when indoors and in groups, maintain social distancing, and be respectful of others. Aloha, Hawaii State Parks
.
PARK UPDATES: 12/4/21 - [OAHU] - The Keawaula Section of Kaena Point State Park will be CLOSED on Sunday Dec. 5, 2021 due to high surf and hazardous conditions.
.
12/4/21 - [KAUAI] - The Kalalau Trail at Haena and Napali Coast remains CLOSED due to flash flooding and inclement weather.
.
12/3/21 - [HAWAII] - On Sunday, Dec.5 2021, State beach parks on Hawaii Island will be CLOSED due to potential inclement weather and hazardous conditions. Parks included in this closure: Lapakahi, Hapuna Beach, Kekaha Kai, Kiholo and Kealakekua Bay. State Parks camping will also be CLOSED.
.
12/3/21 - [OAHU] - The vehicular access gate for the Mokuleia Section of Kaena Point State Park is CLOSED due to heavy ponding and poor road conditions. We will continue to assess the conditions and update accordingly.
.
11/5/21 - [OAHU] - The gate at the Keawaula Section of Kaena Point State Park is now OPEN on weekends from 7am to 7pm.
.
4/19/21 - [ALL ISLANDS] - Entrance AND parking fees are now required for non-residents at several parks across the islands including: [KAUAI] Haena, Kokee, Waimea Canyon, [OAHU] Diamond Head, Nuuanu Pali, [MAUI] Iao Valley, Makena, Waianapanapa, and [HAWAII] Akaka Falls, Hapuna Beach.  Non-resident visitors will be required to pay for both entry and parking.
.
3/1/21 - [MAUI] - Waianapanapa State Park - Entry and Parking Reservations are now required for all non-residents. For reservations go to www.gowaianapanapa.com
2021 SCORP Update
2021 Draft SCORP Report Review
The Division of State Parks is inviting the public to review the draft of the 2021 Statewide Comprehensive Outdoor Recreation Plan (SCORP).
The comprehensive recreation plan is updated every 5 years to assess Hawaiʻi's outdoor recreation trends, needs, and priorities. The plan also provides direction for the State's recreational future and allows Hawaiʻi to remain eligible to receive funds for outdoor recreation projects through the Land and Water Conservation Fund (LWCF), a federal grants program administered by the National Park Service.
The 5-year strategic plan for outdoor recreation as presented in the draft 2021 SCORP is based on comments received from recreation agencies and the public through online surveys and public meetings held between April and June 2021. More than 2,600 people participated in the process.
Both the public and recreation providers identified the protection of natural and wildlife resources and wilderness areas as a top priority for investment in outdoor recreation for the next five years. The operation and maintenance of existing infrastructure and facilities and protection of cultural and/or historic resources were found to be other top priorities for investment by recreation agencies and public participants. Concerns regarding inadequate and poor conditions of facilities were also shared.
Continuing a theme from the 2015 SCORP, that intensified during the COVID-19 pandemic, the public and recreation providers both recognize an increasing demand for outdoor recreation spaces and associated facilities. Enforcement was rated as the most serious challenge in managing and providing outdoor recreation facilities by recreation providers. Recreation providers also expressed a need for sufficient funding to adequately manage these spaces.
Recognizing the demands, priorities, and challenges shared by the public, agencies, and recreation providers, a strategic plan has been developed which outlines goals and objectives for public outdoor recreation in Hawai'i over the next 5 years. This plan will assist in selecting projects for LWCF funding assistance in the future to address these demands and priorities.
Recent LWCF grants were awarded to renovate tennis and basketball courts at Kalawai Park on Kauaʻi and install new playgrounds at Kaimukī Community Park, Ala Pu'umalu Community Park, and Kahalu'u Community Park on O'ahu. Other recent LWCF grant awards funded construction of the Hilo Bayfront Trail on Hawaii Island, coastal trail improvements at Waiʻānapanapa State Park, Hāna, Maui, and repaving of the Makapuʻu Trail with new lookouts and viewing scopes at Kaiwi State Scenic Shoreline on Oʻahu.
The full draft SCORP document with appendices can be viewed via the link below:
Click Here —> SCORP DRAFT FOR PUBLIC REVIEW
Click Here —> Report on Public Participation
Public comments are requested by November 19, 2021 and can be submitted by e-mail or in writing to: [email protected]
or
PBR HAWAII & Associates, Inc.
Attn: SCORP
1001 Bishop Street, Suite 650
Honolulu, HI 96813-3484
— Previous Updates —
2021 SCORP Update
The 2021 update of the Statewide Comprehensive Outdoor Recreation Plan (SCORP) offers a timely opportunity to re-evaluate Hawaiʻi's recreational needs and trends of statewide importance. With the onset of the COVID-19 pandemic, increased participation in outdoor recreation, and local climate impacts, many of our outdoor recreation places and resources are undergoing significant changes. The SCORP seeks to align Hawaiʻi's recreational priorities with actions to preserve and provide high-quality outdoor recreation opportunities in Hawaiʻi.
Scroll down to learn more about the SCORP and its potential to guide recreation planning in Hawaiʻi.
What is the SCORP?
Preparation of the SCORP every five years maintains Hawaiʻi's eligibility to receive funds from the Land and Water Conservation Fund (LWCF). The LWCF is a federal grant program administered by the National Park Service that assists states and local governments with the acquisition of recreational lands and the development and renovation of recreation facilities. The program is intended to create and maintain a nationwide legacy of high-quality recreation areas and facilities and to stimulate non-federal investments in the protection and maintenance of recreation resources across the country.
How to Participate
We want your input regarding the 2021 SCORP update. You can submit your input via our online survey at the link below. Before completing the survey, be sure to scroll through the storyboard above and check out the "How to Participate" info graphic below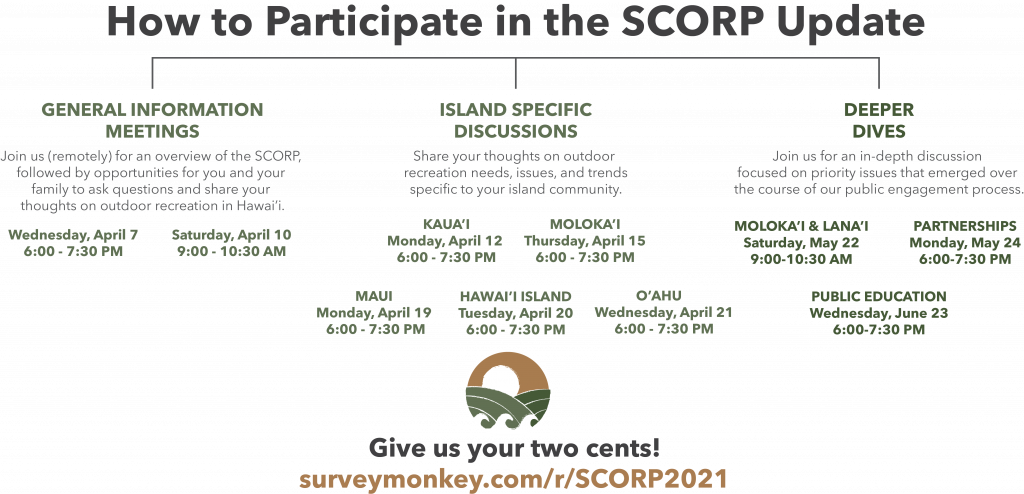 Online Survey
 2021 SCORP Survey (Click Link)
General Information Meetings
Join remotely for an informational meeting on Hawaiʻi's Statewide Comprehensive Outdoor Recreation Plan (SCORP). This meeting will include an overview of the SCORP, followed by opportunities for you and your family to ask questions and share your thoughts on outdoor recreation in Hawaiʻi.
Wednesday, April 7, 6:00-7:30 PM – Completed
Saturday, April 10, 9:00-10:30 AM – Completed
Island-Specific Discussions
Join us for a virtual discussion on how the SCORP can affect outdoor recreation on your island. The meetings will start with a brief presentation, followed by an opportunity to share your thoughts on outdoor recreation needs, issues, and trends specific to your island community.
KAUAʻI
Monday, April 12, 6:00-7:30 PM – Completed
MOLOKAʻI
Thursday, April 15, 6:00-7:30 PM – Completed
MAUI
Monday, April 19, 6:00-7:30 PM – Completed
HAWAIʻI ISLAND
Tuesday, April 20, 6:00-7:30 PM – Completed
OʻAHU
Wednesday, April 21, 6:00-7:30 PM- Completed
JOIN US FOR A DEEPER DIVE
Join us for an in-depth discussion focused on priority issues that emerged over the course of our public engagement process.
OUTDOOR RECREATION ON MOLOKAʻI AND LĀNAʻI
How can the SCORP serve to address outdoor recreation issues unique to Hawaiʻi's less populated island communities?
Saturday, May 22, 9:00-10:30 AM – Completed
COMMUNITY PARTNERSHIPS
How can the SCORP help guide community partnerships that support public stewardship of recreation resources?
Monday, May 24, 6:00-7:30 PM – Completed
PUBLIC EDUCATION FOR HAWAIʻI'S NATURAL AND CULTURAL RESOURCES
How can the SCORP promote respectful use of recreation resources? What would a successful public education campaign for Hawaiʻi's recreation resources look like?
Wednesday, June 23, 6:00-7:30pm

– Completed