Hāʻena & Nāpali Coast Access Information
Covid-19 Protocols: Please wear a mask, maintain social distancing, and be respectful of others. Aloha, Hawaii State Parks
.
PARK UPDATES:  3/1/21 - [MAUI] - Waianapanapa State Park - Entry and Parking Reservations are now required for all non-residents. For reservations go to www.gowaianapanapa.com
.
3/1/21 - [OAHU] - Waahila Ridge State Recreation Area - CLOSED 2/17/21 through 3/5/21 for tree removal.  The closure prevents access to the Waahila Ridge Trail through the park.  The park will open Saturday, March 6, but there will be limited access intermittently through April 2021.
.
2/25/21 - [OAHU] - Kaena Point State Park - Vehicle Access Gate on the Mokuleia side (north shore) is OPEN.  The Keawaula gate (west side) is CLOSED but the park is OPEN.
.
1/5/21 - [MAUI] - Makena State Park - Puu Olai a.k.a. Little Beach is CLOSED until further notice.
.
12/16/20 - [OAHU] - Diamond Head State Monument is now OPEN!
.
11/23/20 - [MAUI] - Iao Valley State Monument - OPEN. Paid parking by credit card only.
.
11/3/20 - [HAWAII] - Hapuna Beach Restroom services are limited to portable toilets due to a recent water main break.
Hāʻena & Nāpali Coast Access Information
NEW ACCESS REQUIREMENTS ARE IN EFFECT FOR HAENA & NAPALI COAST STATE PARKS
Hāʻena State Park: Hāʻena State Park (SP) is now subject to daily visitor limits and visitation requires advanced reservations. Park users are required to make online reservations prior to arrival for walk-in & bike-in entry, private vehicle parking, or shuttle transportation. State of Hawaiʻi residents are not subject to the new park fees or reservation system. See below for information regarding the Nāpali Coast State Wilderness Park (SWP), the Kalalau Trail, as well as, Hanakāpīʻai beach, stream and waterfalls. For more information regarding the recent park improvements and access please see the Hāʻena State Park webpage and the Hāʻena State Park Master Plan.
NOTE: Day-Use Parking and Entry Reservations at Haena State Park are available for purchase 14-days in advance.
Parking reservations are only good for the time slots indicated during purchase. If you want to park for longer than one time slot, you need to purchase additional reservations. For example, if you want to be at the from park opening until closing (sunset), you'll need to purchase all three time slots. Please Note: Not all time slots may be available on a given date.  Be prepared to present a valid (printed or digital) parking voucher with the appropriate date and time upon entrance.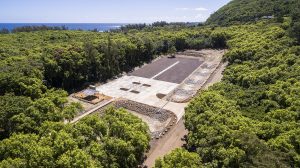 Hanakāpīʻai Beach & Waterfalls: In order to hike to Hanakāpīʻai beach & Hanakāpīʻai waterfall visitors need to purchase a Park Entry Reservation or Day-Use Parking Reservation for Hāʻena SP. (Note: Entry passes are not required for those who arrive at the park via the North Shore Shuttle.) Once at Hāʻena SP visitors can then hike along a portion of the famous Kalalau Trail towards Hanakāpīʻai valley. Once visitors reach Hanakāpīʻai there are a few options: enjoy lounging by the stream, relax by the beach, or head "mauka" (inland) to visit Hanakāpīʻai waterfalls. If you want to continue hiking along the Kalalau Trail past Hanakāpīʻai valley you need to purchase a camping permit for Nāpali Coast SWP. The hike from Hāʻena SP to Hanakāpīʻai stream & beach is roughly 4-miles round trip. Hanakāpīʻai 'falls is roughly 8-miles round trip from Hāʻena SP.
Nāpali Coast State Wilderness Park & Kalalau Trail: The Nāpali Coast State Wilderness Park is a rugged and remote wilderness park and is home to the famous Kalalau Trail. The Kalalau Trail is a breathtaking 11-mile hiking trail that extends from the trailhead at Hāʻena State Park through the Nāpali Coast SWP to Kalalau Valley. The first section of the Kalalau Trail is the 2-mile stretch from Hāʻena SP to Hanakāpīʻai valley. For a description of the Kalalau Trail click the following link: Kalalau Trail Description.
If you have a valid Camping Permit for the Nāpali Coast SWP and you plan on parking your car overnight or during the day, you need to reserve an overnight parking spot or reserve multiple parking timeslots for day-use parking.  You do not need to make a park entry reservation for Hāʻena SP.

Overnight Parking at Hāʻena State Park is now available for those with valid Nāpali Coast Camping Permits. Overnight Parking spots are purchased separately from camping permits and are available through gohaena.com. Note: Overnight parking spots are available for purchase up to 30-days in advance. Users will be charged for the number of days your vehicle occupies the lot (e.g. a 1-night stay requires paying for 2-days, a 4-night stay will require paying for 5-days, etc.).
Overnight parking at Aliʻi Kai Resort in Princeville is now available in coordination with the North Shore Shuttle. For more information please call (808) 826-9988
Overnight campers for the Nāpali Coast SWP must either:

Arrive by shuttle (click here: https://kauainsshuttle.com/)
Arrange for private drop-off.
Reserve overnight parking.
Nāpali Coast SWP Camping Permits: Camping permits will be made available at the discretion of the Division of State Parks for periods when there is anticipated to be no concerns accessing the parks. We understand these permits are in high-demand and that scheduling remains difficult during these times.