Site Visits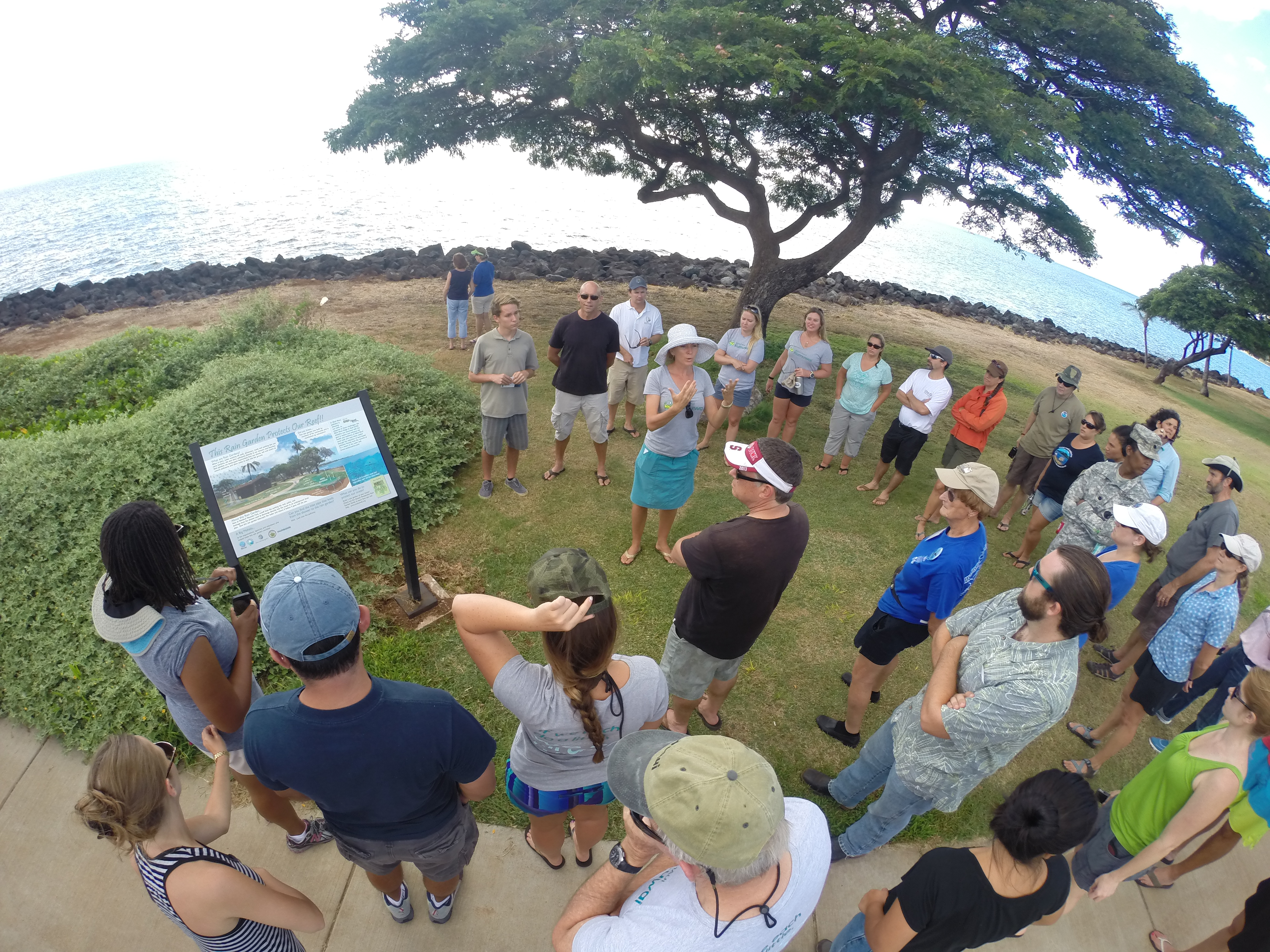 Site visits are opportunities for USCRTF members to see highlighted issues affecting coral reefs at the host site.
Hawai'i Island Site Visits
Kaloko-Honokōhau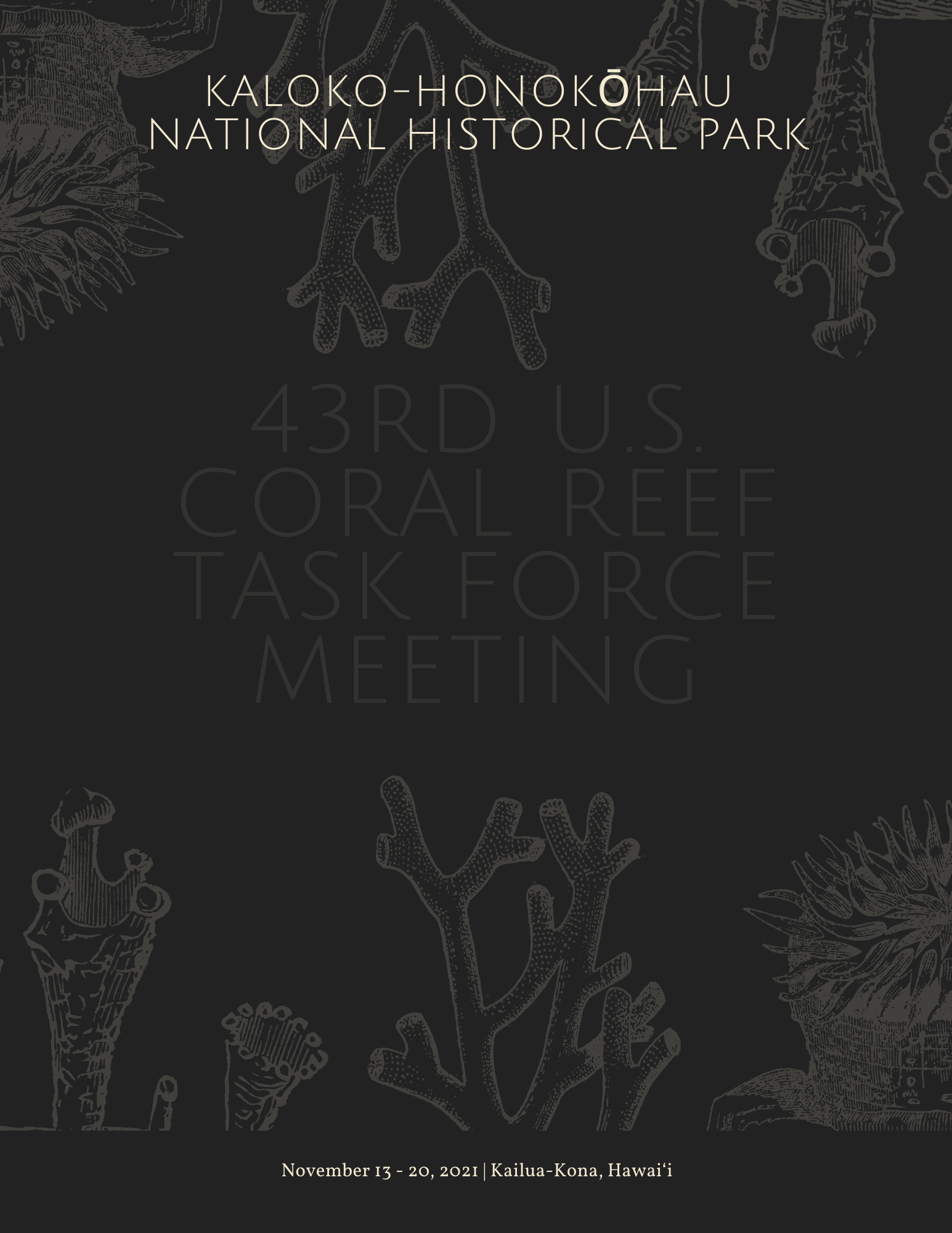 Date and Time: Sunday, 8/28/22, from 1 PM to 8 PM
Open to: All Islands Committee (AIC) Members Only
Host: National Parks Service
Kaloko-Honokōhau National Historical Park protects the site of the ancient Hawaiian settlement of Honokōhau and spans the coastal portions of five ahupua'a (traditional land divisions). The Park encompasses nearshore waters, three types of Hawaiian fishponds, and a variety of biocultural resources that attest to the ingenuity of the people who adapted this seemingly inhospitable environment to their use. The Park is one of four Pacific Islands national park units containing coral reefs. National Park Service staff will present on the cultural history of Kaloko-Honokohau and give an overview of 20 years of management actions to mitigate effects of urban land-use activities on the park's coral reefs, including a long-term partnership with the State of Hawaiʻi. AIC members will be able to explore the Kaloko loko i'a (fishpond) and kuapā (seawall) to learn about traditional Hawaiian aquaculture and dry-stack masonry, take a walk to view anchialine pool ecosystems containing native 'ōpae'ula (red shrimp, Halocaridina rubra), or simply relax and explore on their own. Participants will enjoy sunset from the Kaloko Picnic Area. Afterwards, participants are invited to attend dinner at a nearby location. Transportation will be provided.
Miloli'i CBSFA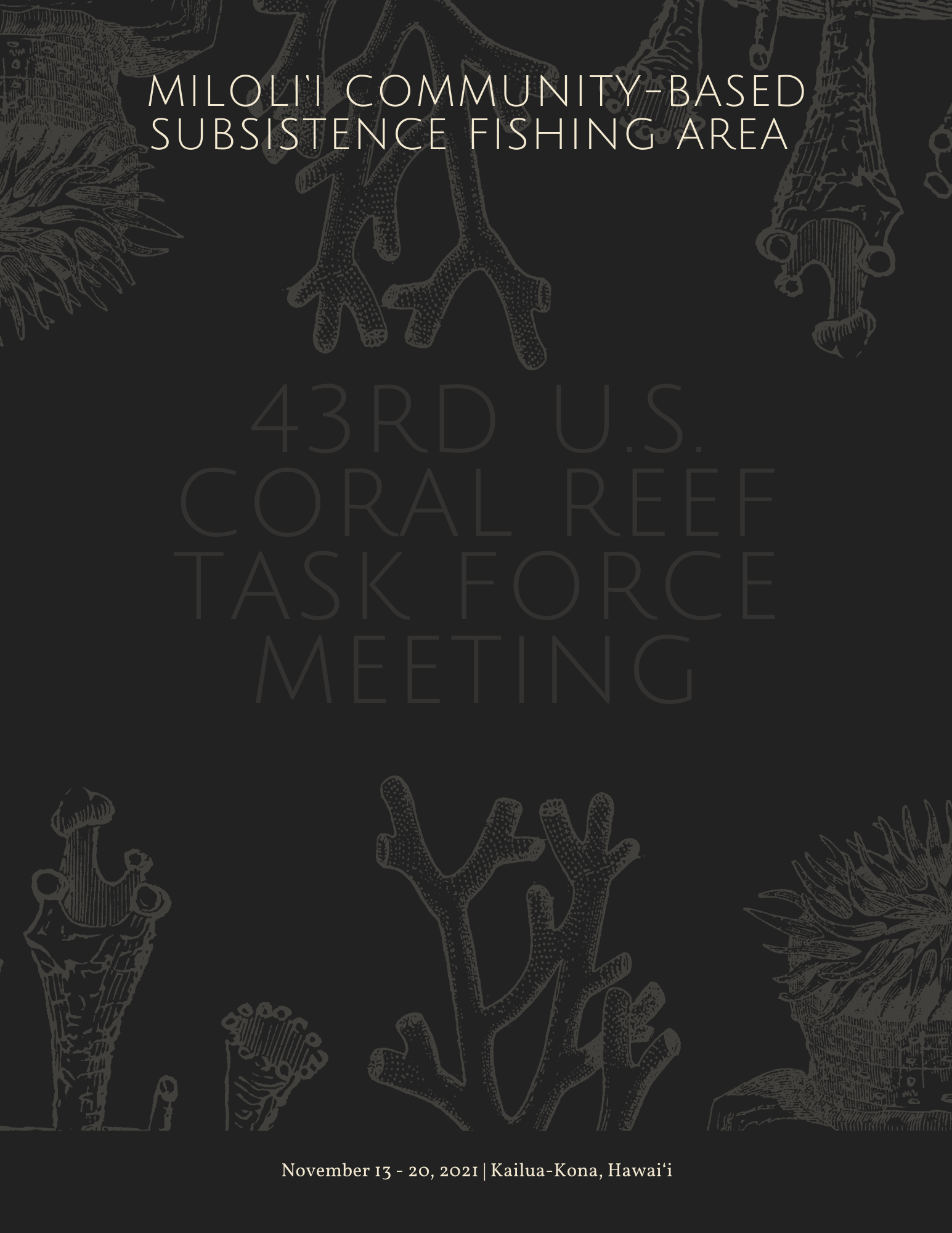 Date and Time: Monday, 8/29/22, from 6 AM to 2 PM
Open to: All USCRTF members, priority will be given to Principals and Fisheries Working Group Members
Size limit: 25 people
Host: Village of Miloli'i
Years-long work led by community members has combined with the State of Hawai'i Division of Aquatic Resources (DAR) 30×30 Initiative to develop the waters surrounding the Village of Miloli'i into a Community Based Sustainable Fishing Area (CBSFA). To receive this designation, the Miloli'i community is working with DAR to promote traditional Hawaiian fishing practices for subsistence consumption, community sharing, and restoring fisheries for future generations to continue living off the resources by implementing regulations that uphold sustainable practices. For this Site Visit, DAR is collaborating with Ka'imi Kaupiko of Kalanihale and Greg Asner of the Hawaiʻi Marine Education and Research Center (HawaiiMERC), to provide an on-the-ground look into community-based fisheries management practices. While the site visit is being hosted at no cost to attendees, participants can thank the hosts through donations to Kalanihale via Paypal or a check (made out to Kalanihale at 89-1831 Milolii Rd. Captain Cook, HI, 96704).
Participants will arrive back at the Outrigger in time to attend the Federal Employee and AIC afternoon meetings.
South Kohala Watershed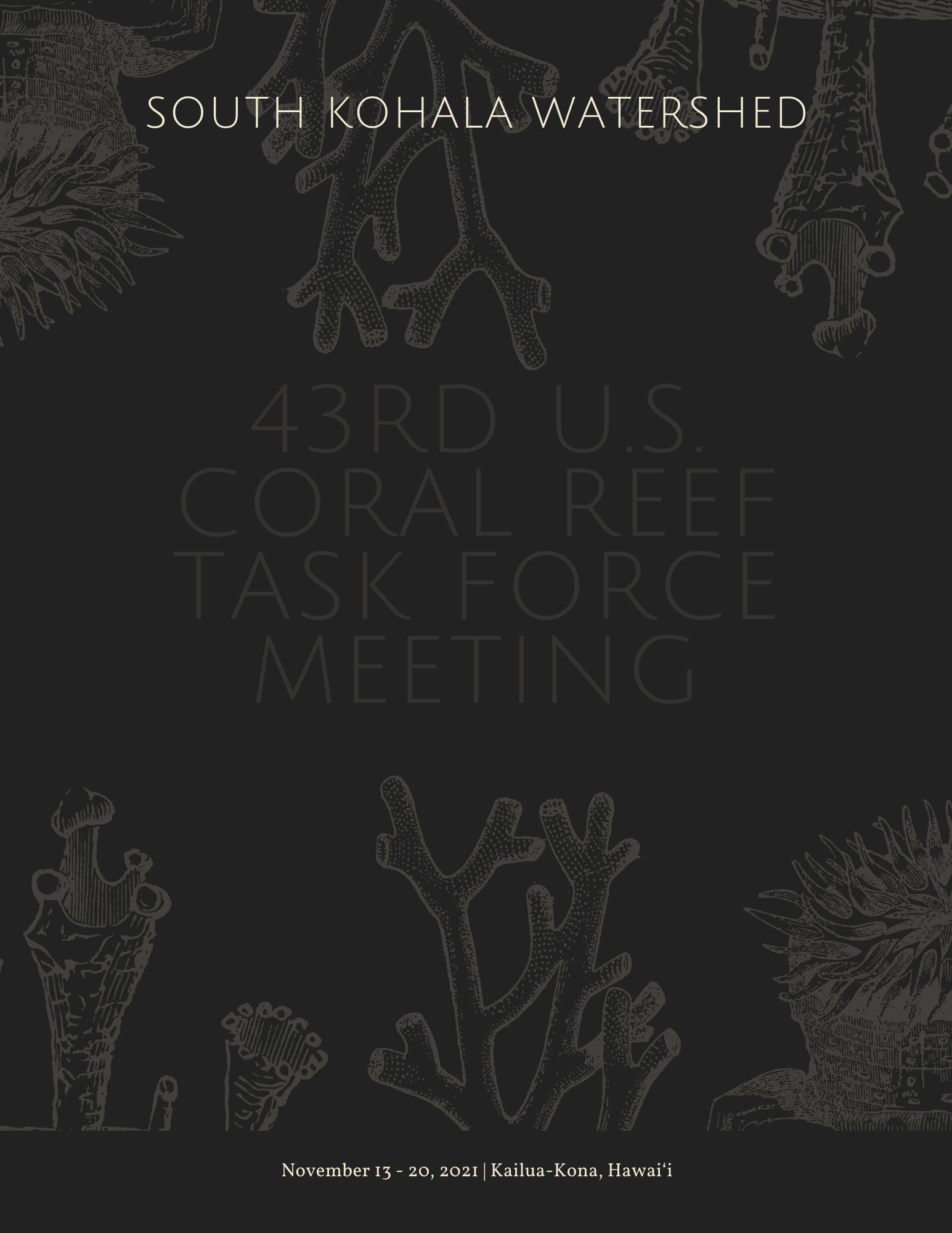 Date and Time: Tuesday, 8/30/22, from 9 AM to 5 PM
Open to: All USCRTF members, priority will be given to Principals and Watershed Working Group Members
Size limit: 30 people
Host: South Kohala Watershed Partnership
The South Kohala Watershed was designated as a priority area in the Hawaii Coral Reef Strategy to reduce threats of land-based sources of pollution (LBSP) to coral reefs. The South Kohala Coastal Action Plan outlines mauka to makai (ridge to reef) management on the part of the South Kohala Coastal Partnership (SKCP).
Participants will visit Pu'ukoholā Heiau National Historic Site Visitor Center, where park interpretive staff and local partners will discuss watershed uses, successes, and challenges.
Afterwards, participants will visit a portion of the Pelekane watershed restoration site in the morning, where science and management actions address erosion and runoff from dryland areas.
During a catered lunch at the Hokuloa Church, participants will engage with partners and learn about how sewage and sedimentation affect the reefs in Puakō. Participants will then see the impacts of these issues during a snorkel at Spencer Beach Park.
Kealakekua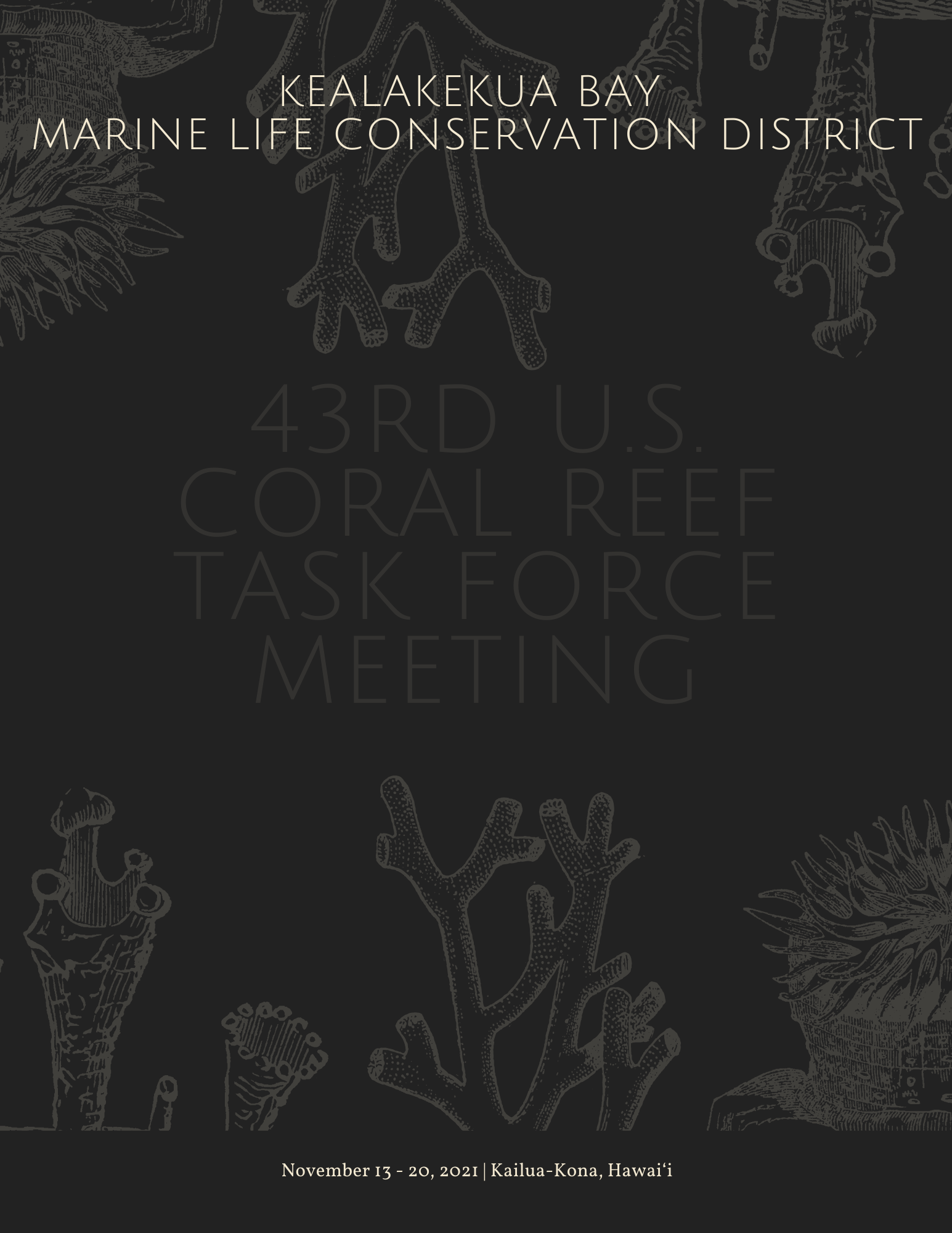 Date and Time: Wednesday, 8/31/22, from 8 AM to 12:30 PM or 9 AM – 1:30 PM
Open to: All USCRTF Members, families, and guests
Host: Sea Paradise and Fair Wind Charters
Kealakekua Bay was established as a Marine Life Conservation District (MLCD) in 1973, and has facilitated projects by the State and outside researchers ever since. With widespread bleaching affecting the reef in 2014, 2015, and 2019, focus has been shifted towards Kealakekua as a priority site for coral restoration activities. Participants will be taken on a private charter to snorkel at key sites within Kealakekua Bay, while biologists from the State of Hawai'i Division of Aquatic Resources will describe both the history of Kealakekua as a research site, and its near future as a coral restoration site.
Unlike our other site visits, there is an added cost that is payable to our tour providers through their reservation systems. Tours will depart from Keauhou Small Boat Harbor, a 5-minute walk from the hotel. Sea Paradise will run 8:00 AM – 12:30 PM and Fair Wind will run 9:00 AM – 1:30 PM. The Steering Committee meeting will begin at 1:00 PM. Therefore, in order to return in time, those planning to attend the Steering Committee meeting will need to book with Sea Paradise. Please contact Sea Paradise or Fair Wind Charters to make your reservation and mention the USCRTF 8/31 morning tour. Members and guests welcome! Tours include refreshments, lunch, and snorkel gear rental.
Off-Island Site Visits
Ānuenue Fisheries Research Center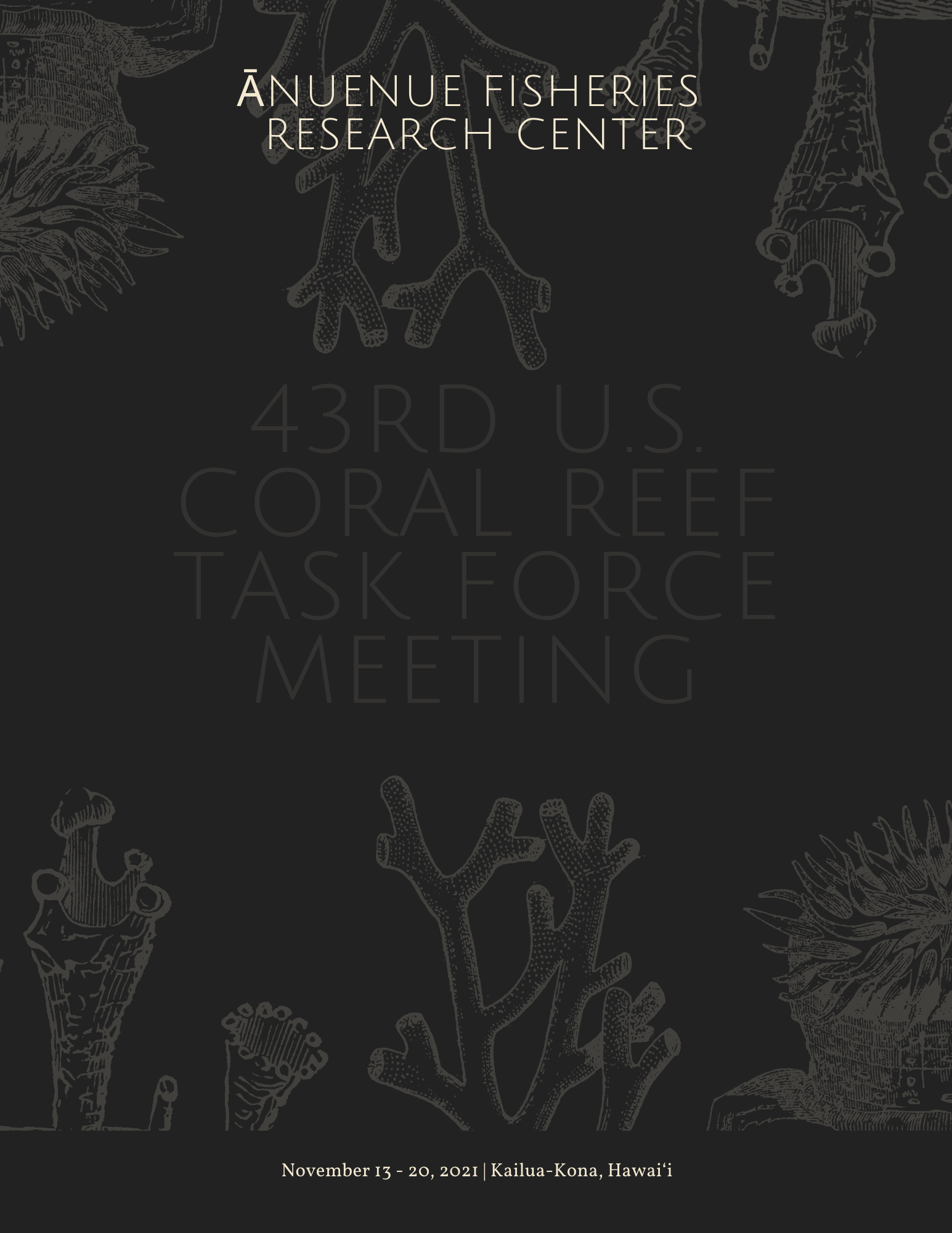 Date and Time: Saturday, 9/3/22, from 9:30 AM to 3 PM
Open to: Coral Restoration Working Group Only
Host: State of Hawai'i DLNR Division of Aquatic Resources
See the Hawai'i Coral Restoration Nursery (HCRN) and Urchin Hatchery at Ānuenue Fisheries Research Center (AFRC) on Oʻahu. State of Hawai'i Specialists and Biologists will explain the State's active restoration initiatives. For the past 10 years, the sea urchin hatchery has grown over 50,000 native urchins to control invasive algae, a successful biocontrol project that has recently expanded from Kāneʻohe Bay to Maunalua Bay. The HCRN Nursery has been leading coral restoration and innovation in the Hawaiian Islands for the past five years. Using an ex-situ nursery, the HCRN began active mitigation projects on Oʻahu and houses the Hawai'i Coral Ark, a bank of Hawaiian coral species.
To access this site visit, participants should plan their travel through O'ahu on either Southwest flight #1415, Hawaiian Airlines flight #HA117, or Hawaiian Airlines flight #HA1147, where DAR will facilitate transportation to and from AFRC.
West Maui Watershed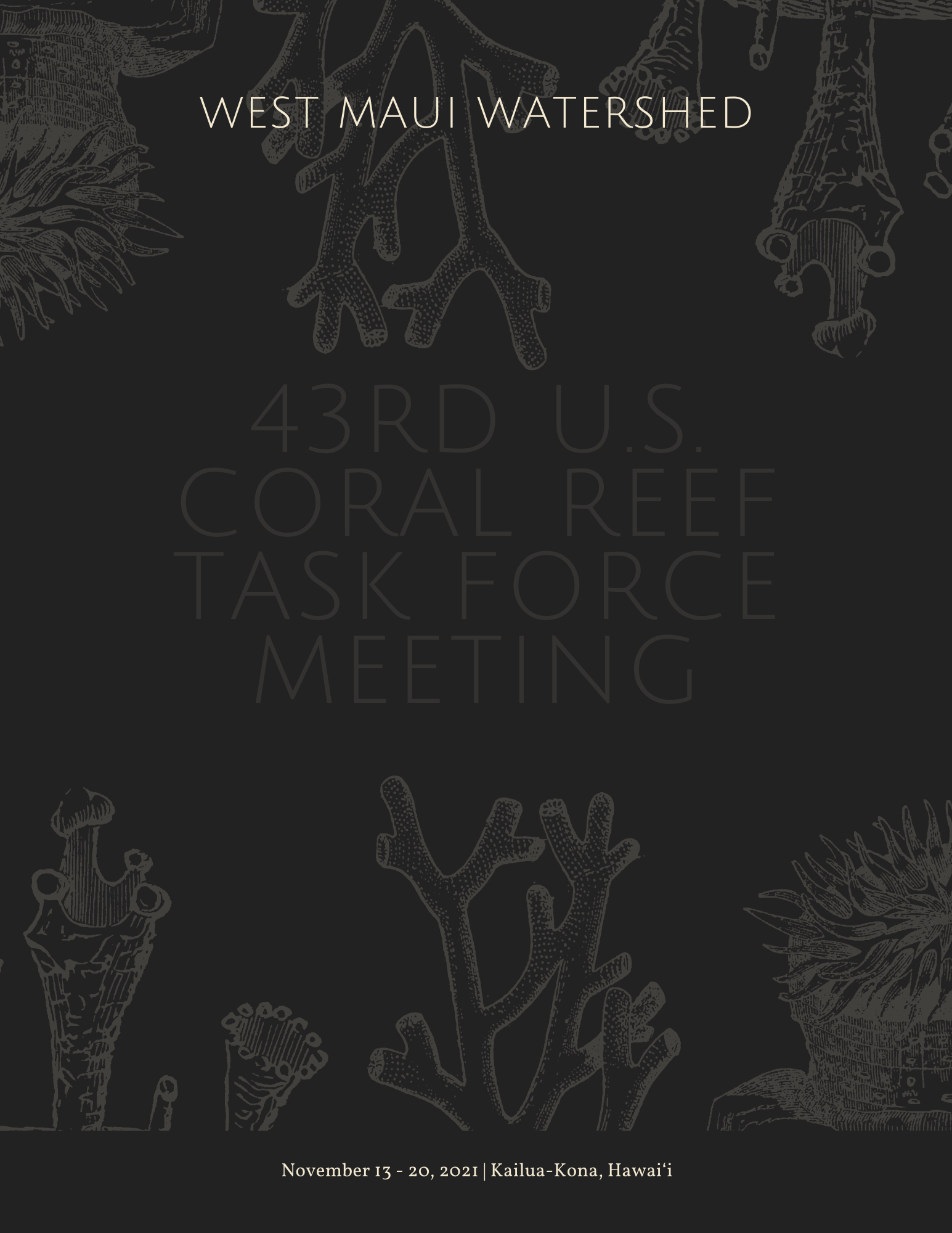 Date and Time: Saturday, 9/3/22, from 8 AM to 5 PM
Open to: All USCRTF members, priority will be given to Principals and Watershed Working Group Members
Size limit: 13 people
Host: West Maui Ridge to Reef Initiative (R2R)
In 2011, the USCRTF designated West Maui as priority watershed partnership site to facilitate collaboration in addressing land-based source pollution impacting nearshore coral reef health. Through watershed management planning, research and monitoring efforts, and rolling implementation of pollution mitigation practices, progress has been made in understanding key stressors, and strategies for reducing impacts. Participants will visit this five-watershed area, where through snorkeling, light hiking, and a van tour, may gain a firsthand look at the challenges and solutions.
In the morning, a snorkel tour will be led by DLNR-DAR and research collaborators at the Kahekili Herbivore Fisheries Management Area (typically gentle conditions), followed by a stop for lunch. In the afternoon, participants will be hosted by various R2R partners to learn about management and restoration efforts underway to reduce sources of land-based pollution in the conservation, agricultural and urban districts.
Transportation will be available to return attendees to and from the airport in Kahului. Participants should book the 6:50 AM flight from Kona to Kahului on Mokulele Airlines (flight #9X721). The site visit will return participants to the Kahului airport around 4:30 PM so that attendees may take a flight back to Kona or another destination.