Home
Today, we see that the fish, coral, and other resources that are central to our livelihoods, culture, health, and island lifestyle are not as healthy and abundant as they once were.
The loss of traditional and customary practices, a growing population, development, unsustainable harvest, climate change, and other threats are putting pressure on our nearshore environment. A recent scientific analysis showed population declines of some of our favorite reef fish by as much as 75%, and, the mass bleaching event in 2015 resulted in up to 50% coral mortality on some of our world-famous coral reefs.
Our marine environment is resilient but needs our kōkua (help) to thrive again with abundance.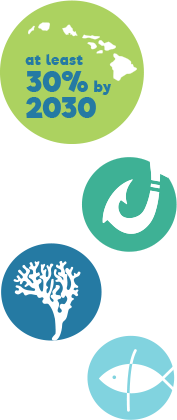 What is Holomua Marine 30×30 all about?
The Division of Aquatic Resources (DAR) launched Holomua Marine 30×30 as a way to work with communities to effectively manage our marine resources with at least 30% of each island's nearshore waters established as a network of marine management areas (MMAs) by 2030.
This fall, we will launch a community planning process that weaves cultural, community, and scientific knowledge to create interconnected networks of MMAs around each main Hawaiian island.
Holomua means "moving forward." Together, let's move forward to achieve our shared vision of healthy marine ecosystems and abundant nearshore resources so that we can continue to enjoy our coastal waters, support livelihoods, and feed our families for generations to come.
What is a Marine Management Area?
A marine management area, or MMA, is a place in the ocean that is managed in a way to protect the important ecological and cultural marine resources within its boundaries. Learn more about how MMAs can benefit both people and marine ecosystems.
Holomua on Your Island
Our islands are unique in so many ways. We will be working with communities through a locally led planning process to design each island's network of marine management areas.
We will be working with each island individually, starting with a pilot planning process with Maui communities. In late October, we hosted three in-person talk story sessions in Wailuku, Lahaina, and Hāna, where local residents shared their ideas on how we can partner with the community to ensure the fish and ocean resources that sustain us can thrive today and for generations to come.
Find out what we heard and how you can join the conversation. 
There are many ways you can participate in this statewide planning effort.
Get informed about Holomua Marine 30×30

Sign up for our newsletter
Join an upcoming event or talk story session near you.

See our Events Calendar
Spread the word within your community

Tell your community to visit us here at https://dlnr.hawaii.gov/holomua and connect with us on Facebook, Instagram, Twitter
ʻAʻohe hana nui ke alu ʻia.
No task is too big when done together by all.
– Mary Kawena Pukui, ʻŌlelo Noʻeau #142