Hoʻāla Loko Iʻa
Hoʻāla Loko Iʻa
In 2012, a group of government agencies and nonprofit organizations committed to streamlining the permitting process for the restoration of traditional Hawaiian fishpond systems.  
Update: Hoʻāla Loko Iʻa Permit Application Guidebook released!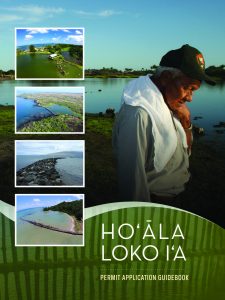 Project History
March 2011:  Practitioners at the Hui Mālama Loko I'a Fishpond Conference on Moloka'i identify the difficulty the permitting process as a major issue
March 2012: The Hawaiian Islands Humpback Whale National Marine Sanctuary hosts a meeting bringing practitioners and government agencies together to address permitting issues. A de facto team was formed among NOAA, the Humpback Whale Sanctuary, and OCCL to continue the coordination effort.
November 2012: Practitioners at the 2012 Fishpond Conference at Waipa, Kaua'i issue the Declaration of Hui Malama Loko Iʻa calling for government agencies to streamline the permitting process.
October 23,  2013: Honua Consulting, with the support of Conservation International's Hawai'i Fishpond Trust, develops and publishes the Hoʻāla Loko Iʻa Final Environmental Assessment
January  2014: Preparation of Conservation District Use Application ST-3703
February 2014: Statewide Public Hearings
June 27, 2014:  Board of Land and Natural Resources approves CDUP ST-3703; establishes tiered system for fishpond permitting.
November, 2014: US Army Corps determines that applications can be considered under a Nationwide 3 Permit.
January 2015: DLNR releases streamlined application for loko i'a repair and restoration     
July 13, 2015: Governor Ige signs Act 230 waiving Department of Health water quality certification requirements for the restoration, repair,and operation of loko iʻa that are permitted under DLNR's Hoʻāla Loko Iʻa program.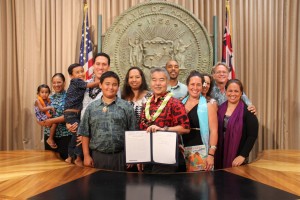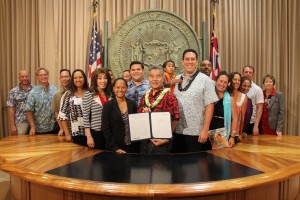 Water Resource Bill Signing. Skip to 3:40 for the Governor's words on loko iʻa.
Slideshow from the 2012 Hawaiian Fishpond Conference