Outreach
The Division of Aquatic Resources and the AIS team work hard to develop the youth of Hawaii by participating in community outreach events throughout the islands.  Many invasive species are spread through the transport of people, ships, and other products; therefore, education is crucial to prevent the further spread of these harmful organisms.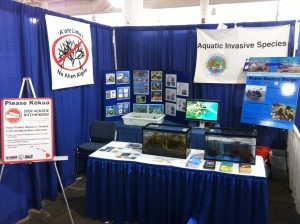 Useful Resources
– Stop Aquatic Hitchhikers Website
– Reef Revival: A Campaign to Restore Kaneohe Bay.  The Nature Conservancy
– Aqua Kids: Dolphins and Reef Reef Health
– DLNR Revealed: Protecting Hawaii's Reefs from Invasive Seaweed
– Super Sucker Removal Process
– Damage to Coral from Invasive Algae
– Sea Urchin Hatchery Pamphlet
– Tsunami Debris Species Watch List
– AIS and Japanese Tsunami Marine Debris
– Japanese Tsunami Marine Debris Guidelines
– Bishop Museum Marine Bioinvasions of Hawaii
– AIS Program Overview Pamphlet (Cover Page)
– AIS Program Overview Pamphlet (Inner Spread)
– Identifying Invasive vs. Native Mullets Handout
– Navigating Kaneohe Bay – Heeia Harbor to the Sandbar (Map)
– Navigating Kaneohe Bay: MCBH to the Sandbar (Map)
Press Coverage
– Native Urchins Successfully Control Invasive Algae in Kaneohe Bay. KHON. April 2016.
– Aerial Survey Finds Mostly Plastic, Limited Tsunami Marine Debris in Hawaii. KHON. May 2016.
– Invasive Algae in Kaneohe Bay at Lowest Levels in Decades. KHON. October 2015
– The Little Urchins That Could. Hana Hou Magazine. April/May 2014
– Roomba on the Reef. Maui Invasive Species Committee. January 21, 2014
– State Helps Sea Urchins Reproduce to Combat Invasive Algae. KHON. August 26, 2013
– Sea Urchins are Secret Weapon. KITV August 14, 2013
– State Growing Urchins to Fight Invasive Seaweed. Hawaii News Now. August 14, 2013
– Helpers Take Action Against Invasive Algae. Star Advertiser. March 10, 2013
– Waiakalua Loko Fish Pond Invasive Algae Removal. KITV. March 9, 2013
– Be Green 2: Super Sucker 2. KHON. October 23, 2012
– "Think About It". KFVE. October 11, 2012
– Corals, Already in Danger, Are Facing New Threat From Farmed Algae. NY Times. July 8, 2008
– "Super Sucker" to the Rescue!. CNN SciTechBlog. May 19, 2008
– Super Sucker. Hana Hou Magazine. Vol. 10, No. 6. Dec/Jan 2007
– Reef Villain Meets Rival: The Super Sucker. LA Times. December 28, 2007
– "Super Suckers" Slurp Invasive Algae Off Reefs. National Geographic. July 30, 2007