Hawaiʻi Cultural Resource Information System

HICRIS is SHPD's new web-based application that will enhance customer service through online project review and submission, full GIS integration, access to Library materials, and real-time collaboration with reviewers.
Please visit the HICRIS application here: https://shpd.hawaii.gov/hicris
Before you get started using HICRIS please view the following training materials:
SIHP Request Procedure for External Users
Researching Library Items in HICRIS
Do you have any questions? The FAQ list below will address our most popular questions about HICRIS:
Question: How do I Submit additional documents or photographs to an existing HICRIS project?
Answer: Project Supplement is used to submit additional documents or photographs to an existing HICRIS project. NOTE: You must be a Contact on the project, if not, you must request to be added.
Select Project Supplement. (located under the Submit tab in HICRIS)
Provide the email address used to add you to the project and the project number.
Add any documents, or photos and submit them to SHPD via the existing project.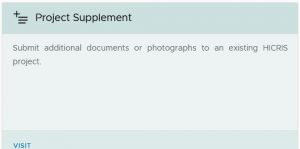 Question: Are Fees required for all submissions?
Answer: No. Fees are not required for all submissions.
Question: I submitted my project but never received an email with my project number (example: 2021PR00123), what do I do?
Answer: Make sure you fully submitted your project. You may have received a token (example: MW83FHWE1KOI), this is not a project number. If you only have a token number then log in to HICRIS and search the "My Projects" queue and find the project using your token. Scroll through the project to make sure you have submitted everything and attempt to finish submitting the project. The Intake system will process your project and you will receive an email with your project number. 
If you require further assistance please reach out to the Administrative staff managing HICRIS via email:

[email protected]