Aloha from State Historic Preservation Division
We are currently working on improving our website. Please explore the newly created pages and forms. 
The State Historic Preservation Division of DLNR works to preserve and sustain reminders of earlier times which link the past to the present. SHPD's three branches, History and Culture, Archaeology, and Architecture, strive to accomplish this goal through a number of different activities. The division's statewide Inventory of Historic Properties contains information on more than 38,000 historic sites in Hawai`i. Reviews of development projects are the primary means of lessening the effects of change on our historic and cultural assets. The Burial Sites Program, the Certified Local Government Program, the Historic Preservation Program, maintenance of the Hawai`i and National Register of Historic Places, SHPD's Information and Education Program, and Inter-agency Archaeological Services, are designed to promote the use and maintenance of historic properties for the education, inspiration, pleasure and enrichment of Hawai`i's citizens and visitors.
I ulu no ka lālā i ke kumu.  The branches grow because of the trunk.
(Without our ancestors we would not be here.)
`Ōlelo No`eau # 1261
SHPD's three branches, Architecture, Archaeology, and History & Culture, collectively strive to preserve and protect Hawai`i's historic identity.  In Hawai`i, looking back is an integral part of going forward.  SHPD is a part of ensuring that Hawai`i's treasured past is here for future generations. 
Looking to Submit documents to SHPD? 
Please click this link to view the Submitting to SHPD page.
LIST OF DESIGNATED HISTORIC PLACES
Nominated and Listed Properties on the Hawaiʻi and National Registers of Historic Places. Updated May 22, 2018
Announcements
SHPD Administrator, Dr. Alan Downer, will be on vacation from May 8-25, 2018. In his absence, the History & Culture Branch Chief, Hinano Rodrigues, will be serving as Acting Administrator. Click on this link for the official announcement.
May is Preservation Month!
Follow National Trust for Historic Preservation's 31 Days of Preservation Actions!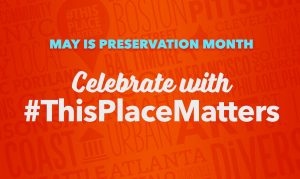 Notice: Library materials are no longer available for circulation. To research any reports you will need to visit the Kapolei office library or send in a request for digital copies (if available) using this form: SHPD Library Research Request Form.