The Commission
The Commission on Water Resource Management consists of seven members, five of whom are appointed by the governor and confirmed by the State Senate. The remaining two are the Chairperson of the State Board of Land and Natural Resources, who serves as Chairperson of the Water Commission, and the Director of the State Department of Health. The members are unpaid and serve a limited term. Click here to learn more about our logo and motto, "Ke Kahuwai Pono."
Suzanne D. Case, Chairperson
Suzanne Case was born in Hilo and grew up in Hilo and Honolulu. She attended Waiakea-Kai Elementary School, Keaukaha Elementary School and Punahou School (1974). She attended Williams College and Stanford University, where she graduated with honors (B.A., History, 1979), and received her law degree from Hastings College of the Law, University of California, San Francisco.
Suzanne is a 28-year veteran of The Nature Conservancy, having served as the Hawai'i Program's Executive Director from 2001-2015. During her years at The Nature Conservancy, she oversaw the acquisition of the 116,000-acre Kahuku Ranch addition to Hawai'i Volcanoes National Park, eight Hawai'i Nature Conservancy preserves, Palmyra Atoll, new National Wildlife Refuges at Hakalau on the slopes of Mauna Kea and at O'ahu Forest, and assisted with the formation of watershed partnerships for forested management throughout Hawaii, the growth of networks of local communities working to restore their near-shore marine resources, and implementation of large-scale projects to remove invasive algae from Hawai'i's reefs and coastal areas. Governor Ige appointed Suzanne Case as Chair of the State of Hawai'i's Department of Land and Natural Resources in April, 2015.  (Photo courtesy of Nature Conservancy of Hawaii)
Elizabeth A. Char, M.D.
Dr. Elizabeth "Libby" Char is serving as interim director of the Department of Health. Dr. Char is an emergency physician and graduate of the University of Hawaiʻi, John A. Burns School of Medicine. After completing residency training in California, she returned to Hawaiʻi to the clinical practice of emergency medicine at The Queen's Medical Center. She provided administrative oversight for the City and County of Honolulu EMS system for many years.
Dr. Char currently focuses her efforts on developing systems of care, training, protocols and emergency response utilizing best practices in the pre-hospital environment. She provides medical direction for several EMS, Fire, and Ocean Safety agencies across the state of Hawaiʻi and is the current chair of the State of Hawaiʻi EMS Advisory Committee.  As Department of Health Director, Dr. Char is an ex officio member of the Commission.
Michael G. Buck
Michael Buck has more than 25 years of experience with the Department of Land and Natural Resources. In addition to serving as the administrator for the Division of Forestry and Wildlife from 1989 to 2004, he has also held positions as a state forester and coordinator for the Natural Area Reserves. After graduating from the University of Florida with a Masters in Forest Resources Conservation, Michael secured a range of professional accomplishments including, drafting and leading multi-constituent support for the passage of major Federal (Hawaii Tropical Forest Recovery Act) and State (Forest Stewardship Act, Natural Area Partnership Program, Endangered Species Recovery Act, Invasive Species Council) legislation, helping to establish Hawaii's Watershed Partnership Program, and developing management plans and operational capacity for Hawaii's Natural Area Reserves System.
Michael is a four time member of the U.S. delegation at the United Nations Forum on Forests and currently serves as the Sustainable Forests Representative for the National Association of State Foresters. He has a farm in Waimanalo where he presently lives and works as a farmer. This is his first term (August 27, 2019 – June 30, 2023) and second time serving with the Commission.
Aurora Kagawa-Viviani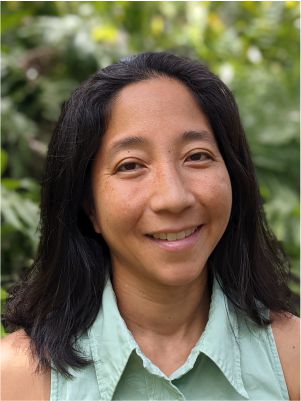 Aurora Kagawa-Viviani is a Ford fellow and postdoctoral researcher with the UH Hilo Hawaiʻi Cooperative Studies Unit, with joint affiliations with the UH Mānoa Water Resources Research Center and the US Geological Survey Pacific Island Ecosystems Research Center. Her educational training spans environmental engineering (MIT SB 2003), botany (UH Mānoa MS 2008) and geography (UH Mānoa PhD 2020). Raised in urban Honolulu and a graduate of Kamehameha Schools (Kapālama), she has spent significant time working in the conservation, in rural Hawaiʻi, and in public schools and the UH system, working to support and advance ʻāina-based and indigenous STEM education and research. Her work focuses on forest-water interactions, restoration ecohydrology, and cultivation of plants and landscapes where water limits growth, always with an attentiveness to human-ecosystem interactions, leaning on natural science and social science tools and approaches. This is her first term (July 1, 2021 – June 30, 2025) with the Commission.
Wayne K. Katayama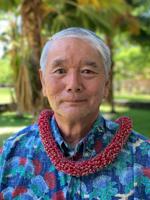 Wayne K. Katayama comes to the Commission with 40 years of experience in agricultural operations and marketing.  Mr. Katayama began his career with C. Brewer Properties working as an accountant on real estate development projects on the island of Hawai'i.  He soon moved to the agriculture industry working for Olokele Sugar Company, C. Brewer & Company, Kīlauea Agronomics, and Hawaiian Fruit Specialties.  Mr. Katayama eventually went on to serve as the President and General Manager for Kaua'i Coffee Company in 'Ele'ele, Kaua'i, where he oversaw all aspects of coffee production, implemented dam inspections and emergency action plans for high risk reservoirs, and implemented pesticide management plans to reduce usage and drift.
Mr. Katayama holds a bachelor's and a master's degree in Business Administration from the University of Hawai'i at Mānoa and is a retired Major in the Hawai'i Air National Guard.  He has also served on numerous boards including the Kauai Planning Commission, Hawai'i Employer's Council, Mayor of Kauai Agricultural Advisory Committee, University of Hawai'i College of Tropical Agriculture & Human Resources Advisory Committee, and the Agribusiness Development Corporation Board of Directors.  This is his second term (July 1, 2022 – June 30, 2026) with the Commission.
Neil Hannahs
In 2016, Neil Hannahs concluded over 41 years of service to the Kamehameha Schools and launched Hoʻokele Strategies LLC, a consulting enterprise serving as an intermediary in developing and connecting inspiring social entrepreneurs with exceptional mentors and aligned impact investment capital.
From 2000 to 2015, he directed the Land Assets Division of Kamehameha Schools and was responsible for a portfolio of 358,000 acres of agriculture and conservation lands in Hawaiʻi and also founded the First Nations Futures Program and Hawaiʻi Investment Ready Program. The work of this division earned the Innovation Award of the Hawaiʻi Conservation Alliance, as well as the Kamaʻāina of the Year Award from the Historic Hawaiʻi Foundation.
Mr. Hannahs is a graduate of Kamehameha Schools and received BA and MA degrees from Stanford University.  He is actively engaged in community affairs. This is his second term (July 1, 2020 – June 30, 2024) with the Commission.
Paul J. Meyer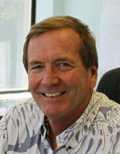 For 23 years, from 1982 to 2005, Paul Meyer was the Executive Vice President of Finance and Administration for Maui Land and Pineapple Company, Inc. and its subsidiaries.  He was also a Director of all subsidiaries and among other things managed the operations of the company's watershed conservation efforts, its public utility companies Kapalua Water and Kapalua Waste Treatment, its private and semi-private surface water systems including the Honolua Ditch and the Kalili (Opana/Awalua) system as well as irrigation systems and punawais that serviced approximately 14,000 cultivated acres. He worked closely with other landowners, farmers and Maui water utilities on community and water related issues.
From 2005 to 2010 – Mr. Meyer was a Principal with Meyer Associates, LLC. In that capacity he worked with a number of clients including three years with Onstor Corporation located in California.  In 2011 Mr. Meyer was the Deputy Director for the County of Maui, Department of Water Supply and resigned and retired from the County of Maui in January of 2017.  He now resides in Upcountry Maui with wife Rosalyn.  This is his second term (July 1, 2021 to June 30, 2025) with the Commission.
---
Selection & Terms
The State Water Code declares that the Chairperson of the Board of Land and Natural Resources shall serve as the Chairperson of the Commission, while the Director of Health shall serve as an ex-officio voting member. The other five members of the Commission are to be appointed by the Governor, subject to confirmation by the Senate. Each member must have substantial experience in the area of water resource management.
In appointing a member to the Commission, the Governor selects from a list submitted by a nominating committee. The nominating committee is composed of four individuals chosen as follows:
Two (2) persons appointed by the Governor.
One (1) person appointed by the President of the Senate.
One (1) person appointed by the Speaker of the House.
Following a solicitation of applications, a list of at least three individuals is sent to the Governor for each open position. Once appointed, the members of the Commission serve without compensation, but are reimbursed for expenses, including travel expenses, necessary for the performance of their duties. The tenure of each Commission member is subject to the provisions of §26-34, Hawaii Revised Statutes, which are summarized as follows:
The members of each board and commission established by law shall be nominated and, by and with the advice and consent of the senate, appointed by the Governor.
The terms of the members shall be for four years; provided that the Governor may reduce the terms of those initially appointed so as to provide, as nearly as can be, for the expiration of an equal number of terms at intervals of one year for each board and commission.
Unless otherwise provided by law, each term shall commence on July 1 and expire on June 30.
No person shall be appointed consecutively to more than two terms as a member of the same board or commission; provided that membership on any board or commission shall not exceed eight consecutive years.
Any member of a board or commission whose term has expired and who is not disqualified for membership under subsection (a) may continue in office as a holdover member until a successor is nominated and appointed; provided that a holdover member shall not hold office beyond the end of the second regular legislative session following the expiration of the member's term of office.
A vacancy occurring in the membership of any board or commission during a term shall be filled for the unexpired term thereof, subject to Article V, section 6 of the Constitution of the State.
The governor may remove or suspend for cause any member of any board or commission after due notice and public hearing.
---
Nominating Committee
The Nominating Committee for the Commission on Water Resource Management is convened whenever there is a pending vacancy.  For more information on the process, read the Selection & Terms section above.
There is currently one (1) pending vacancy on the Commission.
The current nominating committee is comprised of the following individuals:
Vacant (appointed by Governor David Y. Ige)
Vacant (appointed by Governor David Y. Ige)
Vacant (appointed by Senator Ronald D. Kouchi)
Vacant (appointed by Representative Scott K. Saiki)
Listed below are the notices and agendas related to the current nominating committee.
---
The Commission's Role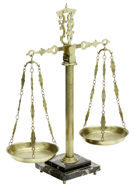 The State, as trustee of water resources, has the constitutionally-mandated responsibility to set policies, protect resources, defines uses, establish priorities while assuring rights and uses, and establish regulatory procedures. The Commission on Water Resource Management (Commission) is the entity fulfilling this responsibility through administration of the State Water Code, Chapter 174C, Hawaii Revised Statutes, which was adopted by the legislature in 1987. Operating procedures are governed by administrative rules, which are Chapters 167 to 171, Hawaii Administrative Rules.
The Commission has jurisdiction over land-based surface water and ground water resources, but not coastal waters. The protection and management of these water resources is carried out through resource assessments, planning, and regulation. Generally, the Commission is responsible for addressing water quantity issues, while water quality issues are under the purview of the State Department of Health.
The Commission has regularly scheduled meetings, but on its own motion or on petition or application of any interested person or persons or an agency of the state or county government hold proceedings as necessary from time to time for the purpose of:
Obtaining information necessary or helpful in the determination of its policies or actions;
Formulating its own rules;
Carrying out its duties and responsibilities including the designation of water management areas, the permitting of water uses, and the enforcement of rules, orders and legal standards and obligations.
For specific reference to the role of the Commission, please see the Hawaii Administrative Rules, §13-167-22, Proceedings before the Commission.
---
How to Apply
Prior to the end of a Commissioner's term, the Commission's selection process, as described above, is initiated. A Nominating Committee is formed and a statewide public notice is issued to solicit nominations. At that time, an application form will be made available here and interested applicants will need to submit their resumes and applications to the Nominating Committee by a deadline date specified in the public notice.  Please visit the State of Hawaii Boards and Commission website below for more information on how to apply.
State of Hawaii: Boards and Commission Website ➽
Deadline to Apply: January 24, 2022
Please submit completed application forms to:
Commission on Water Resource Management
1151 Punchbowl Street, Room 227
Honolulu, HI 96813
Fax: (808) 587-0219
Email: [email protected]
*Incumbents serving out the remainder of a term shall be subject to reappointment by the Governor and with the advice and consent of the Senate. Should the incumbent not be reappointed by the Governor or does not secure the advice and consent of the Senate, the interim appointment shall cease on or before the end of the Legislative Session.