Well Construction & Pump Installation Standards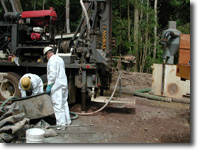 Improperly and inadequately constructed wells can cause pollution, or increase the chances of salt-water intrusion to ground water sources to the point of requiring cessation of use or expensive treatment before use. The Hawaii State Water Code and the Administrative Rules of the Department of Land and Natural Resources require the Commission on Water Resource Management to develop minimum standards for the construction, modification, repair/maintenance, and sealing/abandonment of wells in order to protect the quality and quantity of Hawaii's ground-water resources.
The Hawaii Well Construction and Pump Installation Standards were amended to the Hawaii Administrative Rules in January 1997, and have subsequently been revised in February 2004. In accordance with the State Water Code, and as stated in §13-168-14, HAR, the goal of the standards is to "ensure the safe and sanitary maintenance and operation of wells, the prevention of waste, and the prevention of contamination of ground water aquifers."
(Click here to View / Download)
Free Online Training for Homeowners with Water Wells
The Private Well Class is a free, step-by-step education program to help well owners understand groundwater basics, well care best practices, and how to find assistance. It will also teach well owners how to sample their well, how to interpret sample results, and what they can do to protect their well and source water from contamination. The program combines a 10-part online class with live, interactive webinar events in which the material will be reinforced and questions answered. Steve Wilson, a groundwater hydrologist with the Illinois State Water Survey with over 20 years of experience working with private well owners, will serve as the primary instructor for The Private Well Class. To register, please visit: https://privatewellclass.org
Maintenance of Private Wells
Check out the links below for important information on maintaining and operating your well properly.