Wahiawā Public Fishing Area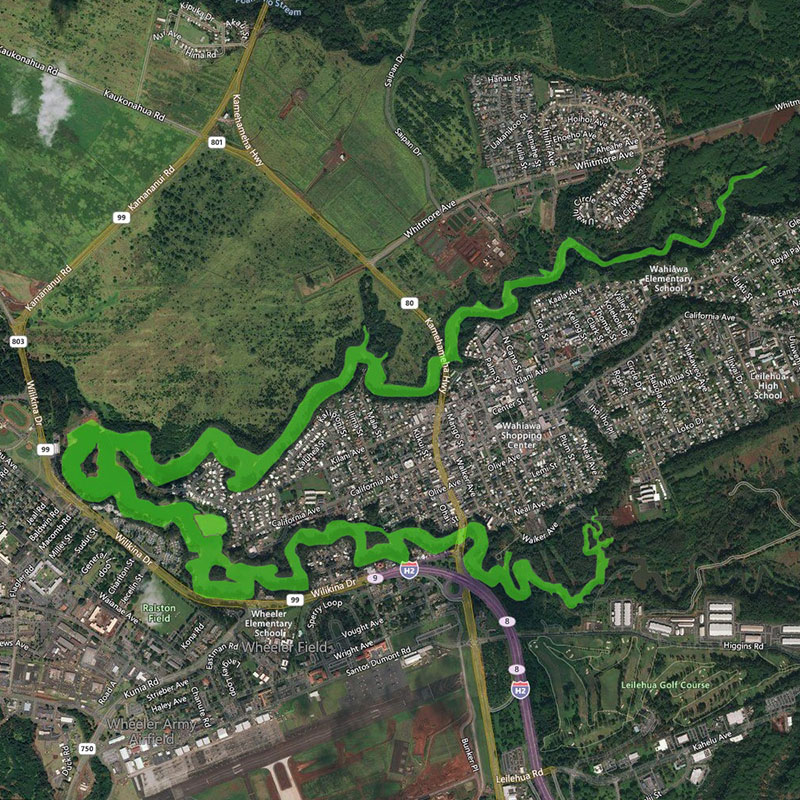 Location
The Wahiawā Public Fishing Area includes a portion of the privately-owned Wahiawā Reservoir (Lake Wilson) in the central portion of Oahu. The Wahiawā State Freshwater Park is located along the South Fork of the Reservoir and includes a boat launching ramp and vehicle-trailer parking areas. The Park is a facility of the Division of State Parks. Rules of the State Parks System apply to the use of the facility.
Permitted
To fish with hook-and-line with not more than one lure or baited hook or two artificial flies attached to a single line, provided that on weekends and holidays only one line may be used, and on weekdays other than holidays two lines may be used.
To use attended traps and dip nets up to two feet long, wide, or high, excluding the handle, to land hooked fish or to take certain baitfishes, provided that tucunare, bass, channel catfish and oscar shall not be used as bait.
Prohibited
To enter into or fish without a valid Freshwater Game Fishing License and entry permit or other appropriate license or permit, and a USCG approved personal floatation device, and provided that all licensees or permittees under 15 years of age are accompanied by an adult.
To enter onto, fish from, or approach within 200 feet of the spillway dam and its shoreline, or to enter into or fish within the Forest Reserve along the North Fork.
To swim, water ski, camp, picnic, build fires, dispose of refuse or pollute the waters, or damage public or private property.
To possess any firearms, air rifles or pistols, bows and arrows, spear, trotlines, nets other than dip nets, chemicals or other illegal fishing gear.
To snag any fish.
To operate a boat exceeding 18 feet in length, or for purposes other than fishing, or at speeds in excess of five miles per hour, or constructed of material other than wood unless provided with flotation to render the boat unsinkable.
Exceptions to size and bag limits
Bass and tucunare. Catch and release fishing only. Unlawful to keep, retain, hold, or kill any bass or tucunare. Bass or tucunare brought to shore or on board a vessel must be returned to the water immediately.
Oscar. Bag limit 1.