Sea Turtles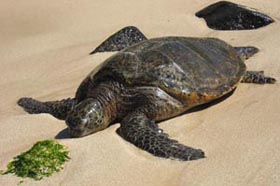 The green sea turtle and hawksbill sea turtle are the species most frequently observed in Hawai'i. Three other species occur, but are very rarely seen in our coastal waters. The green sea turtle is listed as a threatened species under federal and state law. Hawai'i's green sea turtles have shown a good population recovery in recent years, although they are still plagued with a papilloma virus that causes disfiguring tumors. Hawksbill sea turtles, listed as an endangered species, are sighted much less frequently than greens.
To report a sea turtle in trouble (injured, stranded, hooked, entangled, etc. ) please go to the NOAA sea turtle reporting website. Please report immediately and follow the handling guidelines on the NOAA website above.
To report sea turtle disturbance or legal violation, please call the NOAA Office of Law Enforcement Hotline: 1-800-853-1964 and then call DLNR, Division of Conservation and Resources Enforcement (DOCARE) statewide hotline: 643-DLNR (3567).
For more information on sea turtles, visit the NOAA marine turtles site and the NMFS Pacific Islands Regional Office turtle site. You can also download NOAA's "Hawaiian Hawksbill Sea Turtles" brochure.
Frequently Asked Questions
Q. There's a turtle on the beach and it looks sick – what should I do?
A. Most turtles that haul-out on the shoreline are just fine. They may lie very still, as if they are not breathing, but that's normal. Please keep your distance; do not try to get close to the animal. They need to be allowed to rest undisturbed. If you see an obvious sign of injury, such as an open wound or entanglement in rope or net, please call the NOAA hotline at (888)-256-9840.
Q. I see a sea turtle that's entangled in rope or net – what should I do?
A. Please visit NOAA's injured turtles website or call the NOAA hotline at (888)-256-9840 for instructions.
Q. What should I do if I accidentally hook a turtle while fishing or if I see a hooked turtle?
A. Please call the NOAA hotline at (888)-256-9840 and follow instructions, and/or visit NOAA's fishing around sea turtles website for instructions.
Q. How close can I get to sea turtles?
A. There is no law specifying the minimum distance people can approach a sea turtle. However, getting close to these animals may constitute a federal or state violation if the animal is disturbed or if your action has the potential to disturb its natural behavioral patterns. NOAA and DLNR recommend, for your safety and the animals' protection, that everyone stay at least 10 feet (3 meters) from all sea turtles. If maintaining this distance isn't possible, keep safety in mind and move away from the animal as carefully as possible, avoiding sudden movements and other actions that might disturb the animal. For wildlife viewers, please enjoy from a distance – use binoculars and telephoto lenses to get the best views without disturbing the wildlife.
ROAR Hawai'i Public Service Announcement
ROAR Hawai'i is a collection of information on Native Hawaiian ocean related practices and resources with the purpose of encouraging understanding and appreciation of our ocean through research, education, and culture.  DLNR was a partner in the production of this public service announcement:
How would you like it?
Legal Protections
All sea turtles are protected by federal and state law. An overview of this protection is provided below. For more information, check out the following websites:
NOAA's Office of Protected Resources
Hawai'i Administrative Rules 13-124: Endangered and threatened wildlife
Endangered Species Act
Sea turtles are also protected under the Endangered Species Act. The National Oceanic and Atmospheric Administration (NOAA), National Marine Fisheries Service (NMFS) is responsible for administering the ESA
State Law
All species of sea turtle are protected under Hawai'i Revised Statutes, Chapter 195D and Hawai'i Administrative Rules, 13-124.