Papahānaumokuākea Marine National Monument
About the Monument
Papahānaumokuākea Marine National Monument (Monument) is situated in the northwestern portion of the Hawaiian archipelago, located northwest of the island of Kaua'i and the other main Hawaiian islands. A vast, remote, and largely uninhabited marine region, the Monument encompasses an area of approximately 587,578 sq mi (1,508,870 sq km) of the Pacific Ocean. The Monument is dotted with small islands, islets, reefs, shoals, submerged banks, and atolls that extend from subtropical latitudes to near the northern limit of coral reef development.
Various protection efforts in the region have been enacted over the century, beginning in 1903 when President Theodore Roosevelt sent in the U.S. Marines to stop the slaughter of seabirds for feathers and eggs at Midway Atoll. Over the next 100 years, six U.S. Presidents afforded the region increasing protection. In 2005 the State of Hawaiʻi (State) established the Northwestern Hawaiian Islands (NWHI) Marine Refuge adding another layer of protection. Most recently, President Barack Obama signed a proclamation expanding PMNM to 582,578 square miles, nearly the size of the Gulf of Mexico. These layers of protections add to the mo'o kū'auhau, or genealogy, of the NWHI, as a place of deep significance to kanaka 'ōiwi (Native Hawaiians), the United States, and the world.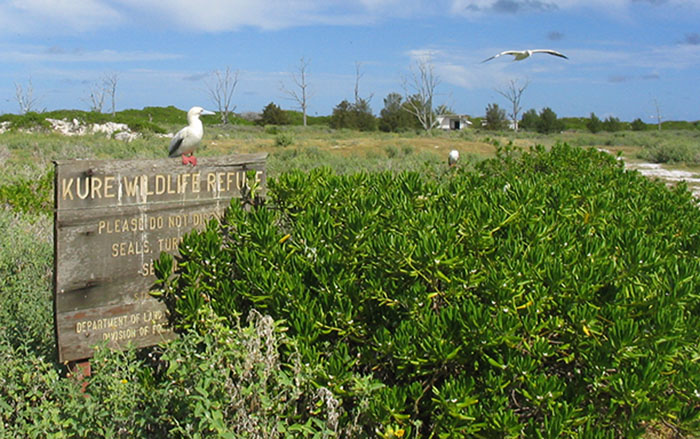 Management
Management is the responsibility of four co-trustees: the State; the US Department of the Interior, through the Fish and Wildlife Service (FWS); the US Department of Commerce, through the National Oceanic and Atmospheric Administration (NOAA); and the Office of Hawaiian Affairs. The co-trustees are committed to preserving the ecological integrity of the Monument and perpetuation of the NWHI ecosystems, Native Hawaiian culture, and other historic resources. The State through the Department of Land and Natural Resources Division of Aquatic Resources (DAR) and Division of Forestry and Wildlife (DOFAW) contribute to management efforts across the Monument. The State maintains a station at Hōlanikū (Kure Atoll) where staff continue conservation and management efforts. Community groups are also involved in management efforts in the Monument.
Proposed Sanctuary Designation
In December 2020, Congress directed the National Oceanic and Atmospheric Administration (NOAA) to initiate the sanctuary designation process, which does not change the status of the monument. Sanctuary designation would add conservation benefits by providing a supplemental regulatory framework and additional protections to safeguard living, cultural, and maritime heritage resources. Co-managers NOAA Office of National Marine Sanctuaries (ONMS) and DAR are leading the sanctuary designation process of the marine areas of Papahānaumokuākea which will include a joint National Environmental Policy Act (NEPA) and Hawaii Environmental Policy Act (HEPA) Environmental Impact Statement. Please visit papahanaumokuakea.gov for updates.

Resources
Sanctuary designation announcement, FAQs | Designation one-page summary
Video: Spotlighting the threat marine debris poses to wildlife in Papahānaumokuākea
Entry permit requirement | View current permit applications.